Phillies lose in 14th after Papelbon's blown save
Trade candidates Byrd, Bastardo have solid nights; Rollins homers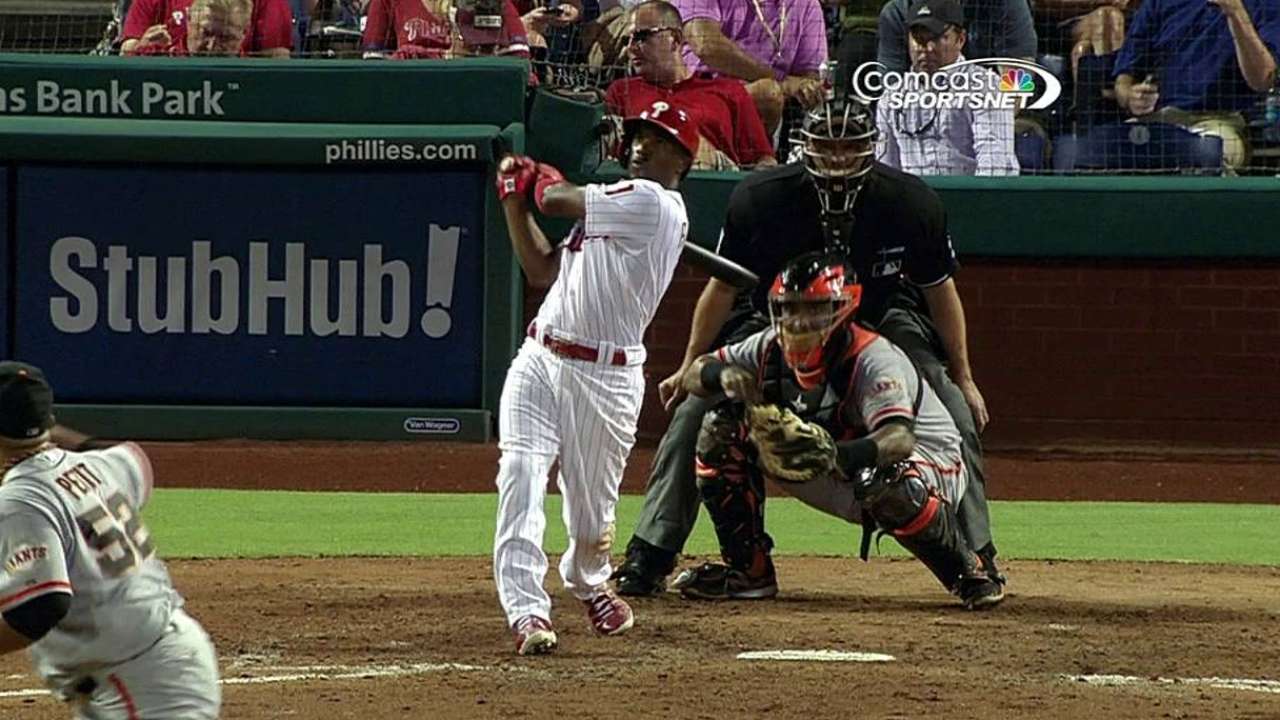 PHILADELPHIA -- Scouts filled more than a dozen seats Monday to watch Cliff Lee's return to the Phillies rotation.
But just because Lee's next start is Saturday, it does not mean the scouts have scattered. They remain in Philadelphia because the Phillies have numerous players that contending teams hope to acquire before the July 31 non-waiver Trade Deadline. The Phillies gave those scouts a good long look at nearly everybody on their roster in Tuesday's 9-6 loss in 14 innings to the Giants at Citizens Bank Park.
The game took five hours, 46 minutes to play, but it should have been finished in the ninth. Instead, Phillies closer Jonathan Papelbon allowed his first home run of the season when Buster Posey hit a first-pitch fastball for a game-tying solo home run to left-center field. It was just the third extra-base hit Papelbon had allowed this season and his third blown save in 26 opportunities.
"One pitch," Phillies manager Ryne Sandberg said. "It's a pitch that came back to the plate. But he's been on a good roll."
Papelbon, who left the clubhouse before it opened to reporters, has made it explicitly clear he wants to be traded, but one home run should not hurt his trade value.
"He's been pitching great all year," Phillies first baseman Ryan Howard said. "It happens to all of us. You can't just put it on him. We win as a team. We lose as a team. It's not just one guy."
The game remained tied into the 14th when Phillies right-hander Jeff Manship allowed a one-out double to Posey before intentionally walking Pablo Sandoval to set up a potential inning-ending double play. A sacrifice bunt advanced runners to second and third, and Manship walked Gregor Blanco to load the bases.
Brandon Crawford followed with a double to left-center to clear the bases.
The outcome meant little for the Phillies' fate. They are going to try to be sellers before the Trade Deadline, no matter if they won or lost. Some of those candidates made their contributions much earlier Tuesday.
Jimmy Rollins is very likely to remain in red pinstripes through the Trade Deadline. He has 10-and-5 rights and has said he wants to stay in Philadelphia. He hit a two-run home run to right field in the fifth inning to hand the Phillies a 4-3 lead. Rollins is hitting .262 (11-for-42) with five home runs and 13 RBIs in his last 10 games.
He entered the night ninth out of 26 qualifying shortstops with a .724 OPS (on-base plus slugging percentage).
He can still play.
Right fielder Marlon Byrd has value to a team looking for a right-handed power bat. He knocked in a run in the first, doubled with two outs in the fifth and made a leaping catch near the wall in the sixth. Left-hander Antonio Bastardo, whom many teams seek to boost their bullpens, picked up the final out of the sixth.
Phillies right-hander Roberto Hernandez allowed five hits, three runs, three walks and one home run and struck out one in 5 2/3 innings. He figures neither to be traded nor part of the team's future, but he is noteworthy because one of the things the Phillies would like to acquire before the Trade Deadline is starting pitching.
Hernandez and Kyle Kendrick will be free agents following the season. If the Phillies trade Lee and A.J. Burnett in the coming days, weeks or months, they will need people to take their place. If Kendrick and Hernandez go elsewhere, that could leave the rotation with Cole Hamels, David Buchanan and some serious holes to fill.
But the Phillies need offense, too. They were 1-for-15 with runners in scoring position Tuesday. It has been a problem all season.
"Sometimes it's wanting to get it done a little bit too much," Howard said. "It's tough."
Todd Zolecki is a reporter for MLB.com. This story was not subject to the approval of Major League Baseball or its clubs.