Gonzalez takes the Angels down a notch
O's make it two straight to claim rare series win for Anaheim visitors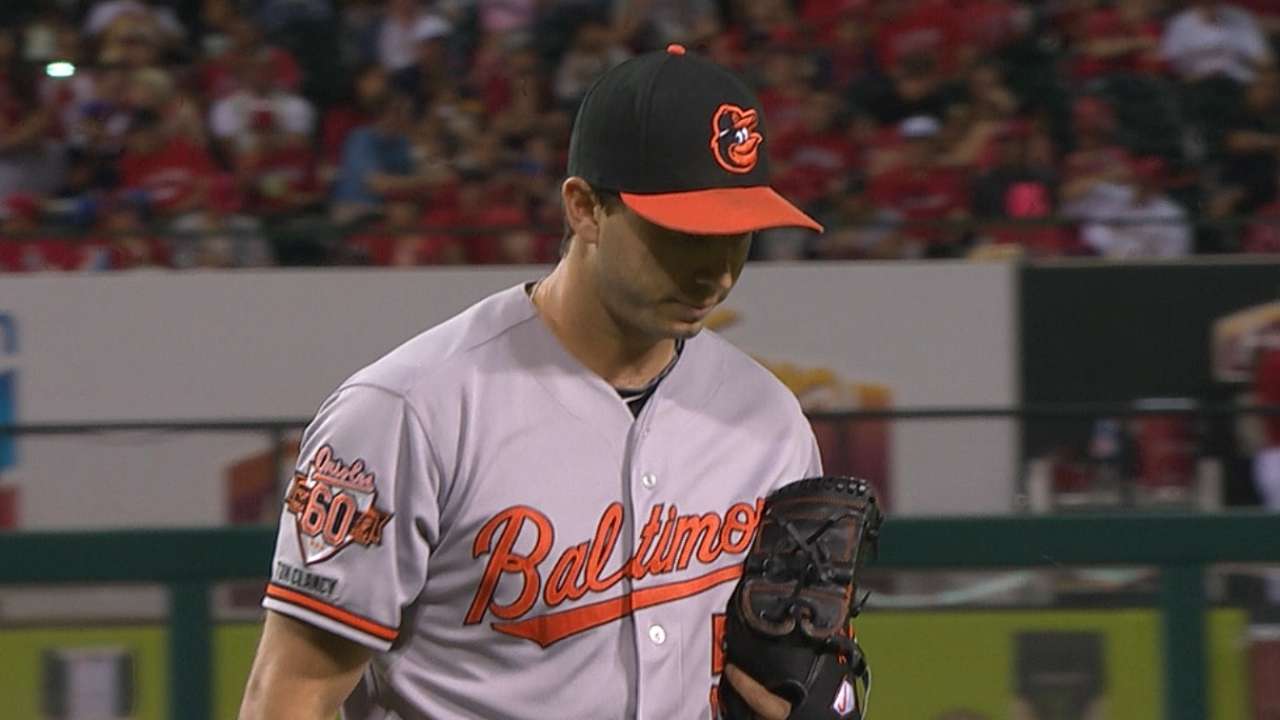 ANAHEIM -- This three-city road trip on the West Coast promised to be a huge test for the first-place Orioles coming out of the All-Star break. And while they just hit halfway on Tuesday night, the O's are starting to gain some traction. Coming off of a series loss in Oakland, Baltimore has done the near-impossible: beat the Angels at home.
Backed by another stellar outing from the surging Miguel Gonzalez, the O's made a trio of sixth-inning runs stand up to hand the Halos their first consecutive losses since June 15 and 16. Baltimore's 4-2 victory on Tuesday night, which snapped the Angels' club record of 10 consecutive home series wins, keeps its four-game lead in the American League East intact and puts the O's (55-44) a season-high 11 games over .500.
"They are just good, period," Orioles manager Buck Showalter said of an Angels team that leads the Majors in runs scored and entered Tuesday the only club to average more than five runs per game. "We've been fortunate the last two nights to have two guys who have pitched well here. They've pitched well against us, too. That's the other reason why I'll be glad when we are done playing them."
Gonzalez, optioned to Triple-A to make a start during the break, followed up Monday's stellar outing from Bud Norris in going went 7 2/3 innings to continue an impressive month of July. The 30-year-old righty allowed only Mike Trout's two-out homer as his last batter of the game, and scattered three hits and four walks to put his ERA at 1.90 in three starts this month.
Even more impressive is that it comes on the heels of a June in which Gonzalez pitched to a 6.14 ERA -- the highest mark of any month in his career -- and never surpassed five innings in a single start.
What's the difference?
"The main thing is confidence," said Gonzalez who turned in his fourth quality start in as many tries against the Angels, the organization that originally drafted him. "And just following whatever [catcher] Caleb [Joseph] does back there. He did a great job tonight changing speeds."
Showalter had a different theory.
"Competition is a good thing," said the manager, referring to the Orioles looming rotation crunch with Ubaldo Jimenez currently on the disabled list. "Not only the teams we are playing but we have some depth there. I think the 88-90 pitches in Norfolk did him well, wasn't sitting around there."
Norris also made a start in the Minor Leagues over the All-Star break, prompting Showalter to tease the rest of the staff that they'd be spending some time in the Minors, as well.
"I was kidding the guys in the outfield today, I was saying, 'OK, you are going to Aberdeen for your work day. You are going to Norfolk for your work day, You are going to Frederick for your work day.' The only guy I was able to fool was [Kevin] Gausman," Showalter said of the right-hander, who has been yo-yo'ed back and forth several times this year. "He goes, 'I've already been to Aberdeen.' "
The Orioles' stellar pitching was once again backed by just enough run support, with J.J. Hardy and Jonathan Schoop each driving in a pair of runs.
The Orioles broke through the scoreless tie in the sixth with a two-out double from Hardy, who laced a ball into right-center field to score a hustling Chris Davis from first base.
Schoop, who singled in the second inning, increased the lead to three with a two-run homer off reliever Mike Morin's 89-mph fastball. Schoop drilled the 0-1 offering into the center-field rocks to mark his eighth homer of the season.
"The game can snowball and speed up on you," said Morin, who got Davis down 0-2 before he singled off the end of his bat. "I was one pitch away from getting all three guys out."
Instead, Schoop gave the O's some breathing room and Hardy doubled again to tack on another run in the eighth inning off reliever Fernando Salas, who gave up a leadoff two-bagger to Nelson Cruz.
"I think you have to believe in yourself," said Schoop, who has dealt with some ups and downs offensively in his rookie season. "Sometimes you doubt yourself. Sometimes you don't want to, but you doubt yourself. You've got to believe and that's what I kept telling J.J. I want to get hot. You've got to believe it. I know I can do it. I keep going to the cage every day and work and try to get better."
Schoop, who turned in his 12th multihit game, has hit all eight of his home runs this season on the road against right-handed pitchers and has come up with some big blasts. Tuesday's included.
"He's strong," Hardy said. "We all know he's capable of doing it. He keeps talking about getting hot and hopefully that's the start of it."
Following Gonzalez's stellar start, which ended on Trout's two-run blast, right-hander Tommy Hunter retired Albert Pujols to end the eighth inning with closer Zach Britton picking up the save.
Brittany Ghiroli is a reporter for MLB.com. Read her blog, Britt's Bird Watch, and follow her on Facebook and Twitter @britt_ghiroli. This story was not subject to the approval of Major League Baseball or its clubs.