Home, beat home: Record stretch at Big A is over
O's again top Angels to end stretch of 10 series wins in row in Anaheim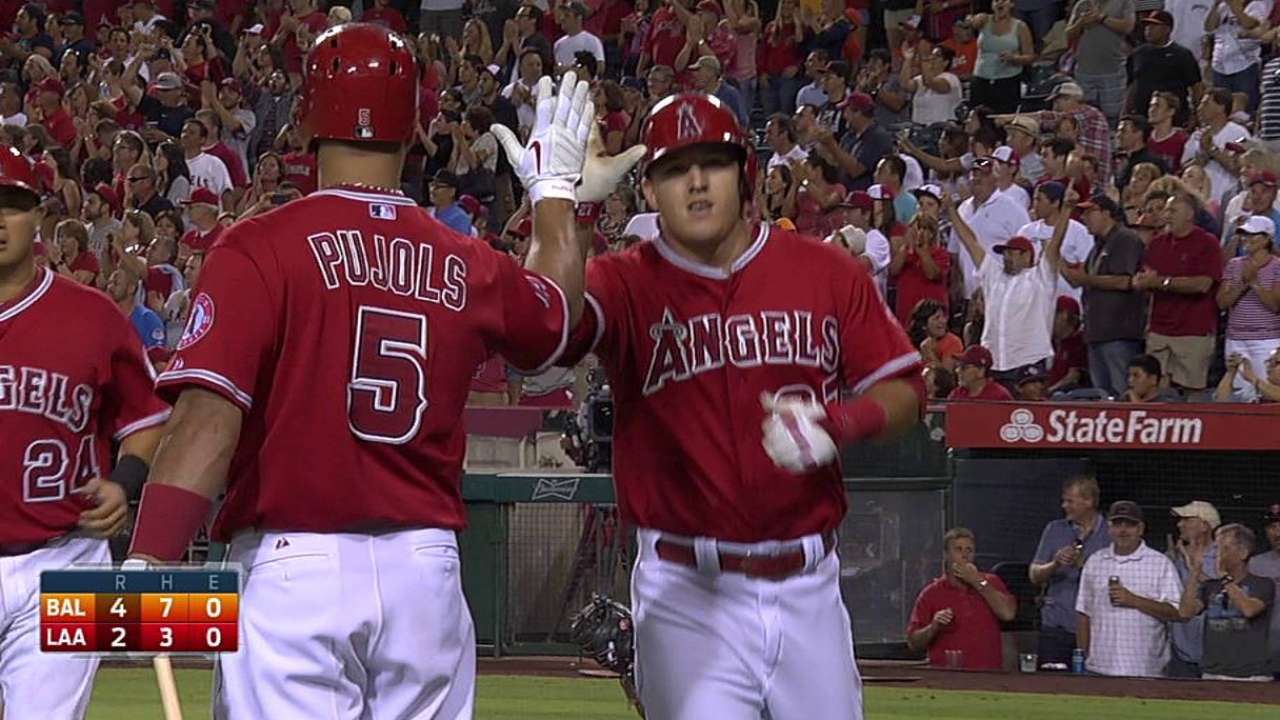 ANAHEIM -- Mike Morin avoided injury, but couldn't dance around a loss.
The Angels' rookie reliever landed awkwardly upon delivering the second pitch of Tuesday's sixth inning, suffering a temporary tweak of his left hamstring that went away as he tossed three warmup pitches and recorded back-to-back strikeouts. Then came an infield single, then an RBI double to plate the game's first run, then a two-run homer that was the difference in a second straight 4-2 loss to the Orioles.
"The game can snowball and speed up on you," Morin said. "I was one pitch away from getting all three guys out."
Instead, the Angels dropped back-to-back games for the first time since June 15-16 and solidified their first series loss at home since May 5-7, snapping a club-record streak of 10 consecutive series wins at Angel Stadium by the team with baseball's best home record.
"They are just good, period," Orioles manager Buck Showalter said of the Angels, still owners of the second-best record in the Majors. "We've been fortunate the last two nights to have two guys who have pitched well here."
A revamped bullpen that entered with a 1.51 ERA in its previous 21 games gave up four runs for the first time since June 19. And for a second straight night, an offense that leads the Majors in runs was shut down by a starting pitcher with a sparkling track record against the Angels.
Twenty-four hours after Bud Norris gave up one earned run in 6 2/3 innings to put his ERA at 0.52 in five career starts against the Angels, Miguel Gonzalez allowed two runs in 7 2/3 innings, moving to 3-1 with a 2.23 ERA in four career starts against the Angels.
Gonzalez was one out away from completing eight innings for the third straight time when Mike Trout cut the deficit in half with a two-run shot to center field, giving him a team-leading 24 homers and 76 RBIs -- one shy of Miguel Cabrera for the Major League lead. But Orioles closer Zach Britton recorded his second straight 1-2-3 ninth inning, and the Angels remained two games back of the A's in the American League West.
In their five contests since the All-Star break, the Angels' offense has averaged three runs per game, two under their season average -- even though they've had eight additional innings in that span.
"We're not quite in sync offensively," Angels manager Mike Scioscia said after losing for only the fourth time in the last 16 games. "Not to take anything away from the two ballgames that were pitched, but in this streak where we've been playing well, we've faced some tough pitching and we've done well. We just haven't these last two nights."
Hector Santiago provided what Scioscia called "a very gutty performance," pitching five scoreless innings despite recently recovering from the flu and battling an escalated pitch count. It was Santiago's first start since July 10, but he took the mound on only three days' rest because he was needed for 2 2/3 innings -- and 38 pitches -- in Friday's 16-inning marathon.
After three innings, Santiago had already thrown 68 pitches. After five, he had 99.
The 26-year-old left-hander said he "felt great" heading into his outing, "but I definitely didn't have my legs under me. I didn't get to work out in the three, four days leading up to my start, and I usually work out every single day and run. I didn't get to do that from being sick."
Morin felt he "avoided injury" when his left leg collapsed on a fastball to Adam Jones in the top of the sixth, saying that the short-lived hamstring ailment is "nothing that's going to hold me back." Morin waved Scioscia off, but the skipper came out with trainer Rick Smith to make sure, and Morin eased their concerns with three warmup pitches and a couple of strikeouts.
But Chris Davis' slow roller to an empty left side repositioned in a shift resulted in an infield single, and J.J. Hardy's liner was perfectly placed in the right-center-field gap for an RBI double -- his first of two -- and Jonathan Schoop's towering fly ball went way out to center field for the gut-punching two-run homer.
"It was a bad pitch that got hit out," Morin said of the 0-1 fastball that stayed way up. "That's what they get paid to do -- hit bad pitches out. It's extremely frustrating; I don't know how else to say it."
Alden Gonzalez is a reporter for MLB.com. This story was not subject to the approval of Major League Baseball or its clubs.