Erasmo's excellent return isn't enough vs. Mets
Righty strikes out 10 in seven innings, but Mariners' bats go cold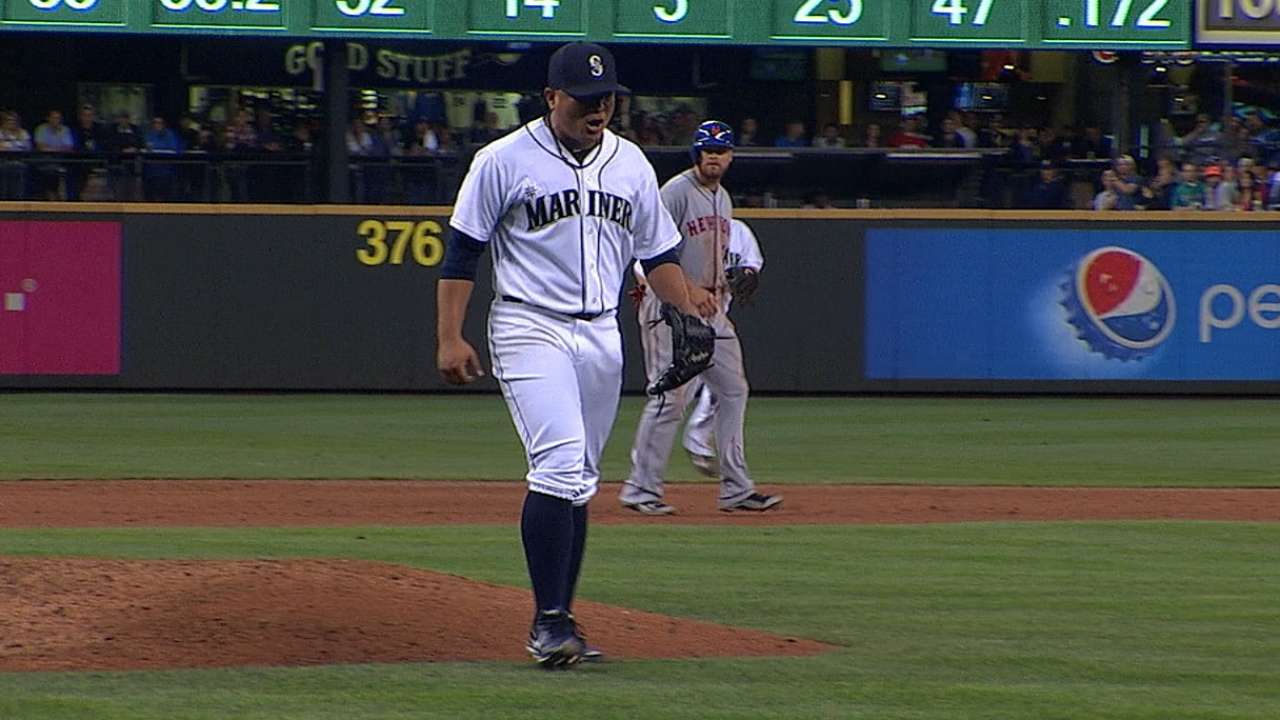 SEATTLE -- Erasmo Ramirez is headed back to Triple-A Tacoma after a strong seven-inning showing on Tuesday night, but the young Mariners right-hander will carry a little more confidence after pitching extremely well in a 3-1 loss to the Mets at Safeco Field.
Ramirez, making a fill-in start in his fourth stint with the Mariners this season, allowed just two runs while striking out 10, but it wasn't enough to beat Mets right-hander Jacob deGrom on a night Seattle managed just five hits.
Ramirez was optioned to make room for Wednesday's starter, Taijuan Walker, but he departed with a smile this time.
"This is the opportunity to show up and say, 'OK, I'm here. Any time you need me, I'm going to be working again. If you need me, I'm going to be around,'" Ramirez said. "Just show them what you can do and don't be afraid. Just be the same person here or there. That's a decision from the top, so just continue working the way I've been working."
Ramirez was working in a much better fashion in this outing as he displayed an excellent changeup and better control in allowing just five hits and two runs with two walks and his career-high-tying 10 punchouts.
"He did a very nice job," Seattle manager Lloyd McClendon said. "He gave us an opportunity to win a ballgame and saved our bullpen. He did a tremendous job. I was very pleased."
Though Ramirez fell to 1-5 with a 4.35 ERA, he impressed his Interleague foes from New York.
"That guy has about as good a changeup as I've seen in a long time, and located it, too," said Mets manager Terry Collins. "It's not just that he threw it, he kept the ball down. He kept the ball away."
This is the Ramirez the Mariners thought they had at the beginning of the season when he started the second game of the year and beat the Angels, 8-3, with seven strong innings. But things unraveled soon after for the 24-year-old, and he's spent much of the season in Triple-A.
When given a return shot in June, Ramirez allowed just two earned runs in 20 innings for a 0.90 ERA in four starts. But he gave up 14 hits and 16 walk and pitched past the fifth inning just once before getting sent back down.
Ramirez was far more efficient in this outing, completing seven frames on 114 pitches. He did hit two batters, but limited the Mets to just a pair of second-inning runs.
"Now my second pitch is back," he said of his changeup, "and I showed them my fastball is working, and I can throw my other two pitches, too. If I can throw any of my four pitches in any count, that was a big point for today's game."
The Mets, who snapped a three-game losing streak while improving to 47-53, recorded their first win at Safeco Field in five tries, dating back to 2005. Seattle still leads the all-time series, 8-3, going into Wednesday afternoon's rubber game.
The Mariners fell to 53-47, with their lead in the race for the second American League Wild Card spot reduced to 1 1/2 games over the Yankees and Blue Jays, who both won Tuesday.
The Mets took advantage of a misplay by center fielder James Jones to put up their only runs on Ramirez in the second. Jones tried to make a sliding stop of a low liner by Travis d'Arnaud with a runner on first, but the ball got past him and rolled to the warning track as d'Arnaud wound up with a run-scoring triple, the catcher's first in the big leagues.
McClendon said it wasn't a good gamble by the rookie, though he continues saying the youngster will learn from these mistakes.
"I'm not very fond of slides," McClendon said. "I think the only reason you slide to a ball is to avoid the wall or a player. That's something he'll learn from. If he dove for the ball, he might have caught it or he certainly would have blocked it. That's just the way it goes. He'll get better."
Jones said he just didn't extend his hand far enough to make the catch on a play he wasn't second-guessing afterward.
"I felt like I had a better chance sliding, but I don't know. That's what my body told me right there," he said. "That was a big point in the game. If I'd caught that ball, the guy would still be on first base. I'd still take the chance on that. I thought I had it. I really thought I was going to make that play. Next time I'll get a better jump on it."
Ruben Tejada drove in d'Arnaud with a flare single to left before Ramirez got the final two outs to keep the score at 2-0.
The Mariners got one back in the fifth on an RBI double by Dustin Ackley, who continued his resurgent July. Ackley went 2-for-3 and is batting .377 (20-for-53) this month to raise his season average to .243.
"That's something we certainly need from an offensive standpoint," McClendon said. "We need a boost from him and it was good to see him swinging good again tonight."
But that was the only run Seattle managed in seven innings against deGrom, who improved to 4-5 with a 3.01 ERA. The lanky 26-year-old is 4-1 with a 1.59 ERA in his last six starts.
First baseman Lucas Duda ripped a home run estimated at 446 feet off reliever Tom Wilhelmsen in the eighth for the game's final run.
Greg Johns is a reporter for MLB.com. Follow him on Twitter @GregJohnsMLB as well as his Mariners Musings blog. This story was not subject to the approval of Major League Baseball or its clubs.