Tigers blink last in wild back-and-forth battle
Bullpen allows two runs to D-backs in eighth after Hunter's clutch hit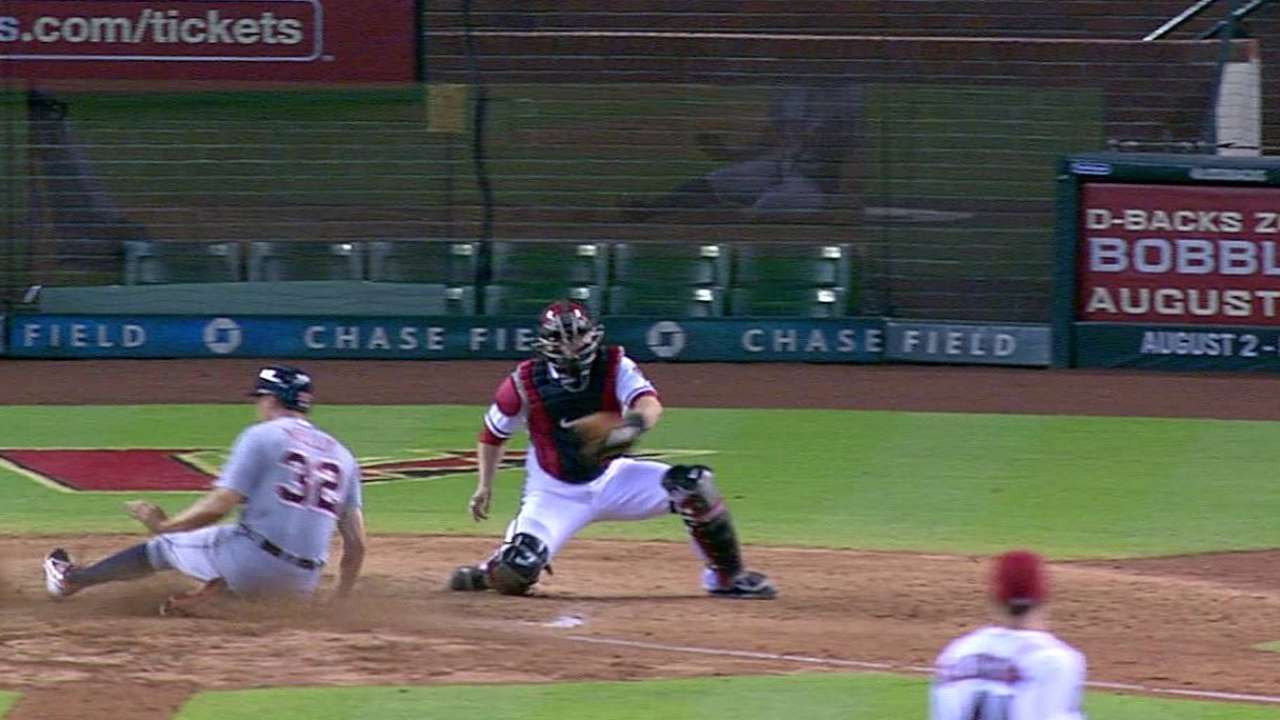 PHOENIX -- When a team takes the lead three separate times in a game, it usually ends up adding to its win column.
That wasn't the case for the Tigers on Tuesday night.
Despite going ahead in the first, third and eighth innings, the Tigers fell to the D-backs, 5-4, at Chase Field, setting up a Wednesday afternoon rubber game in the Interleague set.
"We've had trouble scoring runs," manager Brad Ausmus said. "We just haven't had the hit that blows the game open for us. We're getting hits, but we're not getting the hit that blows the game open."
The Tigers certainly got their hits -- 10 of them on Tuesday. But they also left nine runners on base. Compare that to the D-backs, who managed only six hits but left three men on base.
Even though it took the lead in the eighth, Detroit's struggles were no more evident than in that frame.
After right fielder Torii Hunter gave the Tigers a 4-3 lead with a single up the middle, D-backs pitcher Eury De La Rosa struck out Alex Avila before intentionally walking Eugenio Suarez to load the bases for pinch-hitter Rajai Davis.
Davis worked a 3-0 count -- one pitch away from garnering an insurance RBI without swinging the bat -- but De La Rosa came back with three straight strikes, ending the inning with the Tigers holding a slim advantage.
"You get bases loaded and one out, you hope you can push a run across," Ausmus said. "Back-to-back strikeouts obviously ends that. We had an opportunity, an opportunity to blow the game open, but it didn't happen."
The D-backs didn't have that problem. They loaded the bases on three walks in their half of the eighth, and catcher Miguel Montero drove in the tying and winning runs with a single.
"They just executed a couple more times than we did," Avila said.
That lack of execution cost the Tigers a chance to back up a solid start from Rick Porcello, who exited after seven innings despite only throwing 77 pitches. Ausmus said if the game was in an American League park, Porcello would have pitched the eighth, but he substituted Davis in the eighth inning to try to give the Tigers a bigger lead.
"I chose to put Eury De La Rosa in a tough situation," D-backs manager Kirk Gibson said. "Porcello was just cruising. He had just had a five- or seven-pitch inning. So I basically loaded the bases up and made him make a move and try to get into his bullpen.
"When Eury went to 3-0, I didn't look so smart. He came back and got him, and that was big for that kid."
It was tough for the Tigers to find a silver lining after the game. Although Porcello pitched well and the offense came up clutch -- though not clutch enough -- the atmosphere in the clubhouse was predictably down.
"We don't like to lose any game," Porcello said. "Regardless of the situation, when we lose, we all take it hard. We win and lose as a team, and it stinks either way -- if we're down by 10 or we lose by one, it still stinks."
Adam Lichtenstein is an associate reporter for MLB.com. This story was not subject to the approval of Major League Baseball or its clubs.