Montero's heroics leave D-backs atop seesaw affair
After bullpen squanders lead, catcher's two-run hit beats Tigers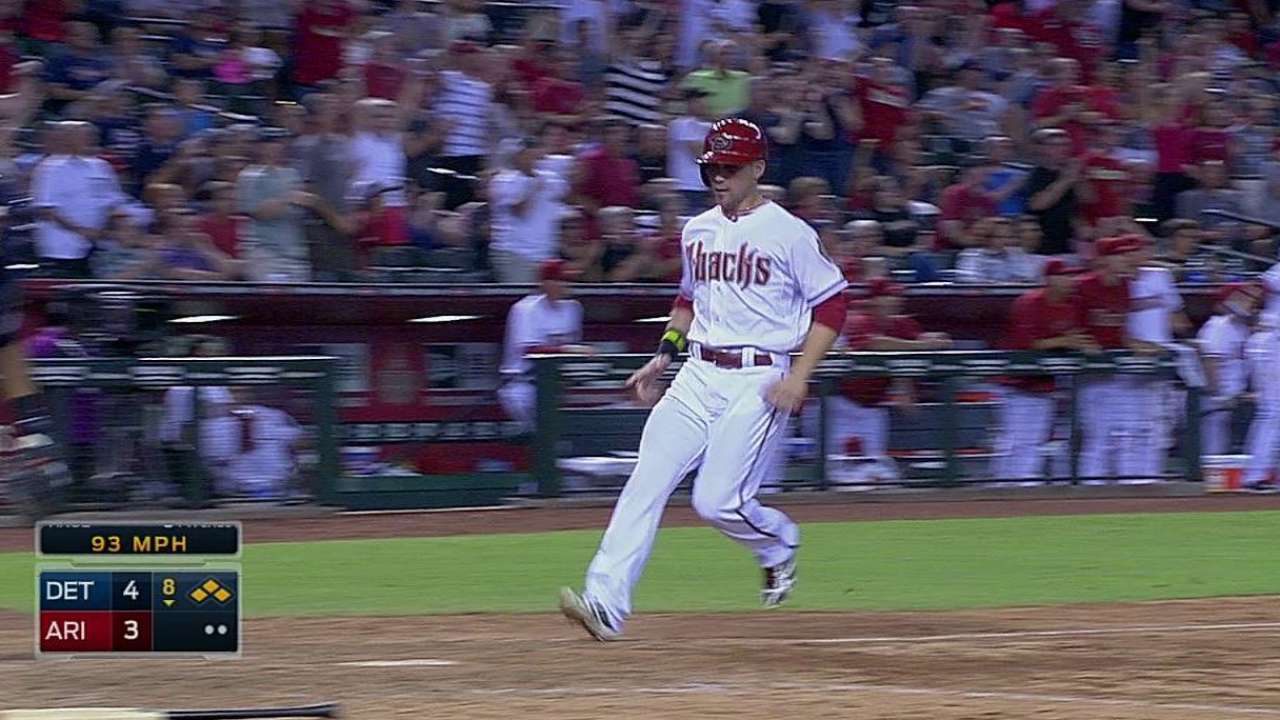 PHOENIX -- David Peralta tied a D-backs club record with two triples Tuesday night at Chase Field.
Both times he came around to score with runs that were a key to Arizona's 5-4 victory over the American League Central-leading Tigers, but it was Miguel Montero's two-run, two-out bases loaded single on an 0-2 pitch in the bottom of the eighth that proved decisive.
"I was just trying to stay with it, I'd never seen this guy before," said Montero about the at-bat against left-hander Ian Krol, who was brought in to face the lefty hitter after relievers Phil Coke and Al Alburquerque walked the bases loaded. "His first couple of pitches caught me off guard a little bit because they were sneaky. But I wasn't going to strike out looking, so I had to be ready to swing. And lucky enough I got the base hit up the middle."
The Tigers had come back from a 3-2 deficit to take a 4-3 lead in the top of the inning. The big hit was Torii Hunter's two-out, bases-loaded single off D-backs reliever Brad Ziegler, who said he was fine, but a little sore after being hit in the chest by a hard smash back to the mound two at-bats earlier.
Addison Reed pitched the ninth for his 24th save, walking Miguel Cabrera on four pitches with two out to pitch to Don Kelly.
"Was I pitching carefully to him? Don Kelly or Miguel Cabrera, who would you rather face? What do you think?" Reed said, smiling.
The D-backs didn't want any part of Cabrera and Kelly had a near single to right stopped by diving second baseman Aaron Hill, whose one-hop throw was scooped up by first baseman Paul Goldschmidt to end a chiller of a game.
The D-backs, now 44-57, have won four out of five on this homestand since the All-Star break, and are playing with panache.
"That game was an interesting game," D-backs manager Kirk Gibson said. "There were a lot of swings in it just with the moves that were made."
Back to the triples. Five D-backs have tripled twice in a game six times, the most recent time by Montero in a 5-4 win over the Dodgers on Sept. 26, 2010. Tony Womack did it twice in the early years of the franchise's existence.
In another quirk of history, the D-backs have won all six games when one of their players accomplished the feat.
"Those triples really hurt," said Tigers starter Rick Porcello, who was yanked for pinch-hitter Rajai Davis with the bases loaded and two out in the eighth inning even though he was cruising along at only 77 pitches. "Those were tough. Especially with less than two outs, trying to keep them from driving it in. It's a tough thing to do. And Hill did a nice job in both at-bats driving him in. That was really it. Those two guys got me."
Davis, by the way, struck out looking against Eury De La Rosa after going up 3-0 on the count.
Peralta tripled with one out in the third and scored on Hill's sacrifice fly. He did it again to open the sixth and then came home on Hill's infield grounder. The rookie scored for the third time in the eighth after reaching on a walk, coming around for the winning run on Montero's hit.
Hill, who drove in the first three runs, hit his eighth homer of year with one out in the first. As a member of the Blue Jays, Hill had seen Porcello before.
"It's been a few years," he said. "He's had some success with his sinker and we talked about it in our meeting earlier. Try to see the ball up. He also has a good slider, obviously. Hopefully you get something you can handle. Peralta did a great job and some things went our way. It was a great game."
Barry M. Bloom is a national reporter for MLB.com and writes an MLBlog, Boomskie on Baseball. Follow @boomskie on Twitter. This story was not subject to the approval of Major League Baseball or its clubs.