LaRoche's homer lifts Nats to fourth straight win
Zimmerman exits game in sixth inning with right hamstring strain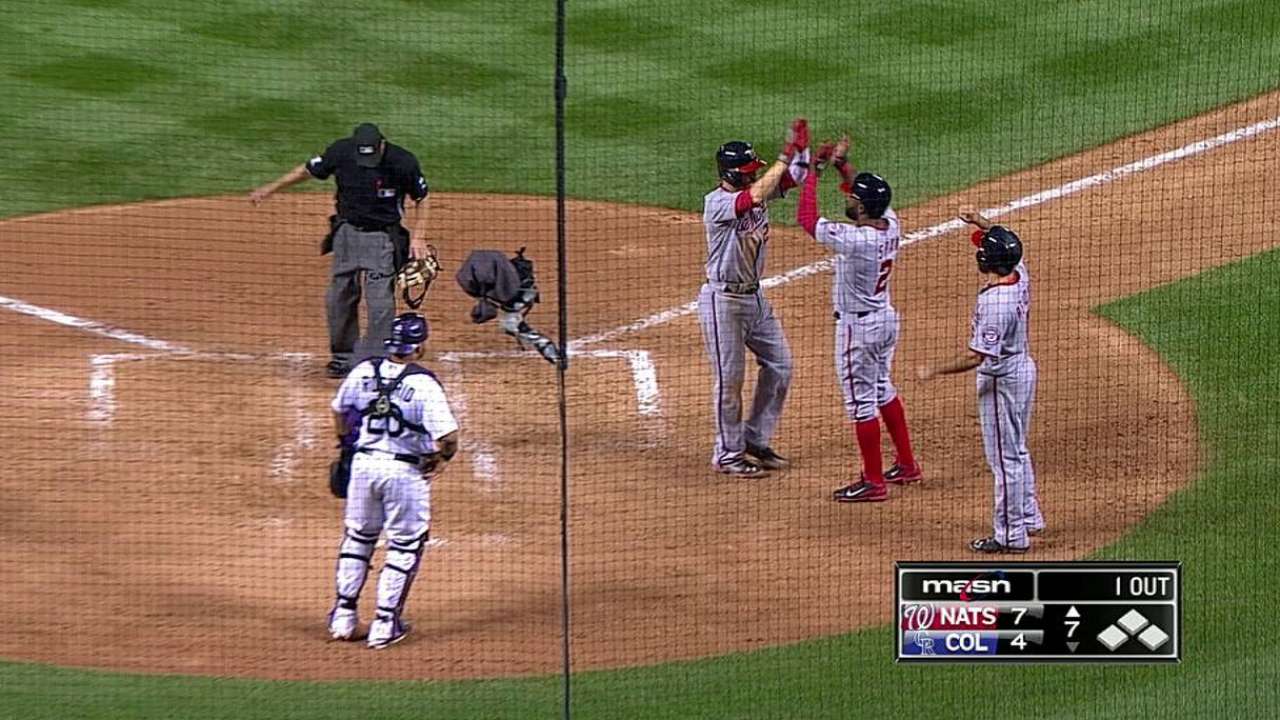 DENVER -- So much for Adam LaRoche's gloomy July.
The Washington first baseman, who entered Tuesday hitting just .130 this month, clubbed a three-run, tie-breaking homer off reliever Rex Brothers in the seventh inning, the key swing in the Nationals' 7-4 win over the Rockies at Coors Field.
"You swing hard enough, enough times, and you'll run into something," said LaRoche, who homered for the first time since June 30. "I've been playing long enough to know that sometimes it takes one swing to turn things around."
The victory, the fourth straight for the Nationals, increased their cushion over the Braves in the National League East to two games.
Washington was left hoping it didn't come at a cost.
Third baseman Ryan Zimmerman, who has already missed 44 games this season with a fractured right thumb, was removed from the game in the sixth after suffering a right hamstring strain while sprinting up the first-base line.
Zimmerman will undergo an MRI on Wednesday morning.
"He's pretty sore tonight," Nationals manager Matt Williams said of Zimmerman. "We'll get some results tomorrow and see where we're at. Any time you have to leave the game with a hamstring injury, it's concerning."
In the interim, as they waited for a prognosis on their third baseman, the Nationals could feel good about a win that didn't come as easy as the 7-2 romp a day earlier.
Jordan Zimmermann, making his first start since an abbreviated outing (biceps tightness) on July 11, struggled to command his fastball. As a result, he served up six extra-base hits, including a pair of mistakes that flew deep into the Denver night.
In the third, Nolan Arenado hit a two-run blast to that dropped over the center-field wall, just past the outstretched glove of Denard Span, putting the Rockies up, 3-0. After the Nationals clawed back for a pair of runs in the top of the fifth, Rockies outfielder Corey Dickerson hit a solo moonshot off Zimmermann into the second deck in right field in the bottom of the frame.
"I was just missing over the middle," said Zimmermann, who added that he felt no lingering effects of the biceps issue that plagued him in his last start. "I'd get two strikes and then miss over the middle, and it seemed to be a double or a triple every time. It was a real battle tonight. It seems like I had my hands full every inning."
Luckily for Zimmermann, a stellar quartet of relievers was there to lighten the load.
Craig Stammen, Drew Storen, Tyler Clippard and Rafael Soriano combined to pitch four scoreless innings.
"That's not easy for anybody in this ballpark," Williams said. "We were in the sixth inning there and had to go to the bullpen, but everybody pitched great."
With the bullpen holding the Rockies at bay, the Nationals began their comeback charge in the sixth. With Anthony Rendon on third and one out, Zimmerman hit a ground ball to shortstop Josh Rutledge and sprinted up the line to spoil the double play. Zimmerman beat the throw from second base, allowing Rendon to score, but he stumbled over first base in the process.
He limped off the field and was replaced by pinch-runner Danny Espinosa, who later scored the tying run on Wilson Ramos' RBI single.
In the seventh, Span was walked by Brooks Brown and Rendon singled for his third hit of the game. After Jayson Werth struck out, the Rockies went with Brothers to face LaRoche, who hammered a 2-0 pitch into the Rockies bullpen in right-center field.
It was his first home run off a left-handed pitcher since May 28, 2013.
"When you're facing a bunch of lefties it can get you right again, because you have to stay on the baseball," Williams said. "Sometimes you need to face those lefties and figure it out."
The only thing left to figure out for the Nationals as they eye a three-game sweep Wednesday is how long they could be without Zimmerman.
"He's a big part of our team," Zimmermann said of the veteran third baseman. "We don't know what the deal is quite yet, but we're hoping for the best."
Nick Kosmider is a contributor to MLB.com. This story was not subject to the approval of Major League Baseball or its clubs.