Polanco leads way as Pirates outslug Dodgers
Right fielder breaks out of slump with three RBIs; Bucs hit three HRs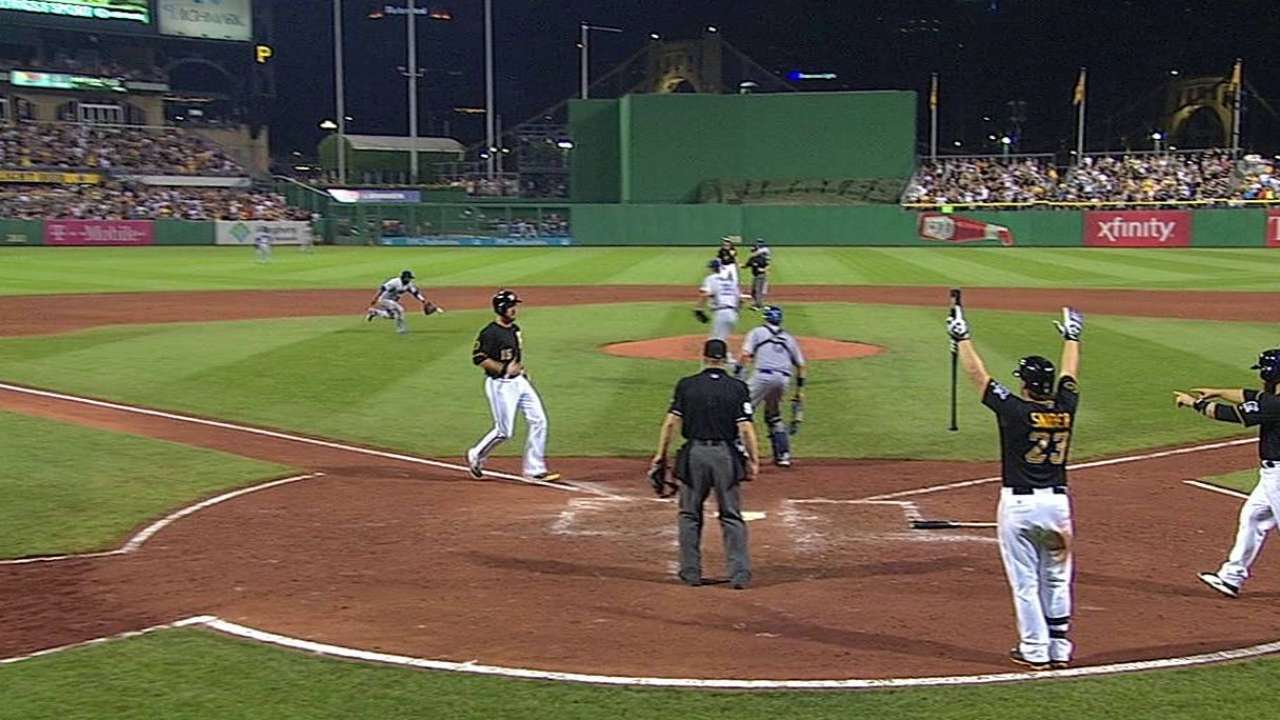 PITTSBURGH -- Gregory Polanco took a few long strides as he watched to make sure his bases-loaded line drive would land in left field. The way the last two weeks have gone for the rookie, it had to.
"It was a bit higher and [Dodgers left fielder Carl] Crawford can run, so I was like 'Ahh, [maybe],'" Polanco said of what went through his mind with the ball in flight. "Crawford was playing a little back though, so then I was like, 'Yeah, I got it.'"
Polanco broke out of a slump, and his tiebreaking two-run single in the sixth inning powered a four-run rally as the Pirates topped the Dodgers, 12-7, on Tuesday night at PNC Park.
"El Coffee" went 2-for-4 with three RBIs and three runs scored -- starting with a solo homer in the third -- and while the game had plenty of twists and turns, his single off Jamey Wright gave the Bucs the lead for good.
The right fielder's homer was his first extra-base hit since July 2, and in a 14-game stretch since then, Polanco was hitting .158 with just two RBIs. He one-upped that total Tuesday, one night after sitting against Dodgers lefty Hyun-Jin Ryu.
"The home run, aggressive swing, [then] to fight through an at-bat, drive in a couple of runs, opposite field, it was good to see," Pirates manager Clint Hurdle said. "[He had] better balance at the plate."
Beneficiaries of four consecutive Chris Perez walks in the eighth, the Pirates blew the game open in their last at-bat, but there was a lot to keep track of in the three-hour, 39-minute affair.
Pittsburgh tacked on two more runs in the sixth, which Russell Martin and Ike Davis started with back-to-back singles. Travis Snider followed Polanco with an RBI single of his own, and Polanco scored on a wild pitch from Wright, making it 8-4.
Los Angeles cut that lead in half immediately in the seventh. Justin Wilson plunked Justin Turner -- the first batter he saw -- an inning after Andrew McCutchen was hit in the shoulder. Wilson was ejected for it, and Hurdle was also tossed for arguing.
Once the game resumed, Adrian Gonzalez took new reliever Jared Hughes deep, and in the next inning, pinch-hitter Scott Van Slyke earned a trip around the bases with a big fly off Tony Watson, slimming the Pirates' lead to one run.
Perez's free passes and a two-run Martin single steered the game from any more drama, however.
Van Slyke's homer was the fifth of the game, and the first three belonged to the Pirates. Neil Walker and Davis both hit solo home runs in the second inning, marking the Bucs' first multihomer game since June 9 -- also the date of the last time Davis left the yard.
"No inning was safe, no pitcher was safe, the bats were alive for both teams," Davis said. "You do a good job of laying off good pitches and hitting mistakes."
The Pirates ended up tagging Josh Beckett for four runs in 3 2/3 innings, and the right-hander surrendered six hits, five of which went for extra bases.
"I just put our guys in a bad situation," Beckett said. "Our bullpen doesn't deserve that. This loss pretty much falls on me."
Beckett's adversary, Vance Worley, started for the first time since July 8 (he also pitched two innings of relief on July 13) and worked around some shoddy defense at third base. Worley, who noted he stayed fresh by throwing a simulated game since his last outing, was charged with four runs in six innings, but just one was earned.
The Dodgers plated a pair in the third when Beckett reached on Pedro Alvarez's 21st throwing error of the season. They got two more in the sixth, one of which was attributed to a throwing error by Josh Harrison, who took over for Alvarez after the slugger exited with left knee discomfort after running the bases.
Worley allowed seven hits and struck out five in his third win, and with the potential go-ahead run at second, he got Dee Gordon to fly out to center in his final inning.
"You want your staff to believe in you out there," Worley said. "To be yanked out of there, you'd start to question yourself. It's all about how you bounce back after things like that happen."
Hurdle called the victory "a total team win," and it was one that ended somewhat appropriately with Polanco gloving the final out.
Even after the long contest, Polanco wasn't finished for the night and did both leg and upper body workouts. The 22-year-old is just 36 games into his Major League career, and he wants to have more of them like Tuesday's.
"I never put my head down, I kept working no matter what," Polanco said. "Everything I keep doing is because I believe in myself."
Stephen Pianovich is an associate reporter for MLB.com. This story was not subject to the approval of Major League Baseball or its clubs.