Dodgers can't catch Pirates, drop slugfest
Beckett allows four runs in 3 2/3 innings, then relievers give up eight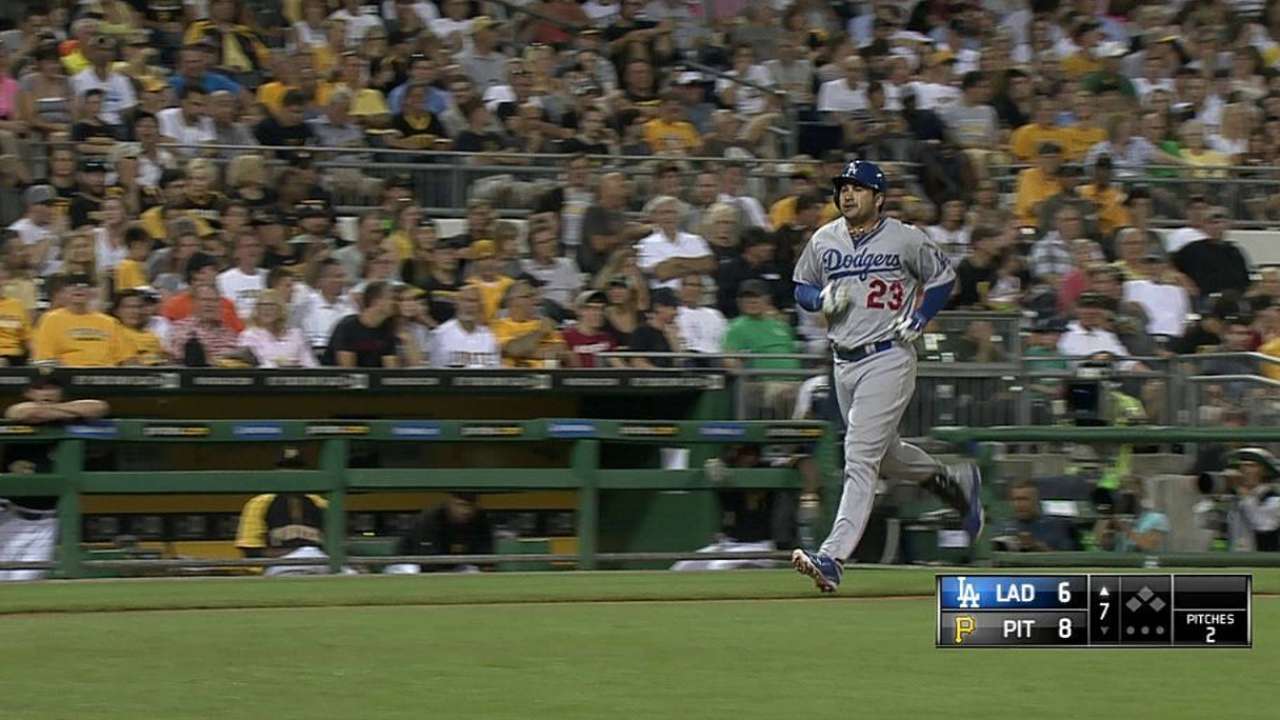 PITTSBURGH -- Josh Beckett came off the disabled list with his shortest start of the year, calling it "pretty horrendous," and that wasn't the worst of it for the Dodgers in Tuesday night's 12-7 loss to the Pirates.
While Yasiel Puig (available to pinch-hit, but not used) and Hanley Ramirez (not available) remained on the sidelines again, the Dodgers erased a pair of two-run deficits but ran out of comebacks after eight runs were allowed by their middle relievers, including four consecutive walks issued by Chris Perez in what turned into a four-run bottom of the eighth inning.
Beckett said he wouldn't use his left hip impingement or torn labrum or two cysts -- injuries that rarely heal without surgery -- as "an excuse going forward." But they are all facts sure to cause added angst for management over the starting rotation with the non-waiver Trade Deadline nine days away.
So, too, is the bullpen, which had been the top priority to address even before this meltdown. Manager Don Mattingly turned to Perez in the eighth inning trailing, 8-7, instead of the usual eighth-inning pair of Brian Wilson and/or J.P. Howell -- that tandem having set up Kenley Jansen saves the previous two games. Brandon League took over and allowed a pair of bouncing singles that scored all three inherited runners.
"They can't go every day," Mattingly said. "If you're down a run, they can't do it every day. Other guys have to be able to hold the score there. We've got one lefty situational guy [Howell] and we've got to protect our seven-eight-nine guys."
Offensively, Adrian Gonzalez (three RBIs) slugged the Dodgers' first home run since July 9 and Scott Van Slyke hit their first pinch-homer of the year in a game that included four hit batsmen (one Dodger) and the ejections of Pittsburgh reliever Justin Wilson and manager Clint Hurdle.
Beckett, who came into the game with a 2.26 ERA, allowed solo home runs to Neil Walker, Ike Davis and Gregory Polanco in 3 2/3 innings, and was charged with four runs on six hits. He rarely used his fastball and his command was spotty. All of the homers were hit by left-handed hitters.
"This loss pretty much falls on me," Beckett said. "I put our guys in a bad situation, having to eat innings up that way. I feel I can do a better job making small adjustments and didn't do it today. That's not competing."
Beckett talked about continuing to pitch through his injury, which was aggravated running the bases in Colorado. Beckett was on the bases twice against the Pirates. He reached on an error and scored in the third inning, after which he allowed the third home run. He walked in the top of the fourth and didn't get out of the bottom of the fourth.
Beckett allowed the home runs to Walker and Davis in the second inning, but the Dodgers scored a pair of unearned runs in the third after an unnecessary throwing error by third baseman Pedro Alvarez on Beckett's slow roller. Pittsburgh scored two more in the third, but the Dodgers tied it again off Pittsburgh starter Vance Worley in the sixth by stringing singles from Carl Crawford, Juan Uribe and A.J. Ellis (two RBIs).
Former Pirate Paul Maholm followed Beckett with four outs, then allowed a pair of hits to start the bottom of the sixth and was replaced by Jamey Wright, who walked pinch-hitter Gaby Sanchez with two outs to load the bases, then allowed a two-run single to Polanco and an RBI single to Travis Snider. Wright hit Andrew McCutchen with a fastball in the back of the shoulder to load the bases again and then threw a wild pitch, scoring Polanco.
"I was a little frustrated after that," said Wright. "It's my job to get outs. It was downhill from there."
Wilson relieved Worley in the seventh inning, tried to hit Justin Turner with his first pitch in retaliation for the McCutchen plunk but missed inside, then drilled Turner on the left arm and was immediately ejected by home-plate umpire Toby Basner. Hurdle was ejected for arguing with crew chief Jeff Nelson, and Mattingly didn't seem to blame Hurdle.
"We all understood what happened," said Mattingly. "The only guy that didn't was the plate umpire. He could have given a warning and it would have been over."
Gonzalez, after fouling off a bunt, then homered to right-center, his 15th. With one out in the eighth, Van Slyke crushed a solo shot, his ninth home run, to make it an 8-7 game, but with one out in the bottom of the frame, Perez issued four consecutive walks.
"Definitely a step backward," Mattingly said of Perez, whose roller-coaster season brought him into this game having allowed one earned run in eight appearances after making some mechanical adjustments. "He had been pitching good, making progress."
Ken Gurnick is a reporter for MLB.com. This story was not subject to the approval of Major League Baseball or its clubs.