Reds' skid at five after Brewers walk off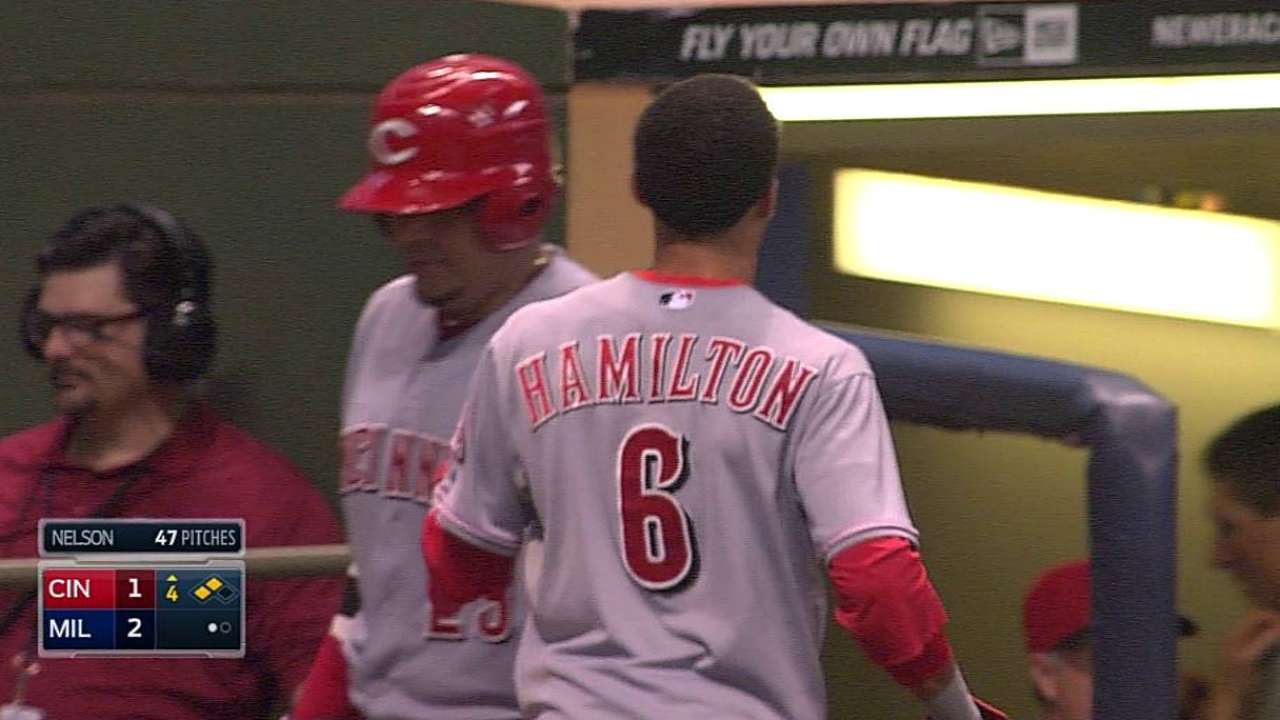 MILWAUKEE -- Obviously, the Reds want to win every game they can, but Tuesday's effort vs. the first-place Brewers qualified as one of the rare times this season they needed to win a game.
Both the want and the need went unfulfilled, however. The Brewers slugged four solo home runs, including two from Jonathan Lucroy, sending the Reds to a 4-3 defeat. Lucroy's second long ball was a walk-off shot off reliever Sam LeCure.
"Let's forget the silver lining tonight," manager Bryan Price said. "We gave up four home runs and lost, 4-3. We just haven't played terribly well coming out of the break. Not a whole lot else to say other than that. We haven't really done enough to go out there and win. We have to step it up."
Coming out of the All-Star break, the Reds have dropped a season-high five straight games and also suffered their eighth consecutive road loss. Now 4 1/2 games behind first-place Milwaukee in the National League Central, Cincinnati needs a victory on Wednesday to avoid going home with a winless six-game road trip.
And to think, this is the same club that had won eight of its last 11 games before the break and was 1 1/2 games out.
"It's weird," shortstop Zack Cozart said. "[We] finished up on such a high note before the break. And we come back, and we haven't played like we wanted to. We're going to keep fighting, and we'll turn it around. We want to start getting hot here pretty soon."
Ending a season-high stretch of four games without a quality outing from Reds starters, Homer Bailey gave up three earned runs and four hits over six innings. All three runs, and three of the hits, came on two-out solo homers.
There were two quick outs in the Milwaukee first when Bailey left a 2-2 fastball over the plate to Ryan Braun, who pushed it to the opposite field for a homer over the right-field fence. Two pitches later, Aramis Ramirez pulled one to left field for back-to-back homers and a two-run Brewers lead.
Bailey, who showed no signs of favoring the right knee he strained in his previous start just before the All-Star break, retired his next 11 in a row. Later in the sixth, Lucroy's homer on a full count pitch made it a 3-1 game.
"The ones that I gave up, I felt, were pretty decent pitches," Bailey said. "They were just a little [in the] bottom of the zone, caught a little more of the plate than I would have wanted. They went out and got them. In this park the ball flies quite a bit once it gets up in the air."
Cincinnati rallied to tie the score in the seventh, aided by a pivotal play. Following two singles, Cozart squared to bunt and was hit on the right hand by a fastball and awarded first base. Brewers manager Ron Roenicke challenged the call, believing the ball hit Cozart's bat, but the call was confirmed, and the bases were loaded with no outs.
Ramon Santiago was then hit on the foot by a 1-2 pitch from Brewers right-hander Jimmy Nelson. Against reliever Brandon Kintzler, pinch-hitter Chris Heisey's sacrifice fly scored Ryan Ludwick with the tying run. The inning ended when Cozart was caught in a double play at second base on Billy Hamilton's line drive to Rickie Weeks.
"That was bad baserunning," said Cozart, who exited after the inning for X-rays, which were negative. "In that situation you can't get doubled up, and I did. I had a chance. I didn't read it right."
On this road trip, the Reds are 2-for-34 with runners in scoring position.
Lucroy provided the quick ending when he began the bottom of the ninth by hitting a 1-1 pitch from LeCure. There was no doubt it would clear the left-field fence, and it snapped LeCure's seven-appearance streak without a run allowed.
Price was asked if there is a way to get his feeling of disappointment across to his players.
"They don't need a lecture from me about me being disappointed," he said. "We're all disappointed. Nobody likes it. If you've watched our team in these five games, you've seen guys busting their tails down the line, putting in the work pregame and being invested in what we do to prepare. We just haven't executed."
The Reds are stuck trying to find a way to get the win they need to get out of this mess. How they'll do that remains the mystery.
"I think that's the million-dollar question right now," Bailey said. "Things just aren't going our way."
Mark Sheldon is a reporter for MLB.com. Read his blog, Mark My Word, and follow him on Twitter @m_sheldon. This story was not subject to the approval of Major League Baseball or its clubs.