Padres can't solve Cubs' pitching in opener
Stults allows three runs over five innings in first game without Headley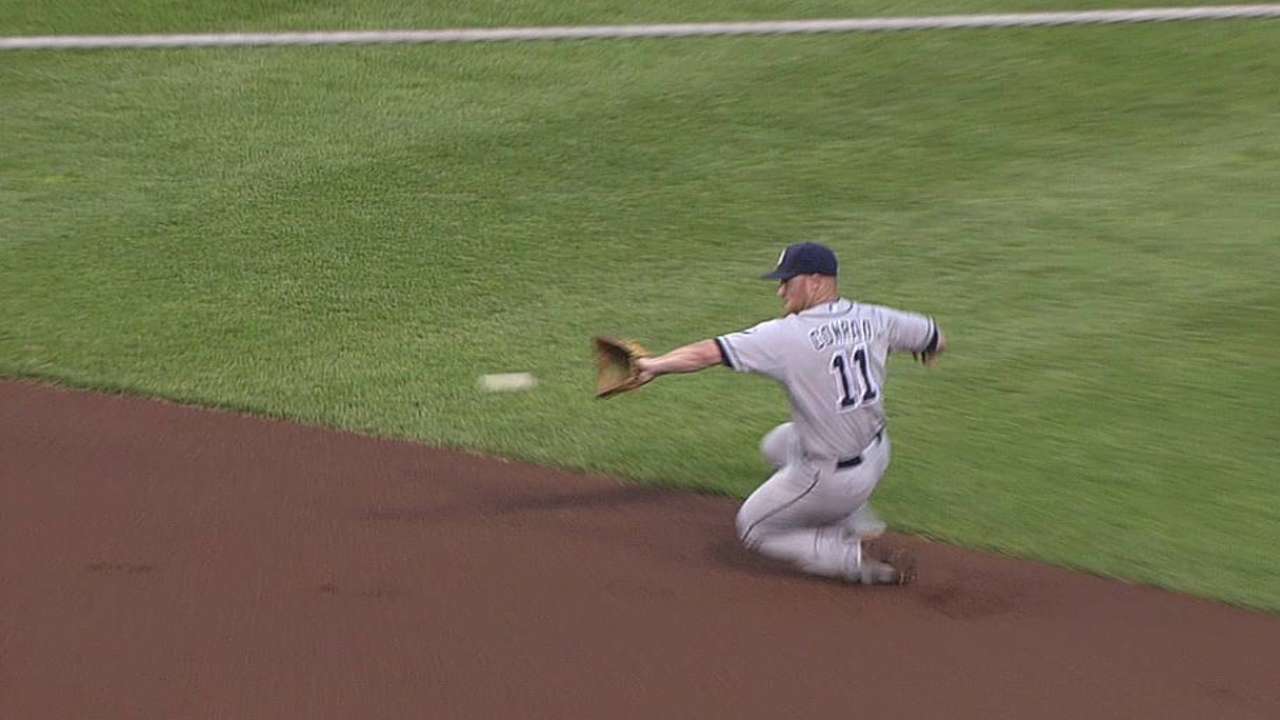 CHICAGO -- Eric Stults took the mound on a muggy Tuesday night at Wrigley Field, confident that he could turn around his career struggles against the Cubs.
The Cubs had other plans.
Chicago catapulted to its first win in 11 days, scoring three runs on six hits against Stults, while handing the Padres' their first shutout loss of the second half, 6-0, on Tuesday night.
Stults lost his league-worst 12th decision and dropped to a 1-6 against the Cubs, who now boast a .302 (51-for-169) average against the lefty.
Stults, who received no run support for the seventh time this year, said he struggled with his fastball command early after walking three of the Cubs' first nine batters over the opening two frames. His pitch count elevated to 50-plus through two innings and 103 through five.
"The first inning of a ballgame for me is the toughest," Stults said. "It took me a couple innings to settle in. I threw a lot of pitches, but I felt like getting through that first inning and allowing only one run was a victory for me.
"I don't know if they have my number. I've had a few really good starts, but just haven't been able to come out with the win."
Chicago jumped to a 1-0 lead when Emilio Bonifacio scored on a Justin Ruggiano sacrifice fly after leading off with a double. Then Anthony Rizzo belted his first of two homers on a first-pitch curveball from Stults that nearly eclipsed the right-field bleachers onto Sheffield Ave., extending the Cubs' lead to 2-0.
In the fifth, Ruggiano added his second RBI to give the Cubs a 3-0 lead on a single to center that brought home Starlin Castro, who had preceded with a double to left.
Stults was relieved after the inning in favor of Dale Thayer, then Blaine Boyer, who allowed back-to-back homers to Arismendy Alcantara and Rizzo -- who leads the National League with 25 -- and an RBI double by Welington Castillo in the seventh.
"You think that you're going to get back in the game by scoring runs," Padres manager Bud Black said. "We just didn't get there."
The Padres mustered five hits, but their biggest issue on the 89-degree night in front of 32,730, was running into four double plays.
"Double plays were our demise," Black said. "The low change-up, the low fastball with some sink to it, we just nicked the ball into the ground. We couldn't get it airborne."
Black praised Cubs pitcher Kyle Hendricks, who made just his second career start and first at Wrigley on Tuesday. Hendricks, who allowed four runs on five hits in his debut earlier this month, tallied just 83 pitches over seven innings, allowing five hits and three walks while fanning five.
The Padres' bullpen, which pitched just 7 1/3 innings during last weekend's three-game series against the Mets, tossed three innings with three earned runs and four hits on Tuesday.
"When you're 50-plus pitches after two, and on a night like this where you think that runs might be aplenty, you start thinking about how you're going to use your bullpen," Black said. "But after the All-Star break, good pitching over the weekend against the Mets, our bullpen is fresh. We knew what we could do. We had plenty of arms out there to get it done."
The Padres (43-56) look to draw even with the Cubs (41-57) on Wednesday after splitting a four-game series in San Diego earlier this season.
Daniel Kramer is an associate reporter for MLB.com. This story was not subject to the approval of Major League Baseball or its clubs.