Wainwright off game, chased early in defeat
Cards ace comes undone in five-run fifth; Carpenter, Holliday go deep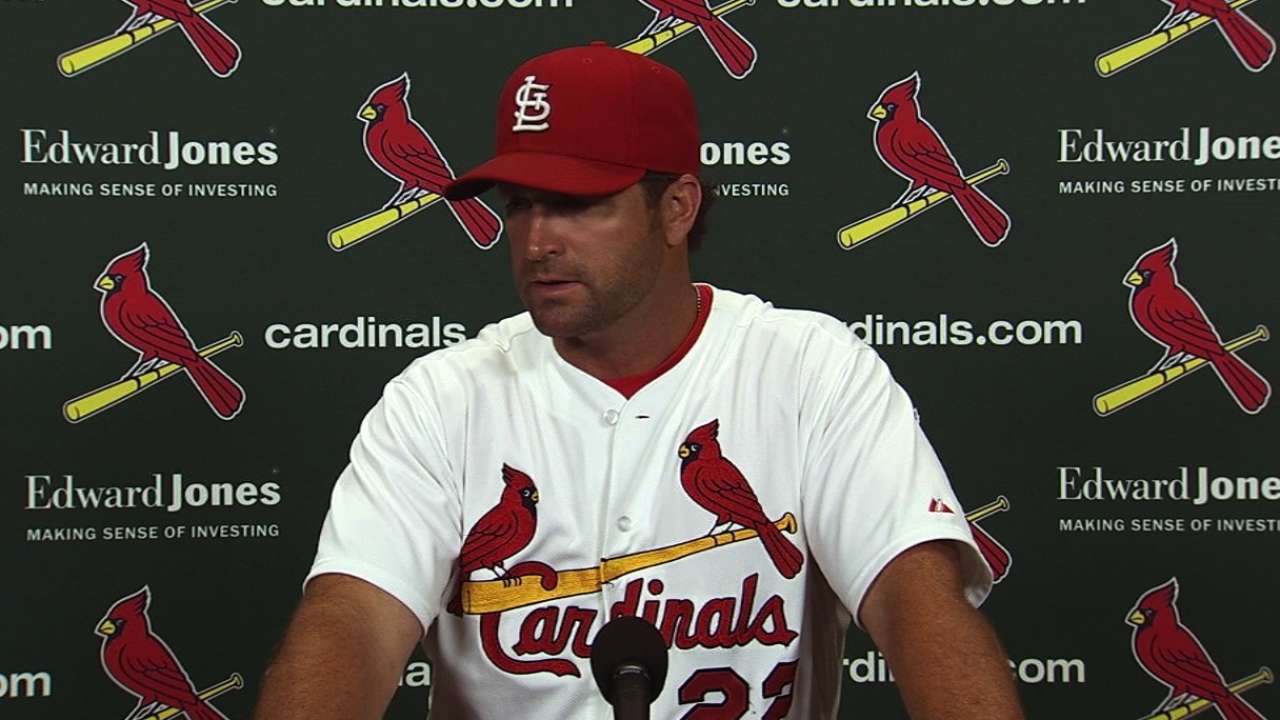 ST. LOUIS -- It was as atypical a start as there has been in some time for Adam Wainwright, who self-destructed in a fifth inning that cost the Cardinals their series opener against Tampa Bay on Tuesday night.
En route to a 7-2 victory in front of 43,623 fans at Busch Stadium, the Rays chased Wainwright during a five-run fifth in which Tampa Bay tallied only two hits. Wainwright provided the rest of the assistance, committing a fielding error, walking three and hitting one in his first outing since starting the All-Star Game.
A "train wreck" was how the ace aptly referred to the complicated frame afterward.
"It's hard to explain when weird things like that happen," Wainwright added. "But I know that this game is incredibly frustrating sometimes and probably for the fans, too, tonight watching and wondering what in the world I was doing out there. Every now and then you just have a crazy inning like that."
Actually, Wainwright did know what was going wrong but couldn't correct it. His delivery -- the hands, his posture, his pushoff -- fell out of whack. Sometimes that led to command issues; other times it left the righty with an inability to get more zip on his pitches.
By the time he dissected his delivery problems with the media postgame, Wainwright had already camped out in the video room and watched three starts from earlier this season. He compared his delivery in those to video from Tuesday, reliving it all in order to zero in on the necessary fixes.
"I think that's just part of the process of humbling that this game can do," manager Mike Matheny said. "Whenever you think you've got it completely figured out, it'll reach up and grab you."
Wainwright sailed through the first four innings on 48 pitches, allowing only a second-inning run on a safety-squeeze bunt by Rays starter Jake Odorizzi in his first Major League plate appearance. The unraveling then started with a walk to nine-hole hitter Kevin Kiermaier to begin the fifth inning in a 1-1 game.
Wainwright followed with an out and had another one rolling just feet away but whiffed as he reached down to glove it.
"That's just another terrible thing I did tonight," said Wainwright of his first error in 85 games. "I was going to grab it and flip it real quick to first base and kind of looked up before I caught the ball. You need to catch it first."
Ben Zobrist reached safely, and the floodgates then opened. Three runs scored on doubles by Matt Joyce and Yunel Escobar. In between, Wainwright hit Evan Longoria and walked James Loney with the bases full.
"All of a sudden, the boys are getting their swagger back," said Rays manager Joe Maddon, whose club is 12-4 this month. "This is the group that we should be right here."
Wainwright's 39th pitch of the inning was also out of the zone, and as Odorizzi jogged to take the free base, Matheny ended his starter's night. The 4 2/3-inning start was Wainwright's second shortest of the season. This also marked just the third time in 205 career starts that Wainwright had walked four and not finished at least five innings.
He entered the game with a National League-low 1.83 ERA. It now sits at 2.02.
"We saw some uncharacteristic things and things that aren't typically going to happen to him and that he normally gets himself out of," Matheny said. "But he's human. They're going to happen. I think he was finding a feel, and then that inning just couldn't get through it."
Wainwright emphasized, too, that he could not blame his struggles on any physical ailment, certainly good news for the Cardinals. When he pitched against the Rays a month ago, Wainwright tossed seven scoreless innings despite pain in his forearm. It was after that start that the Cardinals gave Wainwright 10 days to rest.
"I got seven shutout innings just throwing marshmallows up over the plate, letting guys hit liners right to people," Wainwright said. "Tonight, I should have been good. I should have had decent stuff."
Both of the Cardinals' runs came via the long ball, with Matt Carpenter hitting his fourth career leadoff homer to give St. Louis an early lead and Matt Holliday shaving into a five-run deficit with his sixth-inning solo shot. The blast, Holliday's eighth of the season, followed the Cards' unsuccessful challenge of a foul ball that, had it gone the other way, would have put Holliday on first with a single.
Odorizzi, who grew up on the Illinois side of the city, had little other trouble with the Cardinals' offense. The young right-hander scattered three other hits in 5 2/3 innings. He had been on the wrong end of a 1-0 duel with Wainwright last month.
"I didn't know what to expect coming in, and I didn't think I would have much nerves to be honest, and then I definitely had a lot of nerves," said Odorizzi, who had several hundred supporters in the stands. "I was nervous. I was excited. I was just about anything you could be."
Jenifer Langosch is a reporter for MLB.com. Read her blog, By Gosh, It's Langosch, and follow her on Twitter @LangoschMLB. This story was not subject to the approval of Major League Baseball or its clubs.