Moose's homers are wakeup shots against Sox
Third baseman's two blasts, four-run sixth inning help even series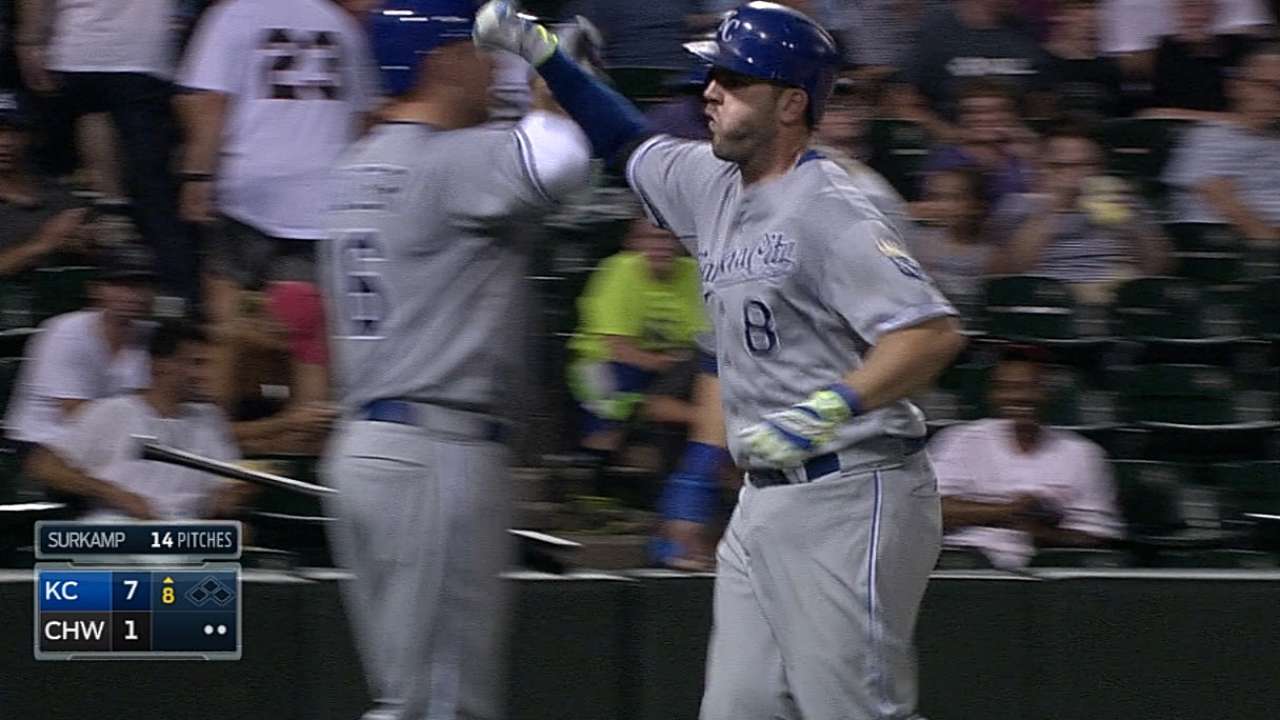 CHICAGO -- Finally, there were home runs. There was even a four-run inning. Let's see, what else was different for the Royals?
Oh yes, a victory. And that arrived emphatically, 7-1, over the Chicago White Sox on Tuesday night as Mike Moustakas blasted two homers with 20,428 fans at U.S. Cellular Field.
It had been a bleak period for the Royals. They not only had lost four straight games since the All-Star break, but they'd also scored just one run in their last 24 innings.
"It's a big relief," manager Ned Yost said. "We needed to do it, coming back off the All-Star break. I really feel like we're a really good second-half team and, saying that, we go 0-4 in the first four games of the second half. So it was big to get a win and we've got to move forward."
The Royals had not hit a home run since way back on July 10 when, by the way, they were crushed by the Tigers, 16-4. Billy Butler and Eric Hosmer each hit one out, but they'd gone seven games without one since.
Then, Moustakas cranked up on a 3-2 pitch from White Sox right-hander Scott Carroll to start the second inning. The ball soared into the right-field seats.
Moose was just warming up. He ripped a single in the third inning and sent center fielder Adam Eaton racing to the center-field wall to catch his long drive in the sixth.
And, in the eighth inning after Alex Gordon walked, Moustakas came up against left-hander Eric Surkamp and drove another ball into the right-field stands. That gave him 12 homers, the team high.
"Almost three homers and the one single that he hit was absolutely scalded," Yost said happily.
The White Sox got a home run of their own as Adam Dunn led off their fourth with a blast to left field off left-hander Bruce Chen. That made it 1-1.
Then, of all things, the Royals conjured up a four-run sixth inning that sent Carroll packing.
Butler started it with a double off the right-center field wall and he scored as Raul Ibanez pulled a double into the right-field corner. Alcides Escobar's bunt rolled for a single and Nori Aoki walked, ball four being a passed ball that let Ibanez scoot home.
Carroll was excused in favor of Javy Guerra, who fielded Jarrod Dyson's bunt down the third-base line and threw the ball past first base. Escobar scored on the error and then Aoki trotted home on Omar Infante's sacrifice fly to right and it was 5-1.
Chen pitched five innings, allowing only the homer, and got the victory. It was the 82nd of his career, tying Chen with Yankees legend Mariano Rivera for the most wins by a Panamanian-born pitcher.
"He softens it up," White Sox manager Robin Ventura said of Chen. "Guys that can move it around, manipulate it in a way, cutting it in, running it away, making it really soft. He's never really in the middle of the plate. He's always all over the place. He's just deceptive for either side."
It was a steamy 86 degrees and Chen was feeling it. On his 89th pitch, Conor Gillaspie drilled a liner right at shortstop Escobar, who doubled off Alexei Ramirez at second base.
"For him to get Gillaspie to hit into the line-drive double play … was huge to get him through the fifth inning because he was gassed," Yost said.
Kelvin Herrera added two shutout innings and Wade Davis worked a scoreless eighth. Closer Greg Holland, who had not pitched since appearing in the All-Star Game, finished up with a one-hit ninth inning.
The Royals finished with 14 hits including two each by Dyson, Gordon, Ibanez and Aoki and, of course, Moustakas' three.
And, yes, Moustakas was very aware that the White Sox were celebrating Greek Heritage Night.
"I was telling everybody it was my day," he said.
Dick Kaegel is a reporter for MLB.com. This story was not subject to the approval of Major League Baseball or its clubs.