White Sox bested by Chen, Royals' big frame
Carroll labors in four-run sixth after Dunn belts tying homer in fourth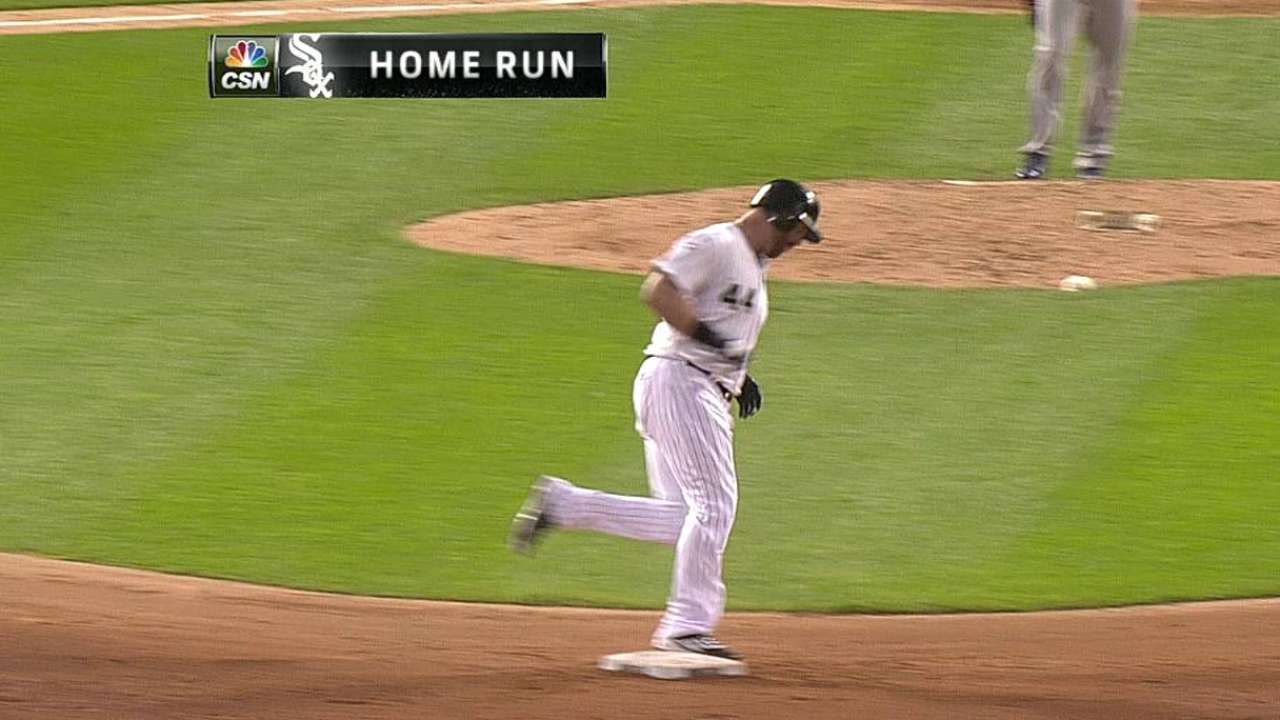 CHICAGO -- In putting together the White Sox roster for both the present and the future, the organization's front office might want to think about acquiring Bruce Chen.
Yes, they have plenty of quality left-handed starters in Chris Sale, John Danks and Jose Quintana, with Carlos Rodon, the club's top pick in the 2014 First-Year Player Draft, on his way after making his one-inning pro debut for the Arizona Rookie League White Sox on Tuesday night.
But if the White Sox pick up Chen, then they won't have to watch him shut them down as he did once again during the Royals' 7-1 victory at U.S. Cellular Field. Chen (2-2) recorded his 82nd career win, matching Yankees legend Mariano Rivera for the most by a Panamanian-born pitcher.
A career-high eight of those victories have come against the White Sox. He owns a 2.04 ERA over his last six appearances (five starts) against them and is 7-3 with a 2.84 ERA since 2011 when facing the South Siders. White Sox manager Robin Ventura explained that Chen has found success against other teams as well, but he certainly enjoys those visits to Chicago.
"He softens it up," Ventura said. "Guys that can move it around, manipulate it in a way, cutting it in, running it away, making it really soft. He's never really in the middle of the plate. He's always all over the place."
Chen allowed one run on five hits over five innings and 89 pitches, striking out two and walking two. That one run came courtesy of Adam Dunn's 15th homer -- the 455th of his career and 101st as a member of the White Sox -- leading off the fourth.
The best chance for the White Sox against Chen came in the third when they loaded the bases with two outs before Dayan Viciedo flew out to left. The rest of this Royals' victory, dropping the White Sox to 1-5 at home against Kansas City, came down to defensive plays not made by the home team and a manager's challenge not being enacted quite quick enough by Ventura.
Those shortcomings all took place in the sixth inning.
With the game tied, Billy Butler and Raul Ibanez doubled off of White Sox starter Scott Carroll to give the Royals a 2-1 lead. Alcides Escobar followed with a perfectly placed bunt single to put runners on the corners with none out.
Carroll (4-6) made a seemingly innocent throw to first baseman Paul Konerko to keep Escobar close, but replays showed that Escobar's hand jammed on Konerko's foot and he appeared to be out. Ventura came out after Escobar had taken time to check on his hand, but home-plate umpire and crew chief Mike Winters did not go to the review because replay regulations stipulate that a manager must initiate a challenge prior to the pitcher taking his place on the rubber, and the batter entering the box.
"That was a weird one," Ventura said. "They called down and said he was out. By that time, the guy is already in the box. But Paulie didn't even notice it either. It wasn't one of those ones where a guy is waving you out."
Nori Aoki walked and an Adrian Nieto passed ball on ball four brought home the second run to end Carroll's evening. Jarrod Dyson followed with a bunt single against Javy Guerra, and when Guerra threw the ball away on the play at first, Escobar scored the third run. Omar Infante's sacrifice fly brought home Aoki to complete the four-run rally during which the Royals batted around.
During Carroll's five-plus innings of work, he allowed five runs on 11 hits and two walks, while striking out three. He entered the game with 11 2/3 consecutive scoreless innings.
"Just rusty. That's kind of the way I felt," Carroll said. "Early on, I was able to get some strikeouts to get out of the first inning, but overall I just didn't feel I had my best stuff. The sixth inning is what really got me, but up to that point, I had just felt rusty."
Mike Moustakas completed the scoring with a two-run shot in the eighth off of Eric Surkamp for his second homer of the game. The White Sox dropped to 18-22 against the American League Central and to 3-2 in the second half, while the Royals snapped a four-game losing streak.
"Even tonight, I don't know that we did anything all that great," Ventura said. "All the way around tonight, you are going to lose a game like that. We didn't pitch well. We didn't field well. We didn't hit well."
"Every game that we play is a important game," Moustakas said. "We need to scratch and claw to find ways to win each game. This was an important one."
Scott Merkin is a reporter for MLB.com. Read his blog, Merk's Works, and follow him on Twitter @scottmerkin. This story was not subject to the approval of Major League Baseball or its clubs.