MLB.com Columnist
Jim Callis
Aiken non-deal raises questions, calls for change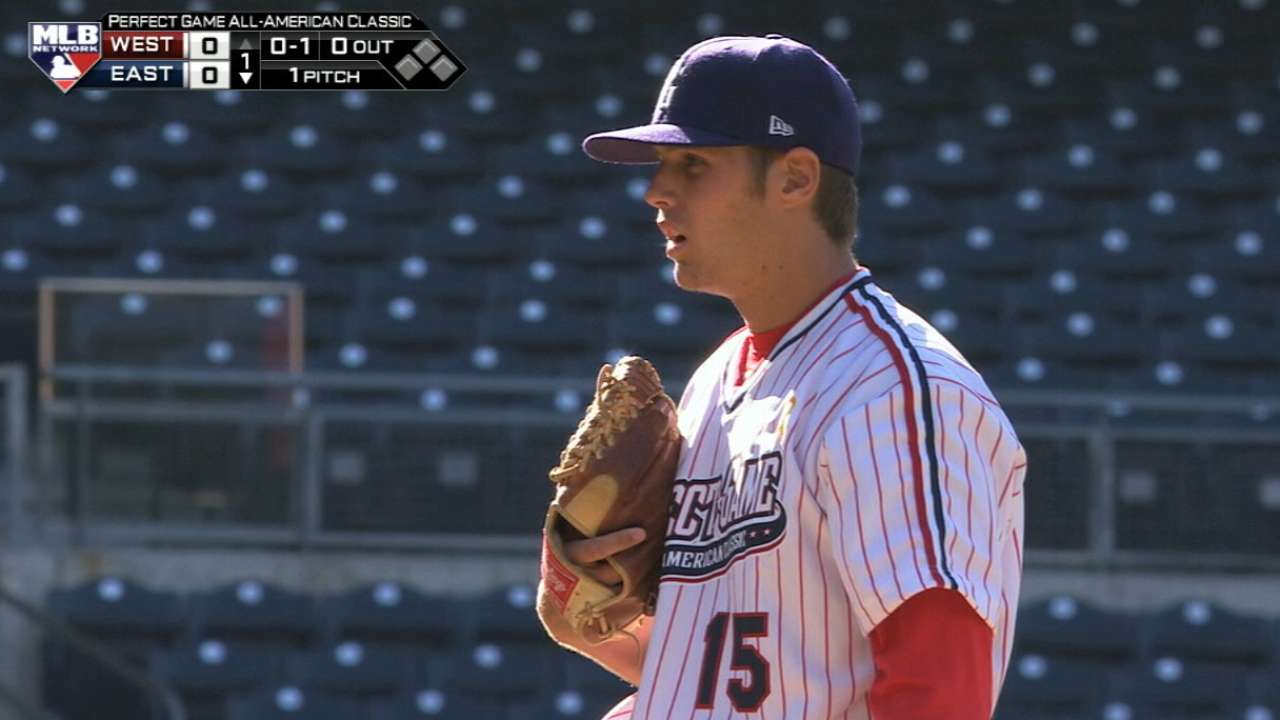 Since the Astros didn't sign No. 1 overall pick Brady Aiken before the deadline at 4 p.m. CT on Friday, plenty of blame has been passed around.
Houston has been criticized for being overly concerned about Aiken's abnormally small ulnar collateral ligament in his left (pitching) elbow, and accused of trying to exploit the situation to create extra money to sign 21st-rounder Mac Marshall and for not handling the negotiations well in the aftermath of their reduced offer. The Astros originally agreed to a $6.5 million bonus before a post-Draft physical unexpectedly raised issues about Aiken's UCL, leading to a revised offer of $3,168,840 that increased to slightly more than $5 million on Friday.
There are industry insiders who question Aiken for assuming the risk involved with an 18-year-old pitcher turning down $5 million. Others wonder how his adviser, Excel Sports Management's Casey Close, could let the deal collapse and whether he jeopardized the NCAA eligibility of Aiken and Jacob Nix by speaking out publicly against Houston.
But the real culprit here is the system for Draft physicals. The current Collective Bargaining Agreement, which came into play in December 2011, called for a pre-Draft medical combine. But MLB and the MLB Players Association have been unable to work out the logistics, because many college and high school players' seasons extend near or past the Draft.
As a result, instead of having medical results before taking a player and negotiating a signing bonus with him, clubs get them afterward. Unless agreed otherwise, whether a player passes or fails his physical is at the sole discretion of the team doctor.
******
Though MLBPA executive director Tony Clark has criticized the Astros for how they handled the Aiken and Nix negotiations, the union signed off on several Draft-related concessions in the current CBA. The MLBPA agreed to a rule that says if a draftee fails his physical, the club need to offer only 40 percent of his assigned pick value to get a corresponding compensation choice in next year's Draft. Unless a significant injury is involved, the 40 percent threshold is so low that it's a no-brainer for the team to offer and a no-brainer for the player to decline.
Aiken's situation is hardly unique. A year ago, high school left-hander Matt Krook agreed to terms with the Marlins as a supplemental first-round selection (35th overall), but he didn't pass his physical. Miami offered him 40 percent of his assigned value and received the 36th pick this June because Krook decided to attend the University of Oregon instead of signing; he had Tommy John surgery this spring.
Medical examinations are subjective, especially those involving pitchers, because they involve not only detecting injuries but evaluating risk. Highly regarded prospects will continue to fail post-Draft physicals, making it difficult for them and their selecting teams to work out a deal.
"We were following the rules all along," said Astros general manager Jeff Luhnow. "We advised Major League Baseball of what we were doing every step of the way. We didn't do anything unethical. We didn't try to game the system. We tried to do what was best for the Houston Astros in accordance with the current [Collective Bargaining Agreement] and the Draft system. It's frustrating listening to people who are saying we tried to pull a fast one."
******
Two things need to change to avoid another Aiken imbroglio in the future. First, MLB and the MLBPA need to figure out how to clear the hurdles standing in the way of pre-Draft physicals. The simplest solution would be to push the Draft from the beginning of June back to the end of the month when colleges and most high schools are done playing.
Another idea would be to hold several smaller pre-Draft medical combines across the nation, making them reasonably accessible for as many players as possible. There likely would be issues with some coaches not wanting players to participate during their ongoing seasons or some representatives advising their clients not to attend, but it would at least give them an opportunity that doesn't presently exist.
While a concern raised by a pre-Draft physical could affect a player's market value and leverage, several agents contacted by MLB.com said they'd rather know in advance instead of finding out after the player has been drafted and agreed to a bonus. The thinking is that if a medical issue was known before the Draft, a player would be more likely to be picked by a club less bothered by it.
Secondly, MLB and the MLBPA should develop a procedure by which teams and players agree on the doctor who will perform the examination and perhaps set up a system for additional opinions if the original interpretation is in dispute.
The 40-percent threshold also should be raised. Increasing the minimum offer to somewhere around 60 percent of the assigned pick value would make for a more level playing field.
******
While agent Scott Boras wasn't involved in the Aiken negotiations, he has proposed an interesting solution, one that would potentially make both sides more whole when a player fails a physical. If the team wishes to reduce the agreed-upon bonus, the player could elect free agency and sign for an amount no greater than the agreed-upon bonus or his assigned pick value, whichever is higher. Under this plan, the club not only would get a compensation choice in the next year's Draft, as it does now, but it also would be able to use the negotiated savings vs. the pick value in the current Draft.
In this year's scenario, Aiken could have opted for free agency and signed elsewhere for as much as $7,922,100, the allotted value for the No. 1 selection, while the Astros still would have gotten the No. 2 pick in the 2015 Draft as compensation. Because Houston also would have saved $1,422,100 vs. the pick value in its original deal with Aiken, it could have used that money to sign Nix.
A high school right-hander selected in the fifth round, Nix agreed to a $1.5 million bonus that the Astros ultimately rescinded. Had Houston paid Nix $1.5 million without signing Aiken, it would have blown past its bonus pool by more than 15 percent and forfeited its next two first-round choices as a penalty.
This process would be an improvement over the status quo. So would just about any change to the time and manner in which physicals for draftees are conducted.
Jim Callis is a reporter for MLB.com and writes a blog, Callis' Corner. Follow @jimcallisMLB on Twitter. This story was not subject to the approval of Major League Baseball or its clubs. This story was not subject to the approval of Major League Baseball or its clubs.