Braves' rally comes up short after Minor struggles
Left-hander tagged for six runs on 10 hits over three-plus innings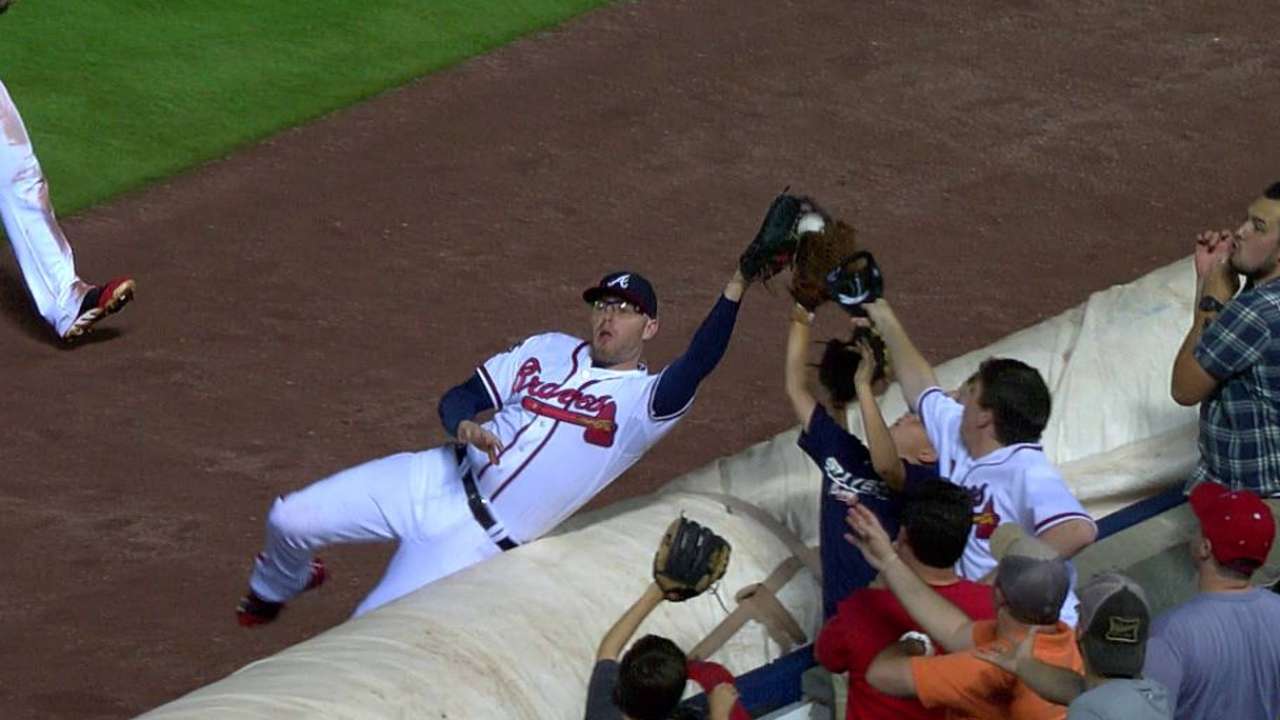 ATLANTA -- Given that Nathan Eovaldi and Henderson Alvarez stand as the opposition in the final two games of this four-game set, the Braves certainly did not want to drop two straight to the Marlins. But when evaluating the big picture, they had reason to be much more concerned by the fact that this second straight loss came courtesy of Mike Minor's most recent struggles.
Minor has been exposed to routine disappointment for more than a month now. But the Braves southpaw said that all of the previous frustration he has encountered this season was trumped by what he experienced in another shellacking in Tuesday night's 6-5 loss to the Marlins.
"I had a good mindset coming in after the break," Minor said. "It was one of those things where you come in and you feel like this is a clean slate and we're going to try to have a good second half here. Then, I come out and give up [10 hits]. We scored five runs. We should have won the game."
Long after Minor allowed 10 hits and six runs in a season-short outing of three-plus innings, the Braves put themselves in position to complete what would have been a spirited comeback. Jason Heyward's two-out, two-run single in the eighth inning cut the deficit to one run. Chris Johnson then provided further hope when he opened the ninth with a single off of Steve Cishek.
When Jordan Schafer replaced Johnson as a pinch-runner, it was obvious that he was going to attempt to steal second base. But after Cishek made four straight pickoff attempts, the Braves' decision to stick with this plan backfired as Jeff Mathis made a strong low throw that easily retired Schafer, who had been successful with 15 of 16 previous attempts. Cishek had foiled just one of the previous six runners who had attempted to steal against him.
Braves manager Fredi Gonzalez said he did not want to give up an out by having Andrelton Simmons attempt a sacrifice bunt before Schafer attempted to steal second base.
"You don't want to give up an out there and you've got Schafer sitting on the bench, you felt like you had a good chance stealing the base there and Mathis made a nice throw," Gonzalez said. "It wasn't in the air, it was a one-hopper, but that's almost better really and we didn't steal it."
Consequently, the Braves bid adieu to their ninth-inning rally and a short time later found themselves two games behind the first-place Nationals. But their standing in the National League East standings should not currently prove to be anywhere near as concerning as what has been seen from Minor, who has now allowed at least 10 hits in four of his past eight starts. He entered this troubling stretch having allowed a double-digit hit total in just three of his first 92 career starts.
"This year, it seems like I'm pitching to contact, but I'm really trying not to," Minor said "Last year, I just went after guys."
Whether it's a lack of aggression or a lack of command, Minor simply hasn't looked anything like he had while posting a 2.90 ERA in the 47 starts that stretched form July 5, 2012, through the end of last season. He lasted fewer than five innings in just two of those outings. Now, he has been unable to complete five innings three times as he's produced a 7.65 ERA in his past eight starts.
"I am a little concerned because we've seen so much better than that and we've seen a couple of good outings and then one like tonight and then a couple of good outings, so we'll keep working, we'll keep trying to work it out because he's a big part, a big piece of our rotation right now," Gonzalez said.
It looked like the Braves might compensate for Minor's struggles when they loaded the bases in the first inning. But Heyward's one-out bloop single scored the only run tallied during that frame, which concluded with Evan Gattis grounding into a double play. Justin Upton's two-out home run in the third inning accounted for the only other run allowed by Jacob Turner, who was making his first start since being moved to the Miami bullpen with a 6.38 ERA in June.
Donovan Solano paced the Marlins with four hits, including one of the three singles Minor surrendered before allowing his first run on Casey McGehee's double-play groundout in the first inning.
Giancarlo Stanton highlighted a three-run third inning with an RBI double. Minor's inability to command his fastball was evident once again when Turner began the fourth inning with a double. The Braves hurler exited two batters later, when Solano bounced a double over the left-center-field wall.
"I couldn't really throw anything on the corners tonight," Minor said. "Everything was running over the middle of the plate. Some of the balls that they mishit were still hits and still fell in."
Minor reiterated that he is physically healthy and unaffected by the fact that he essentially missed Spring Training because of a surgical procedure in January.
"I feel good and I don't want that to be an excuse," Minor said. "It's just been a rough season so far."
Mark Bowman is a reporter for MLB.com. This story was not subject to the approval of Major League Baseball or its clubs.