Happ tosses six scoreless, receives boost from bats
Reyes, Navarro go deep as Blue Jays knot series with Red Sox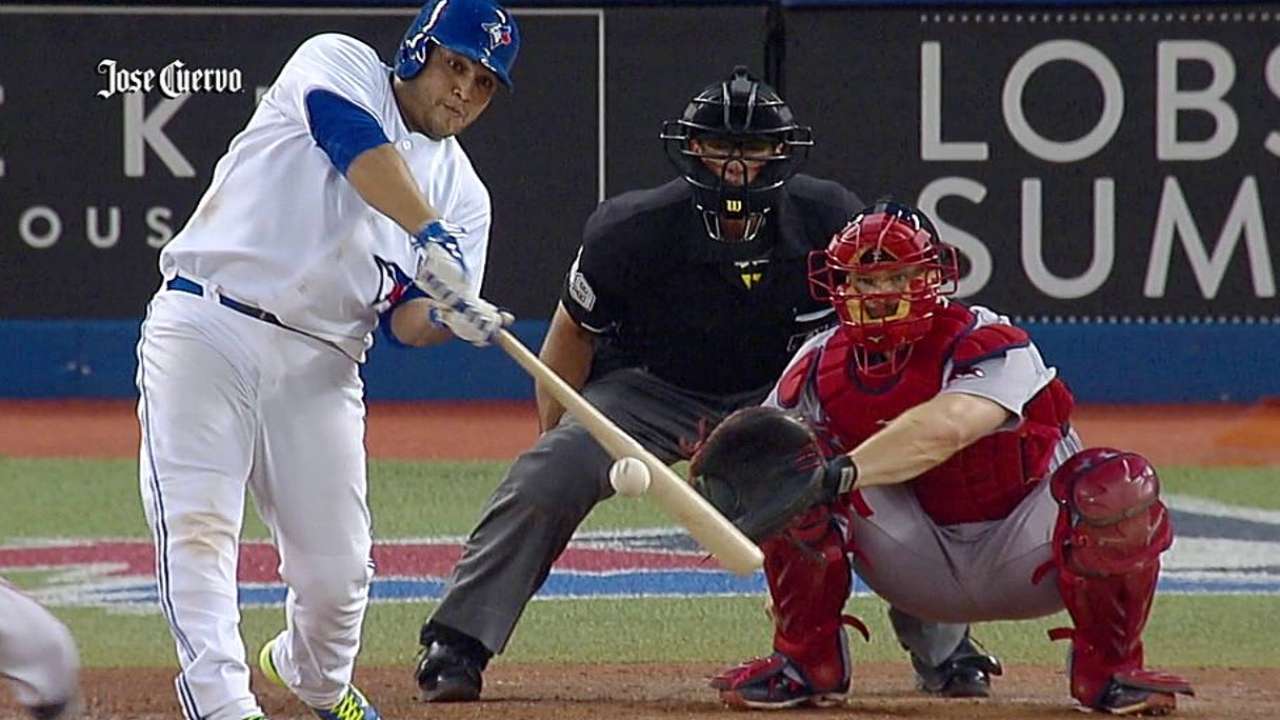 TORONTO -- If there were any lingering effects from Monday's blowout loss to the Red Sox, left-hander J.A. Happ got rid of them in pretty short order.
One night after the club's most lopsided loss of the season, Happ ensured the Blue Jays got back on track. He enjoyed one of his best starts of the season and bought Toronto just enough time to get the bats going.
Happ tossed six scoreless innings while Jose Reyes and Dioner Navarro both homered in the sixth inning in the Blue Jays' 7-3 victory over Boston on Tuesday night at Rogers Centre.
"That might have been, in my opinion, his best outing of the year," Blue Jays manager John Gibbons said. "He had a good curveball going that he established, he used quite a bit.
"He primarily relies on his fastball, because he has a good one, but he had a good curveball tonight that he was throwing over the plate and a good changeup. That was big, that was a big part of the reason he held them in check."
Happ continues to be a rather pleasant surprise for Toronto after he began the season without a job in the rotation. He has battled some inconsistency, but for the most part has given the Blue Jays everything they could expect from a No. 5 starter.
When Happ runs into trouble, it's often because he loses command of the strike zone. Whether it's conscious or not, he has a tendency to nibble at the corners which often leads to a high pitch count and multiple situations with runners on base.
There were no signs of that against the Red Sox, though, as Happ was in fine form. He scattered seven hits and issued one walk while striking out four en route to his sixth quality start. The biggest weapon he had was the curveball, which he was throwing for strikes, and made his fastball that much more effective.
"I think the curveball was probably, as good, or better than it has been this year," said Happ, who lowered his ERA to 4.55. "I think that was a big pitch tonight ... Sometimes it's one or the other, the slider or the curveball, it's hard to throw all four [pitches] and have a good feeling for all four. But that was there and fastball command was pretty good overall tonight."
Happ was effective, but it wasn't exactly smooth sailing. He stranded a pair of baserunners in the fourth, then encountered more difficulty in the sixth when he allowed the first two batters of the inning to reach. Happ got out of that jam by inducing a double-play grounder by Shane Victorino, then striking out Stephen Drew.
This outing marked the ninth time in 14 starts that Happ walked two batters or fewer. A big reason behind his overall success has been keeping the ball in the park as Happ's allowed just two homers over his past 45 2/3 innings, dating back to June 5. Before then, Happ surrendered six home runs in six starts.
"It's a confidence builder," Happ said of escaping the jams. "It gives you more confidence to keep going out there and try to execute pitches. I'm just trying to get these guys in, I know they're battling, try to hold them down as long as we can. We kept on them and we scored several ... which turned out to be great."
The final score won't show it, but Happ was locked into a pitchers' duel. When he left midway through the sixth, the Blue Jays were clinging to a 1-0 lead with Boston right-hander Jake Peavy still looking strong.
That changed in the sixth when Reyes led off with his eighth home run, a drive to right field. Three batters later, Navarro added his seventh with a two-run shot over the wall in right. Toronto added a run in the seventh as Anthony Gose led off with a bunt single and came around to score on an RBI single by Melky Cabrera. All five runs were charged to Peavy over 6 1/3 innings.
"It's frustrating to lose," said Peavy, who dropped to 1-9. "I'm so sick of sitting here, I'm sorry to not have the best attitude in the world. I try, I promise you I try, but no run support or not, it's not fun to lose and the only way I know how to stop that is for me to be better."
Toronto has won three of its first five games since the All-Star break. The Blue Jays have a chance for a series victory over the Red Sox, but will need to take the final two games before heading out on a lengthy road trip through New York, Boston and Houston.
Gregor Chisholm is a reporter for MLB.com. Read his blog, North of the Border, and follow him on Twitter @gregorMLB. This story was not subject to the approval of Major League Baseball or its clubs.