Bargain bin: Ranking the top 10 offseason signings
Kazmir has been a steal for Oakland, while Cruz is proving his skeptics wrong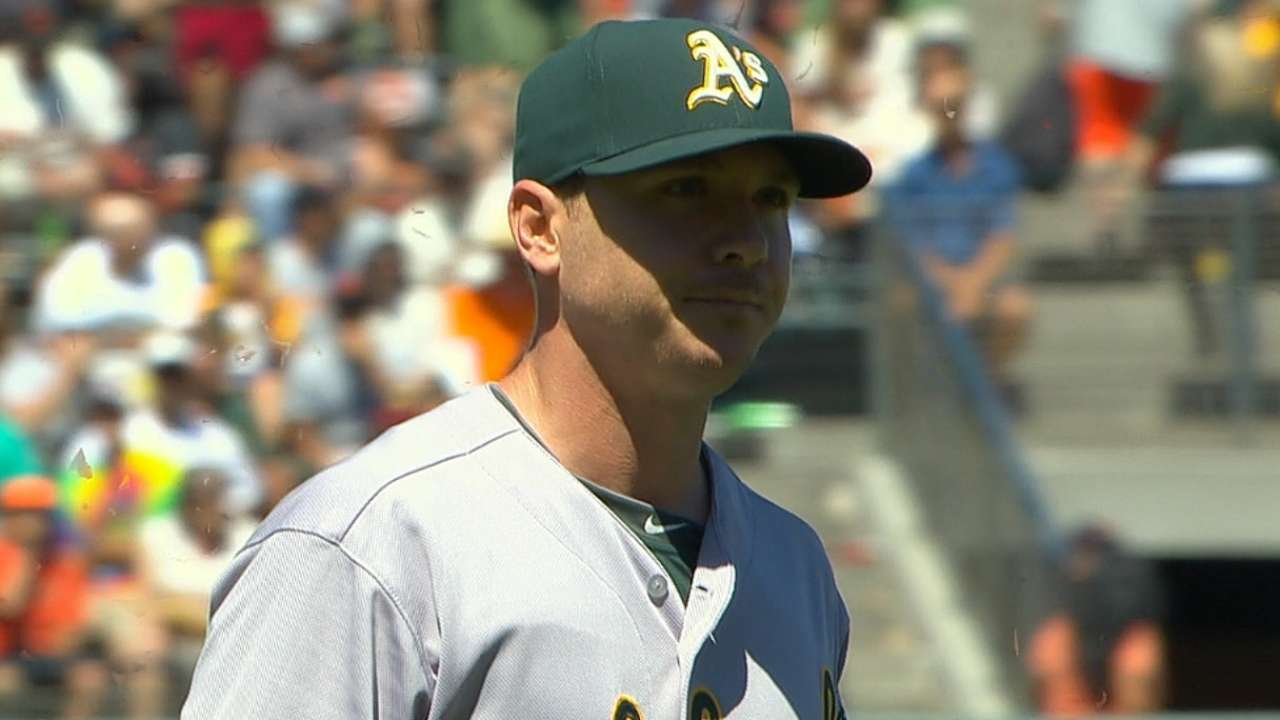 It's almost Trade Deadline time -- non-waiver style, at least. So before we are forced to reassess remodeled rosters and leap ahead to making our bold October predictions, let's look back a bit.
This brief study in rearview-mirror gazing brings us all the way back to the winter of 2013, right after the Red Sox closed out the Cardinals to win the World Series.
Remember? As soon as Koji Uehara recorded the final strikeout, it seemed teams were already busy jockeying for 2014 position in the free-agent market.
Here's a list of the top 10 signings so far, with a few honorable mentions lingering in the dugout:
1. Scott Kazmir, LHP, A's: Oakland didn't wait very long to snap up Kazmir, signing him to a two-year, $22 million deal Dec. 4. It made sense considering the A's were going to lose Bartolo Colon to free agency, and it makes a lot more sense now. Kazmir, reborn in Cleveland in 2013 after being out of affiliated baseball, has taken his game even higher (11-3, 2.38 ERA and 108 strikeouts in 117 1/3 innings with a 0.98 WHIP entering Tuesday), and he's still only 30. With Oakland rotation pieces Jarrod Parker and A.J. Griffin both out for the season following Tommy John surgery, Kazmir has been incredibly important in keeping the first-place A's rolling.
2. Nelson Cruz, OF, Orioles: Cruz waited until Feb. 24 to get the deal he wanted and ended up falling prey to a down market, taking a contract he probably didn't want: one year, $8 million. Now, 28 home runs, 74 RBIs and an OPS of .893 later, Cruz is a huge reason why the O's are in first place despite Chris Davis' off year.
3. Robinson Cano, 2B, Mariners: The Dec. 12 signing of Cano to a 10-year, $240 million deal was stunning at the time, but it has already been a huge success in Seattle, where Cano has improved both the offense and defense of the team. He has become a leader in the clubhouse and paved the way for more elite players to sign on to a club on the rise.
4. Tim Hudson, RHP, Giants: Hudson seemed like a mild risk for a two-year deal at $23 million. At age 38 (he turned 39 earlier this month), Hudson was coming off a grisly ankle injury that ended his 2013 season. Then again, well, he's pitched like Tim Hudson. He's 8-6 with a 2.78 ERA, and San Francisco is right in the thick of things in the National League West.
5. Francisco Rodriguez, RHP, Brewers: K-Rod wasn't announced as Milwaukee's closer until the first game of the year, when everyone expected Jim Henderson to emerge from the bullpen doors. Instead, this guy did. He has made more than good on the one year, $3.25 million deal he signed on Feb. 7, putting up a 2.66 ERA through Monday and saving 29 games for the first-place Brewers.
6. Chris Young, RHP, Mariners: Manager Lloyd McClendon has called Young a godsend, and it's easy to see why. Young came to the team at the end of Spring Training as a stopgap, and he has proven to be healthy and effective. Through Monday, he's made 19 starts and is 8-6 with a 3.22 ERA in the toughest division in baseball this season. Not bad for a March 28 signing at one year and $1.25 million.
7. Aaron Harang, RHP, Braves: Along the same lines as the Mariners with Young, Harang came late in Spring Training (March 24 after being cut by Cleveland) and has done wonders for an injury-riddled starting staff. Through Monday, Harang is 9-6 with a 3.36 ERA, and perhaps more important for Atlanta, he's made 20 starts and logged 123 1/3 innings for one year and $1 million.
8. Jason Hammel, RHP, Cubs/A's: At the bargain starting pitcher rate of one year and $6 million, Hammel, who was signed on Feb. 13, did an excellent job for the Cubs on the field, going 8-5 with a 2.98 ERA. But he might have been more valuable in Chicago for what he provided as a trade chip. It's unlikely that the July 4 mega-deal that shipped Hammel and Jeff Samardzija to Oakland in exchange for a package highlighted by touted prospects Addison Russell and Billy McKinney would have gotten done without him.
9. Marlon Byrd, OF, Phillies: Byrd was one of the first free-agent signings of the winter, agreeing to a two-year, $16 million contract with Philadelphia on Nov. 12. He's been terrific, too, with 19 homers, 55 RBIs and an OPS of .802. And Byrd might prove to be even more valuable to the Phils for the future if they can unload him for a high-impact prospect or two before the July 31 non-waiver Trade Deadline, as has been rumored.
10. Casey McGehee, 3B, Marlins: McGehee was coming off a season in Japan when Miami handed him a year and $1.1 million on Dec. 18. All he's done, through Monday, is post a slash line of .322/.389/.399 with 56 RBIs, which should go a long way toward making him a lot more than $1.1 million next year and perhaps beyond.
Honorable mention
Michael Morse, OF, Giants (one year, $7 million)
Fernando Rodney, RHP, Mariners (two years, $14 million)
Justin Morneau, 1B, Rockies (two years, $12.5 million)
Phil Hughes, RHP, Twins (three years, $24 million)
Joba Chamberlain, RHP, Tigers (one year, $2.5 million)
Edinson Volquez, RHP, Pirates (one year, $5 million)
Joe Smith, RHP, Angels (three years, $15.75 million)
LaTroy Hawkins, RHP, Rockies (one year, $2.25 million)
Jhonny Peralta, SS, Cardinals (four years, $52.5 million)
Doug Miller is a reporter for MLB.com. Follow him on Twitter @DougMillerMLB. This story was not subject to the approval of Major League Baseball or its clubs.