Rockies unable to capitalize in sixth straight loss
Morales turns in six-inning start but Colorado offense stymied by Nats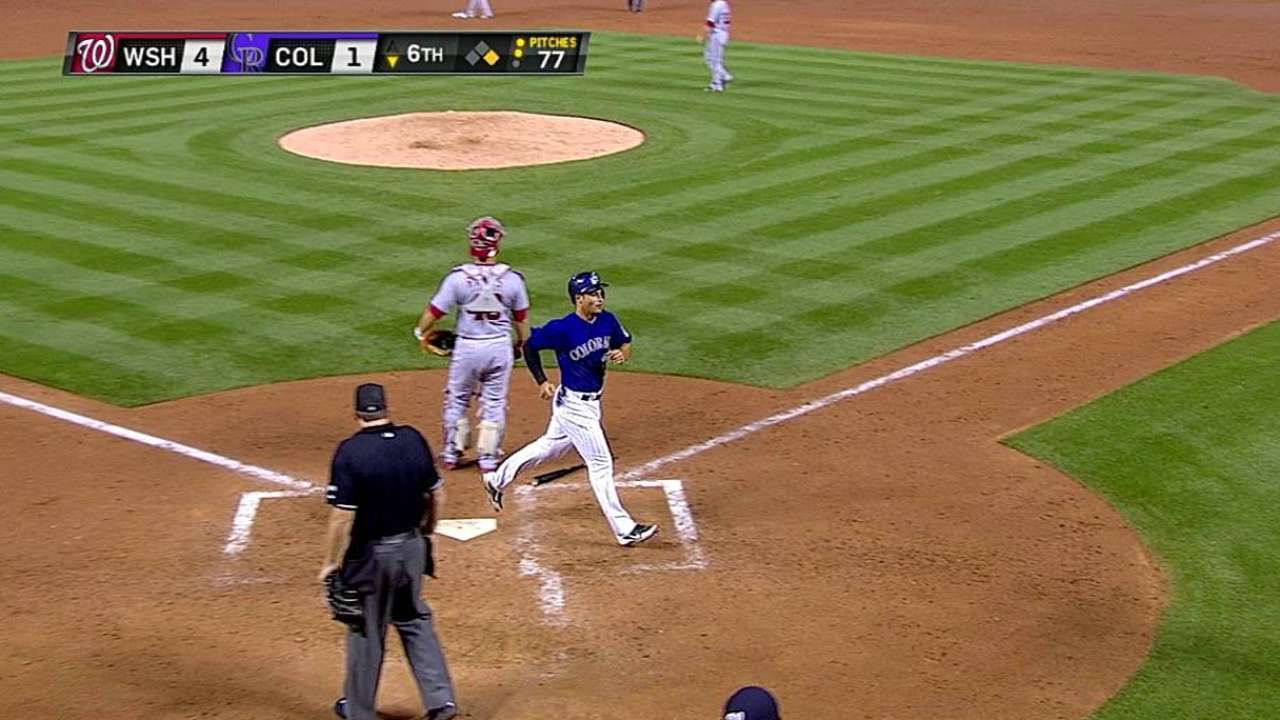 DENVER -- For every one step forward the Rockies have took this season, a wave of injuries has seemingly been around each corner to send them two steps back.
On Monday, the Rockies backed themselves into a tie for the worst record in baseball with a 7-2 loss to the Nationals at Coors Field.
Left-hander Franklin Morales continued the Colorado rotation's recent streak by delivering the team its fourth straight quality start out of the break. But with Justin Morneau's neck injury forcing him to become the 14th different Rockie to land on the disabled list Monday and Troy Tulowitzki out again with a left thigh injury, the offense was nowhere to be found.
Right-hander Doug Fister got the best of the Rockies for the second time in three weeks, limiting Colorado to two runs while scattering nine hits over 5 2/3 innings.
"We saw him in Washington so we knew what to expect," Rockies manager Walt Weiss said. "He had a good changeup tonight, but he's got good command and pitches to bottom zone and edge of the plate."
The Rockies only real rally came against Fister (9-2) in the sixth. Trailing 4-0, Carlos Gonzalez's single put runners on the corners with one out. Nolan Arenado then sent a sharp line drive into left field to score Corey Dickerson.
But Gonzalez hasn't had a ton of opportunities on the basepaths since returning from finger surgery on July 11, and that was exposed on the very same play.
Instead of fully committing to third, Gonzalez hesitated on his turn around second and Ryan Zimmerman's throw behind him from left forced his hand. Gonzalez ended up committing fully to third with a head-first slide but was out by a considerable margin.
After being slow to get up, the trainers escorted Gonzalez off the field, leaving the crowd of 33,082 silent with yet another injury scare. Gonzalez ultimately returned to the field for the seventh but his out handcuffed a potentially productive inning as the Rockies settled for just two runs with a pinch-hitting Brandon Barnes ending things with a bases-loaded strikeout.
After the Rockies sixth straight loss, Weiss downplayed Gonzalez's hand injury.
"He was good enough to stay in the game," Weiss said. "His hand got hung up underneath him on that slide. We'll check him tomorrow to see if he's alright … He had pretty good scrape."
In the seventh, the first four Nationals reached off right-hander Tommy Kahnle to put the visitors up 5-2. The Nationals would add another off Kahnle's one-out wild pitch to neutralize the Rockies' only offense just a half-inning later.
Morales (5-5) gave the Rockies his longest outing since rejoining the rotation in the beginning of July, lasting six innings. But it wasn't without a turbulent fourth frame.
Morales served up hits to the first four batters of the inning, including a two-run shot over the left-field fence from Ian Desmond, who finished 5-for-5. That early outburst put the Nationals on the board.
Danny Espinosa's double made it a 3-0 game before Morales' errant throw to first allowed Fister to reach on a sacrifice bunt. After ringing up Denard Span for the first out, Morales sent another throw toward first sailing wide on a pickoff attempt of Fister. Espinosa ended up scoring on the play, but Morales stopped the bleeding after facing nine batters in the inning.
Morales wouldn't have much trouble the rest of the way, though, finishing with a line of nine hits, four runs (three earned) and four walks against three strikeouts.
"I tried to keep the game there," Morales said. "One inning, I missed one pitch, the homer. ... After that inning, I started feeling better and better."
Outside of Morales' increased endurance, the only other bright spot for the Rockies was first Ben Paulsen's Major League debut.
Starting in place of Morneau, Paulsen singled in his first at-bat. He finished his night 2-for-4 with an RBI despite operating with a new bat.
"[I was thinking] just don't throw the bat into the stands," Paulsen said of his first big league at-bat after six seasons in the Minors. "But I just did what I've done always -- just stayed calm and try to get a pitch to hit."
Cody Ulm is an associate reporter for MLB.com. This story was not subject to the approval of Major League Baseball or its clubs.