Tribe ties game late before Twins pull ahead on HR
Perez knots it with single in eighth, then Willingham hits solo shot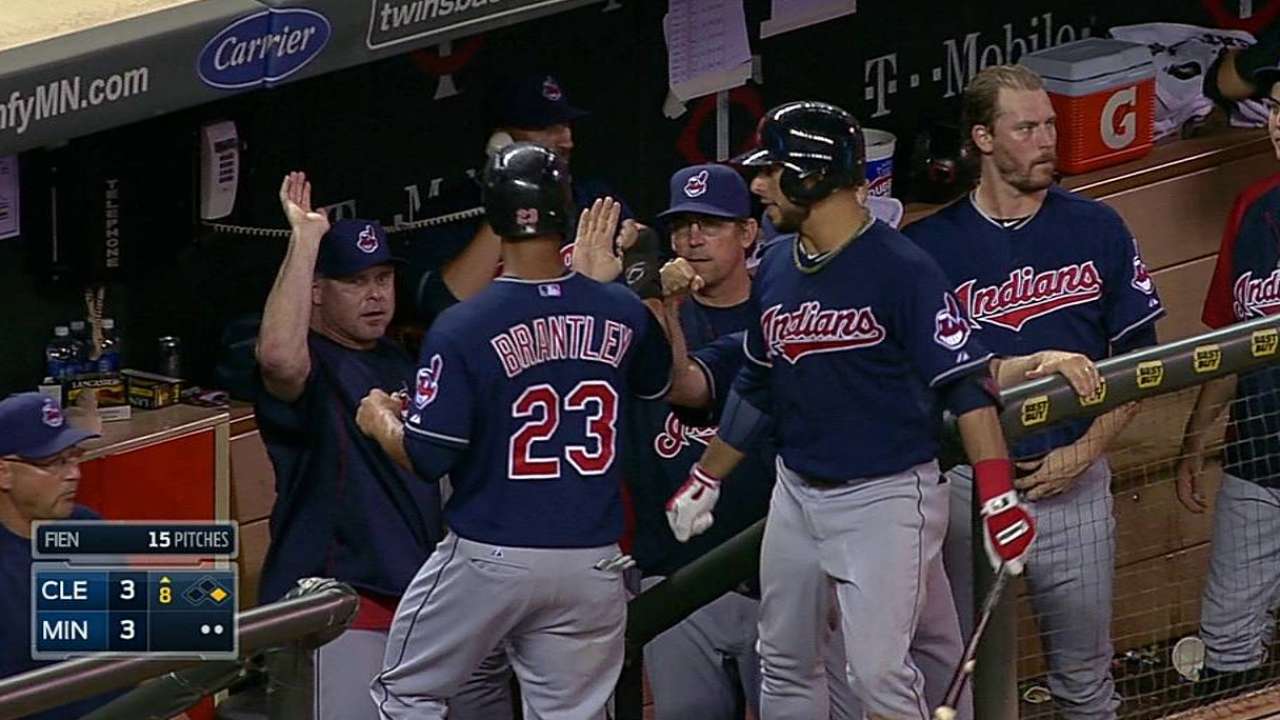 MINNEAPOLIS -- The pitch was not where Indians reliever Bryan Shaw wanted it.
His full-count slider came in waist-high for the Twins' Josh Willingham, who didn't miss an opportunity to snap a tie ballgame in the eighth inning.
Cleveland was able to stay close with Minnesota on Monday night thanks to several early breaks, but the Tribe was handed a 4-3 loss at Target Field after Willingham's homer over the left-field wall.
"We had 3-2 right there, so I was trying to throw something soft," Shaw said. "He was catching up to the heaters. He laid off the 2-2 heater that was just off, away. So I tried to flip a slider in there."
Willingham's ninth home run of the year was the Twins' first real sign of life in five innings.
Early on, the game appeared headed toward a rout for the home team. Swept by Tampa Bay this weekend, Minnesota's lineup went from ice cold to electric against Indians starter T.J. House.
Kendrys Morales and Willingham led off the bottom of the second with singles before Kurt Suzuki brought both of them home with a double to center.
Chris Colabello then sent a first-pitch fastball out to the right-field seats for a 4-0 lead, but replays showed that the ball sailed just wide of the foul pole. Given another chance, House struck out Colabello and then retired the next two batters with a mix of sliders and changeups.
"It's great," House said of the overturned call. "You don't want to be down 4-0 in the second. Just got to get that guy out, which I did, and kind of limited the damage there with just two runs. So it was definitely a positive influence on the later end of the game."
But the Indians didn't escape fully intact. Shortstop Asdrubal Cabrera was pulled after the inning with lower back spasms. He appeared to be in pain after snaring a grounder from Chris Parmelee and throwing to first for the out.
"He jabbed when that ball went to short, his first step," Indians manager Terry Francona said. "And he kind of locked up, and he couldn't get it unlocked. After we took him out, it started to loosen up a little bit, but he just couldn't get it loose."
Cabrera's replacement immediately got Cleveland on the board.
With the Indians down 2-0, Chris Dickerson took a slider from Twins starter Kris Johnson and swatted it to right field, scoring Mike Aviles.
"Dickerson's done a lot of good things for us," Francona said. "That's not the easiest situation going in off a lefty. But he took a real good swing."
The Indians crept closer in the fifth when Yan Gomes smashed a double into the left-field corner to score Dickerson. The ball took a funny bounce off the wall and then Willingham overthrew his cutoff man to allow Dickerson to sprint home.
Carlos Santana followed that with a hard single to right, but Gomes was forced to hold up at third, and Ryan Raburn subsequently popped out to end the inning with the score 3-2.
"I started out good, but with the humidity I started to lose some gas in the fourth and fifth innings," Johnson said. "The ball started to get up and I started making a few more mistakes."
The Twins also kept the Indians in the game with a few miscues.
Baserunning gaffes by Trevor Plouffe (unable to stretch a double into a triple in the third) and Suzuki (unable to stretch a single into double in the fourth) kept the Minnesota offense from extending its lead. In the seventh, reliever Caleb Thielbar appeared to have Jason Kipnis picked off trying to steal second, but Thielbar's throw sailed by Morales and Kipnis advanced to third.
"That's our best way to win: making plays, not giving the other team extra opportunities," Francona said. "And tonight, we didn't win, but we gave ourselves a better chance because of that."
But Cleveland could not capitalize on the final one; Dickerson and Gomes struck out against Thielbar and Jared Burton, respectively, to end the inning.
In the eighth, the Tribe managed to tie the game. Michael Brantley pinch-hit for Raburn and drove a double off the right-field wall, then Nick Swisher advanced him to third with a groundout.
With a runner standing on third for the second straight inning, Perez came through with a single up the middle that knotted the score at 3.
"I wasn't trying to do too much," Perez said. "I was just trying to get the ball in play. I got a fastball inside and put a good swing on it."
But a half-inning later, Willingham sent Shaw's slider into orbit, and then Glen Perkins shut down the Indians in the ninth to earn his 23rd save of the season.
Alex M. Smith is an associate reporter for MLB.com. Follow him on Twitter @asmiff. This story was not subject to the approval of Major League Baseball or its clubs.