Willingham delivers big blast in Twins' win vs. Tribe
Outfielder hits go-ahead homer after Indians tie game in eighth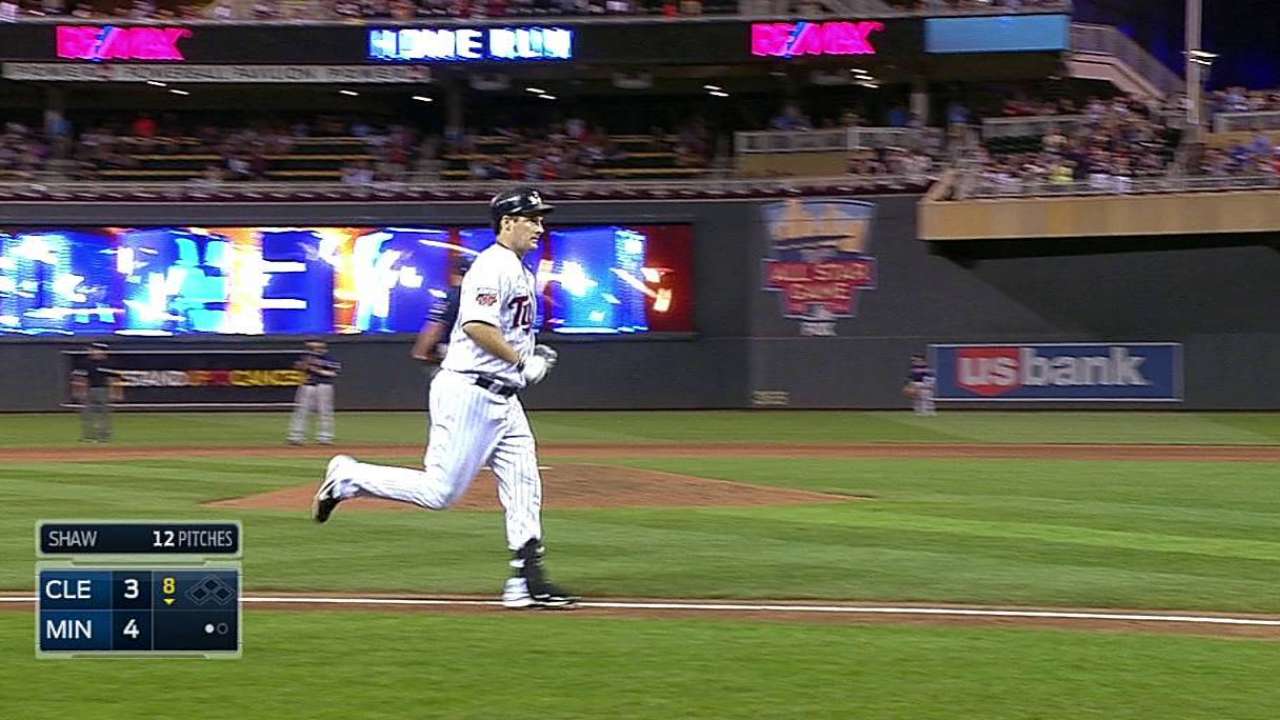 MINNEAPOLIS -- Twins manager Ron Gardenhire could see signs that Josh Willingham was starting to come around at the plate.
The slugger started to shake off his recent slump this week, and Gardenhire saw that Willingham's timing was starting to get better. He had two RBIs in Sunday's loss to the Rays, and Gardenhire was convinced Willingham would soon snap out of his funk.
Gardenhire's premonition proved correct, as Willingham's swing certainly looked just fine Monday night. Reliever Casey Fien couldn't hold a one-run lead in the eighth, but Willingham connected on a go-ahead solo homer in the bottom of the inning to lift the Twins to a 4-3 win over the Indians at Target Field.
"I feel better," said Willingham, who went 2-for-3 with a walk and two runs scored. "Hopefully, I can keep it going and help us win some games. That's my goal. But I do feel better at the plate."
Willingham, who is hitting .217 in 52 games this year, has done his best to avoid the trade rumors that have popped up in recent weeks, and he showed that he still has plenty of power from the right side.
With the game tied and Indians reliever Bryan Shaw on the mound, Willingham came through with the game-winning homer on a 3-2 slider with one out. It was Willingham's ninth homer of the year and his first since July 5. It helped the Twins snap a three-game losing streak after being swept by the Rays.
"We needed it," Willingham said. "Coming off the All-Star break when you lose three in a row, you obviously don't feel real good about yourself, so we needed a big win."
It came after the Twins couldn't hang on to the lead in the top of the inning. Pinch-hitter Michael Brantley started the rally with a one-out double off Fien and scored on a two-out single from Roberto Perez.
"I think he just missed the zone," Gardenhire said. "He was going away but missed on one on the inside half of the plate and the guy goes up the middle.
It spoiled Kris Johnson's bid for his first career win. The left-hander was in line for the victory after giving up two runs on five hits and three walks over five innings in his fourth career start, but he was saddled with the no-decision and optioned to Triple-A Rochester after the game.
Johnson started out strong by striking out the side in the first inning but ran into trouble in the third. Pinch-hitter Chris Dickerson laced a two-out RBI single to get the Indians on the board.
Johnson settled down before walking Dickerson with two outs in the fifth. The walk came back to hurt Johnson, as Yan Gomes doubled home Dickerson just three pitches later. Carlos Santana followed with a single, but Johnson was able get out of the jam by getting Ryan Raburn to fly out to right field.
"I started out good, but with the humidity I started to lose some gas in the fourth and fifth innings," Johnson said. "The ball started to get up and I started making a few more mistakes. But overall, I thought it was pretty good."
Johnson outpitched Indians left-hander T.J. House, who surrendered three runs on six hits and three walks over five innings and was also stuck with a no-decision.
"I don't think five innings from me is going to cut it, and that's just personally my opinion," House said. "I feel I need to do a better job with that."
The Twins got out to an early lead in the second, keyed by a two-run double from Kurt Suzuki. Chris Colabello delivered what was originally ruled a two-run homer before it was ruled a foul ball via instant replay. Colabello ended up striking out and Suzuki was ultimately stranded at second.
Minnesota added a run in the third on a one-out RBI double from Trevor Plouffe, who was thrown out trying to advance to third on the play. The Twins made another out on the basepaths in the fourth with Suzuki unsuccessfully trying to stretch a single into a double after a leadoff walk from Willingham, who ended up being stranded at third base.
The Twins went just 2-for-10 with runners in scoring position on the night, which is something Gardenhire wasn't happy about despite the win.
"We left people out there and had chances again, and you know that can come back and get you," Gardenhire said. "So instead of 4-3, we could've had five or six runs. So it's all about execution and getting the little things done and it's something we'll continue to work on."
Rhett Bollinger is a reporter for MLB.com. Read his blog, Bollinger Beat, and follow him on Twitter @RhettBollinger. This story was not subject to the approval of Major League Baseball or its clubs.