Cincy gaffes help Crew edge ahead in Central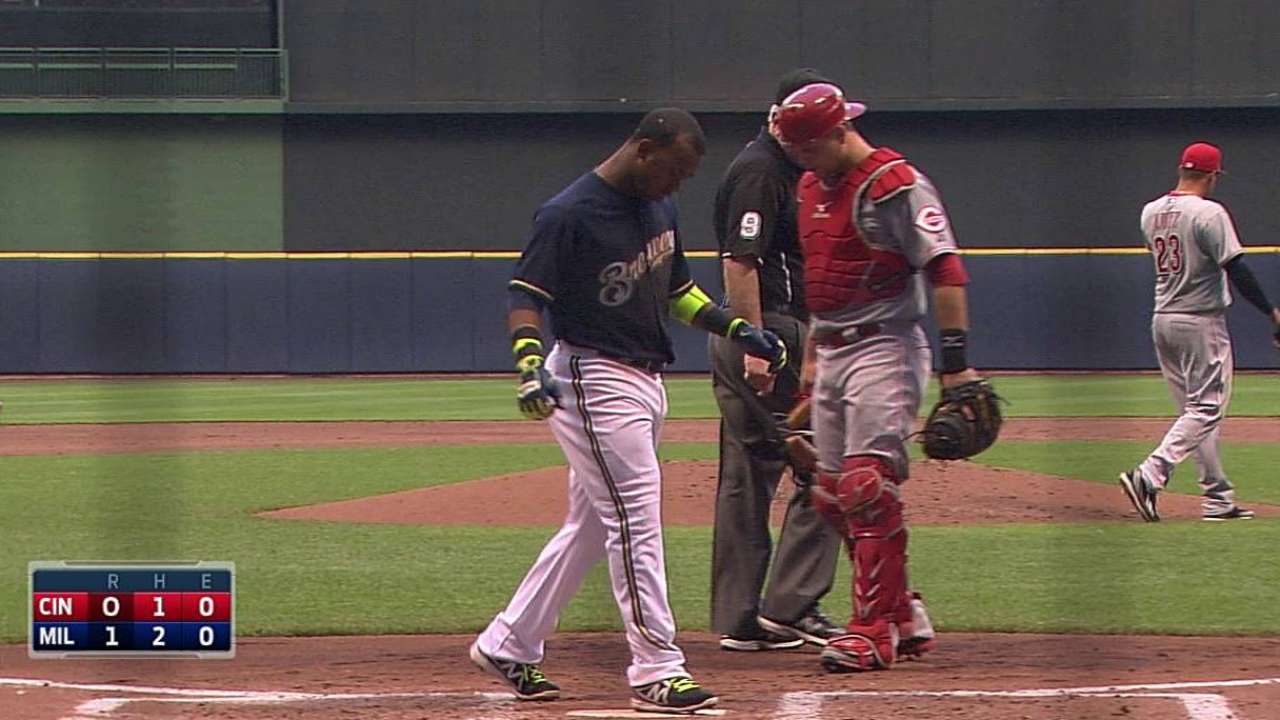 MILWAUKEE -- The third and fourth innings of Monday night's game against the Reds brought the Brewers something they hadn't seen much of lately: good breaks.
Thanks in part to an aggressive approach on the basepaths, the Brewers were able to take full advantage of two Cincinnati errors and several other fielding miscues, and rode those mistakes to a 5-2 win in the series opener against their divisional rival at Miller Park.
"When you are not playing well you don't get many of them, there's no question. I think you get a couple of breaks when you are playing well," manager Ron Roenicke said. "I thought we played a really good game today. We ran the bases well. Yeah, so I think you get some good things happen to you."
The win was an important one for the Brewers, who had dropped seven of their first 10 games against the Reds this season and had lost 13 of 16 overall heading into Monday's matchup. With the victory, the Brewers took a half-game lead in the National League Central over the idle Cardinals and pushed the fourth-place Reds 3 1/2 games back in a crowded division.
The Brewers also finally broke through against Mat Latos to the tune of five runs (four earned) on eight hits over seven innings. In his first two starts against Milwaukee this season, Latos surrendered just six hits and two earned runs over 14 innings.
"There are some things that if they happened slightly differently could have changed the outcome," Reds manager Bryan Price said. "But we didn't earn a win today. We didn't deserve to win that game."
The Brewers' good fortune began in the third, when Jean Segura, making his first at-bat at Miller Park since the death of his infant son last week, hit a ball into the gap in right-center. Segura slowed down while rounding second, and it looked as though the ball would beat him to third, but Ramon Santiago's throw ricocheted off Segura's foot and into the visitors' dugout, and Segura was awarded home plate.
"When I scored in the third inning, I feel like it was going to be some good things," Segura said. "A long [time] ago, I [wouldn't] hit the ball to the other field like that. That's comfortable, and I got the feeling that helped get through [to help] this team."
Several Reds' miscues followed, including two costly misplays by left fielder Chris Heisey. In the third, Heisey charged too hard on a Ryan Braun line drive and watched it sail over his head for a two-run double. The next inning, Heisey lost Carlos Gomez's flyout in the twilight, and the ball bounced next to him on the warning track for an RBI ground-rule double.
"I think when Brauny went down and got that ball, I think it was so low that you don't expect it to have that kind of backspin and carry on it," Roenicke said. "[Heisey] is a real good defender, and he's in there today because he hits Wily [Peralta] well. Wily got him out today, which was good to see."
Those five runs would be enough to carry the Brewers to victory. The Reds' only runs came on solo homers by Billy Hamilton in the sixth and Kristopher Negron in the eighth.
It certainly wasn't all luck for Milwaukee, which got an impressive performance from Peralta, who allowed one run on three hits over seven innings. He also contributed offensively with a 10-pitch at-bat that resulted in a base hit in the third inning. Peralta followed his single by tagging up from second base to third on a flyout from Scooter Gennett, putting himself in position to score -- along with Gomez -- on Braun's double.
"He made some nice pitches when he got in trouble," Roenicke said. "Overall, he had a real nice game. He gave us the innings, kept the ball down, had a real nice slider. He made some big pitches when he needed to."
It was Peralta's second big performance in a row. In his July 13 start against St. Louis, with first place on the line, he allowed three hits over seven shutout innings.
"In those situations, somebody has to step up. I've been getting the opportunity," Peralta said. "Two times in a row I've been doing it, and that's great for me and the team. It feels great to win the first game of this series, because they've given us a hard time this year."
Caitlin Swieca is an associate reporter for MLB.com. This story was not subject to the approval of Major League Baseball or its clubs.