Error-prone Yanks done in by key Rangers rally
Greene commits three of club's five miscues; three-run sixth costly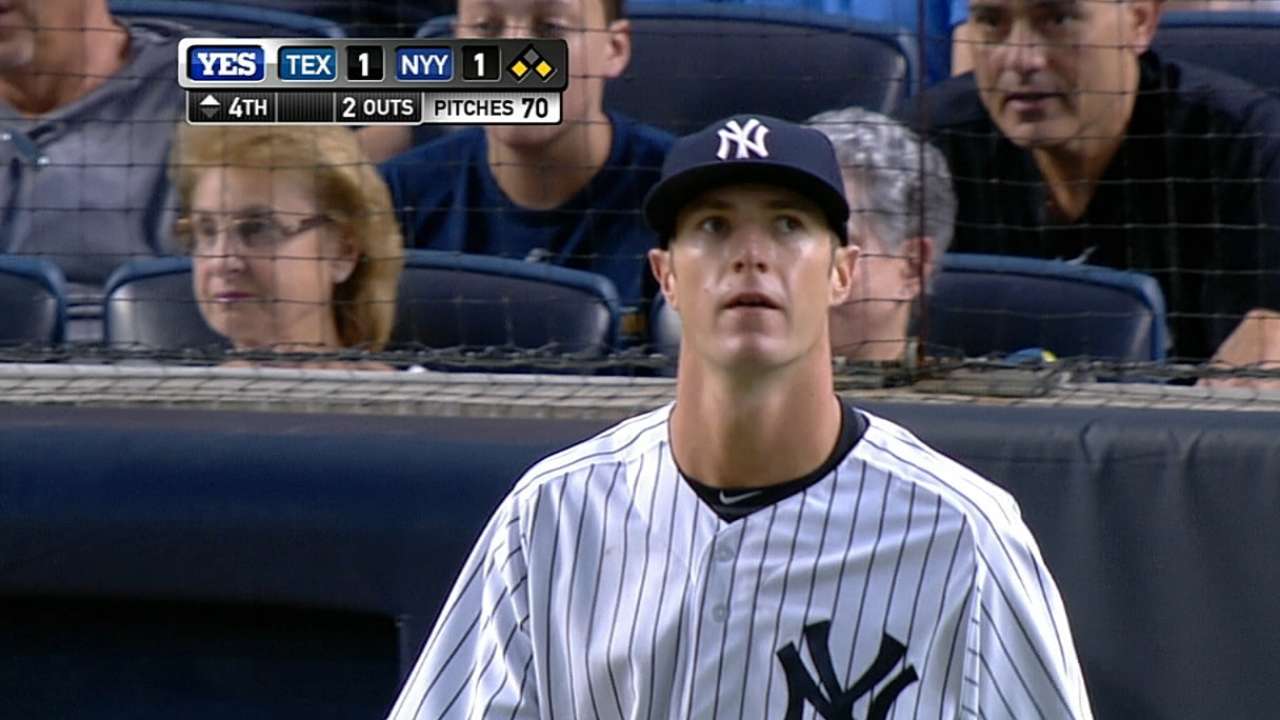 NEW YORK -- Yankees manager Joe Girardi nicely summed up Monday's 4-2 loss to the Rangers at Yankee Stadium when he called it "an ugly game on our part."
New York did not have much life on offense after the fourth inning and committed five errors, and although none of its runs was unearned, Texas held on in the first of four.
A three-run Rangers rally with two outs in the sixth inning did in the Yankees, snapping their three-game winning streak.
"Our defense was bad," Girardi said. "We didn't swing the bats particularly well. Made the pitcher work hard the first two innings, and then he ends up getting into the eighth inning. Just ... it was an ugly game."
All four Rangers runs were charged to rookie right-hander Shane Greene, who has been inserted into the Yankees' rotation as a result of injury woes.
If any team can relate to the Rangers and the many injuries to their key players, it is the Yankees, who have endured their own constant health issues during the past two seasons. Despite losing so many players, the Yankees remained in playoff contention through most of last season and are on pace to do the same this year.
Texas, however, has not been as fortunate. The Rangers (40-59) entered Monday without key contributors to their lineup (Prince Fielder, Mitch Moreland and Jurickson Profar) and pitching staff (Derek Holland, Matt Harrison, Martin Perez and Alexi Ogando), carrying the Majors' lowest winning percentage.
"I've always said it's an opportunity for other people," Girardi said before the game about dealing with injuries. "It's an opportunity to prove yourself for some younger players. They may get called up a little bit before people expect them to, and then you realize that they're ready."
Greene, who won the first two starts of his career, has been one of the Yankees to take advantage of his chance this year.
But on Monday, Girardi believed the five errors -- including three by Greene -- played a major role in the rookie right-hander's first career defeat.
The miscues forced Greene to throw extra and more strenuous pitches, and by the time he exited the game in the sixth, his pitch count was at 113.
"That's where it killed him," Girardi said.
Greene (2-1) allowed four runs on five hits in 5 2/3 innings and became just the fourth Yankees pitcher in history to commit three or more errors in one game. Jack Warhop (1914) had four, while Tommy John (1988) and Bob Shawkey (1921) each had three. The Yankees committed five errors in a nine-inning game for the first time since Aug. 20, 1998, against Minnesota.
Meanwhile, the Yankees could not muster much offensively against right-hander Miles Mikolas, who entered the game with an 0-2 record and a 10.05 ERA. In his fourth career start, Mikolas lasted 7 1/3 innings, surrendered two runs on four hits and picked up his first win since August 2012. It was his first career win as a starter.
"Once he kind of got rolling, that's one of those things where guys get some confidence," Yankees second baseman Brian Roberts said. "They get going and they start feeling better and better about themselves, especially in a place like this. I think that was one of those things for him -- he just kind of got rolling, and we just couldn't really string anything together."
The Yankees struck in the first inning, taking a 1-0 lead on a sacrifice fly by Carlos Beltran. In the third inning, Roberts could not handle a throw from shortstop Derek Jeter on a possible double-play ball. Elvis Andrus was safe at second, and the Rangers tied the game at 1.
The Yankees took a 2-1 lead in the fourth on Jacoby Ellsbury's leadoff homer, his eighth of the year and fourth in July.
New York's best opportunity for further damage came in the fifth, but Jeter grounded into a double play with the bases loaded to end the threat.
"That was a turning point," Mikolas said. "We turned a great double play, we played good defense tonight. [Pitching coach Mike Maddux] always says, 'No matter what the situation, you are always one pitch away from getting out of it.'"
Greene retired the first two batters in the sixth, but neither he nor left-hander Matt Thornton could get out of the inning. Thornton could not retire either left-handed hitter he faced, allowing both inherited runners to score as the Rangers plated three runs on four singles and a walk.
"I think I was just rushing a little bit," Greene said. "I wasn't making exactly the pitches I wanted to make, and they took advantage of it."
Jamal Collier is an associate reporter for MLB.com. Follow him on Twitter @jamalcollier. This story was not subject to the approval of Major League Baseball or its clubs.