Rangers' persistence pays off in the Bronx
Mikolas effective into eighth; two-out rally in sixth the difference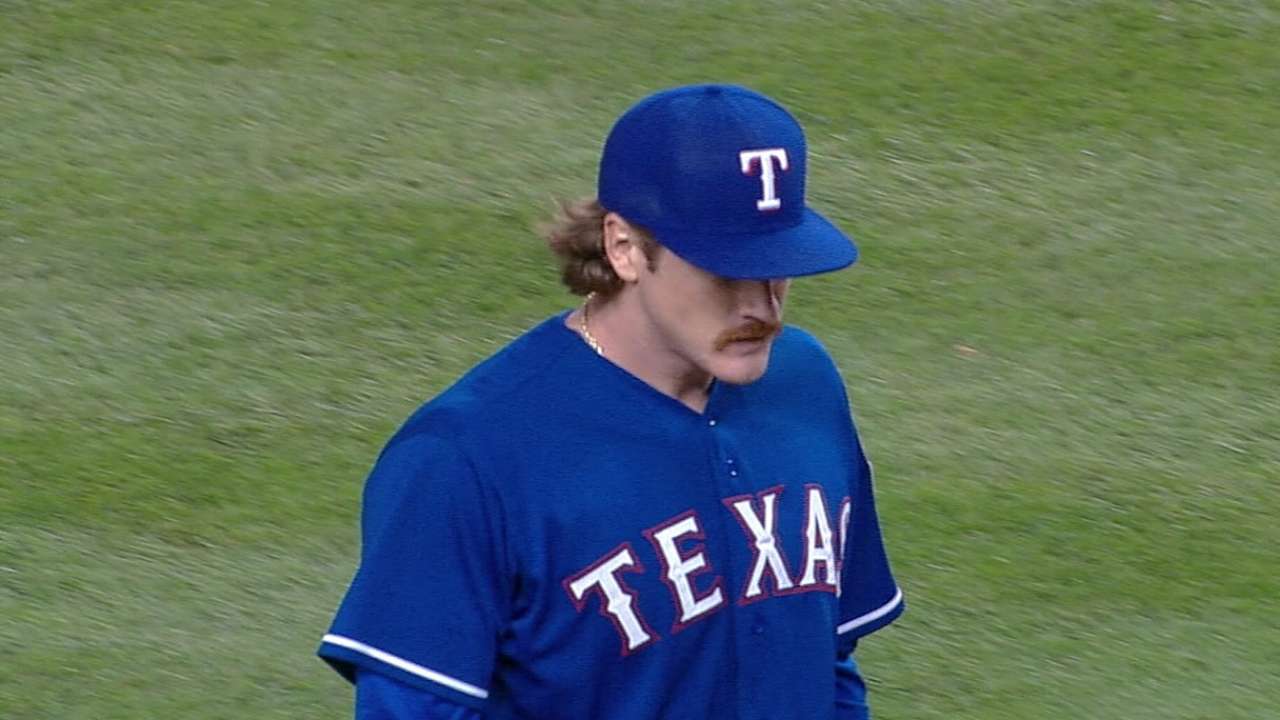 NEW YORK -- Rangers starter Miles Mikolas had a few family members and friends on hand to watch him pitch at Yankee Stadium on Monday night, but Yankees shortstop Derek Jeter had more than 45,000 there screaming for him.
The vast majority of those fans were on their feet cheering and hoping for something spectacular when Jeter came to bat in the fiftth inning. The Yankees led by a run and had the bases loaded with their captain at the plate.
Mikolas also sensed it was a pivotal moment, and it turned out to be the biggest of the night in the Rangers' 4-2 win.
"That's a big situation … a big jam to get out of," Mikolas said. "They're rooting for him real hard, and it makes me want to compete a little harder. I'm trying not to think about who is at the plate and just make pitches."
Mikolas did just that, getting Jeter to hit a weak ground ball to second baseman Rougned Odor, who started a crucial inning-ending double play. The play turned the game around completely, and Mikolas ended up with his first Major League win as a starter.
"We were just trying to keep the ball in the infield and get a ground ball," catcher Geovany Soto said. "We were pitching him inside. Everybody knows he's a great hitter going the opposite way, so we were trying to tie him up. Miles made a great pitch, and he hit it right at the second baseman."
The Rangers rewarded Mikolas for his fortitude by scoring three runs in the top of the sixth on three consecutive two-out, RBI singles by Soto, Odor and Shin-Soo Choo.
Mikolas responded to that with a classic shutdown inning, settting down the Yankees in order in the bottom of the sixth. He did it with seven straight fastballs to Jacoby Ellsbury, Carlos Beltran and Kelly Johnson, getting all three on ground balls.
"After an inning like that, you just want to come out aggressive and get after hitters," Mikolas said. "I went out there and attacked."
Mikolas showed the kind of tough, resilient pitching that Rangers manager Ron Washington has been begging to see from his inexperienced rotation over the past month. Mikolas finished the night by setting down the Yankees in order in the seventh and getting the first out in the eighth before left-handed reliever Neal Cotts took over.
"Mikolas did a great job; we certainly needed that," Washington said. "If we can get our starters to go deeper in the game, it would certainly take the pressure off the bullpen. It was nice to see him get out of that situation with the ground-ball double play. That was the biggest play of the game. It was a chance for them to open it up, but he hung in there and made pitches."
Mikolas allowed two runs on four hits and two walks while striking out three. He is now 1-2 in his four starts, while his ERA went from 10.05 to 7.48 in one night.
"It was location; he was hitting his spots with good velocity," Washington said. "The thing we're looking for is consistency. We've seen glimpses, but we're through with glimpses. We need consistency, and the only way to be consistent it to go out there believing in yourself and getting it done. Doing it one day and not doing it again three days from now is not going to do us any good."
The Rangers won on a night when the Yankees recorded as many hits as they made errors. New York finished with five errors for the first time in a nine-inning game since 1998, including three by starter Shane Greene, who was making his third Major League start.
But the Yankees still led, 2-1, going into the top of the sixth, having gone ahead on a fourth-inning home run by Jacoby Ellsbury. Greene had allowed just three hits through five innings before the Rangers broke through.
Greene retired J.P. Arencibia and Leonys Martin to start the sixth but gave up a single to Jake Smolinski and a walk to Jim Adduci. Soto tied it up with a broken-bat line drive that just got over the glove of third baseman Zelous Wheeler.
Yankees manager Joe Girardi then brought in left-hander Matt Thornton to face Odor and Choo. But Odor singled to left to drive home one run, and Choo bounced one through the middle for another hit that gave the Rangers a 4-2 lead.
"It was an ugly game on our part," Girardi said. "Our defense was bad, and we didn't swing the bats particularly well. We made the pitcher work hard the first two innings, and then he ends up getting into the eighth inning."
Choo was 2-for-5 on the night after entering the game hitless in his previous 21 at-bats.
T.R. Sullivan is a reporter for MLB.com. Read his blog, Postcards from Elysian Fields, and follow him on Twitter @Sullivan_Ranger. This story was not subject to the approval of Major League Baseball or its clubs.