Sarah's Take: Eyeing NL West as Trade Deadline looms
Will Dodgers address their struggling offense, crowded outfield by July 31?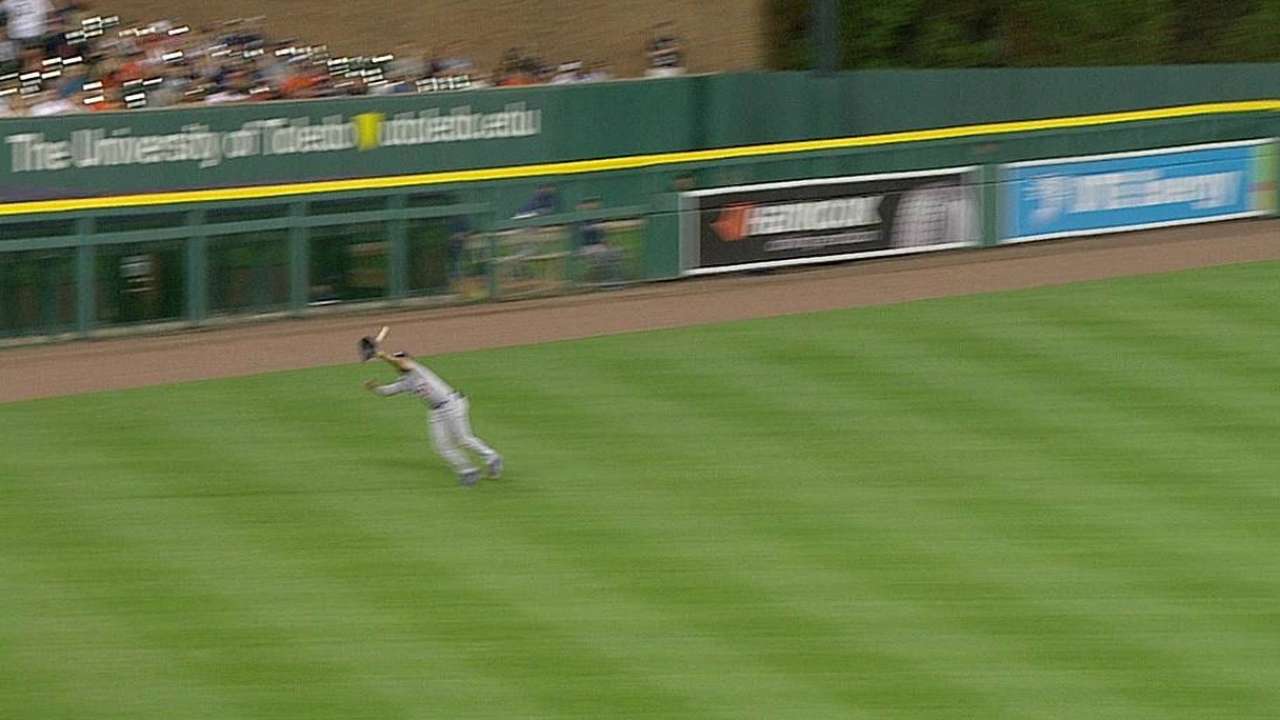 After the All-Star break, most baseball people focus on the non-waiver Trade Deadline on July 31. Since the advent of Wild Cards in baseball, there are fewer teams that want to sell off their expensive veteran talent. This year, most division races are extremely tight, so finding available talent will be difficult for the teams with playoff hopes.
The National League West has already seen a trade that may affect the playoffs. The San Diego Padres have a fantastic bullpen, but their weak offensive production, which has been complicated by a magnitude of injuries, has kept them from being competitive. On Friday, the Padres traded veteran closer Huston Street to the Angels for Minor Leaguers. This trade weakened the Padres now, but they hope the newly acquired players will help them in the future.
Before the break, the Arizona Diamondbacks made a couple of trades involving their pitching staff. Sitting 13 games below .500, the D-backs won't affect the divisional race unless they improve drastically.
The Los Angeles Dodgers are challenging the San Francisco Giants for the lead in the NL West. Coming out of the All-Star break, the Dodgers have looked a little flat. For the next month, they will face teams only with winning records. Unless they play better, they will struggle to make it to the playoffs.
With a humongous payroll, the Dodgers have high expectations for the postseason. At the Trade Deadline, the Dodgers have several needs to be addressed. General manager Ned Colletti needs to explore all of the options and be aggressive in the market.
For the entire season, the Dodgers have had a luxury of having four All-Star outfielders. Fifth outfielder Scott Van Slyke, a virtual unknown before this season, has performed well both offensively and defensively, earning him more playing time. Manager Don Mattingly has done well juggling the outfielders to give them adequate playing time. None of the outfielders, except Yasiel Puig, who plays every day, likes the situation, but they mostly have kept their opinions to themselves. This week Matt Kemp has voiced displeasure about being moved from center field to left field in May and said that he would be open to a trade.
The Dodgers would benefit from trading Kemp, but it's unlikely for Colletti to find a team that will take Kemp's salary and length of contract.
When Kemp came off the disabled list in the middle of April, he began playing center field. Despite winning Gold Gloves in 2009 and 2011, he hasn't had good jumps on fly balls. He used his superior speed to make spectacular catches. Multiple hamstring injuries and a serious ankle injury have sapped his speed. Now he needs to use his knowledge of baseball to be a good center fielder. After noticing Kemp's poor defense was costing the Dodgers games, Mattingly moved him to left field.
During less than two months of playing left field, Kemp has become one of the better left fielders in the game. Beginning when Kemp was transferred to left, the Dodgers began to win more. But, he is still unhappy. His poor situational hitting isn't helping the offense. Carl Crawford, despite developing a reputation for being injury prone, helps the Dodgers more than Kemp.
The Dodgers should consider trading Hanley Ramirez, a free agent after the season. Ramirez, despite not being on the disabled list this year, has an array of injuries that have affected his play. Never known as a good defensive shortstop, he has committed several errors that cost the Dodgers wins. His offense has been ordinary and unable to get runners in scoring position home. Undoubtedly, at 29, Ramirez will want a long-term and lucrative contract, and yet no team would be wise to give him that with his long history of injuries. The Dodgers would benefit from obtaining a sure-handed shortstop with an ability to hit for a high average.
Colletti wants to strengthen the bullpen and perhaps acquire another starter. However, if the Dodgers don't improve their offensive production soon, they will sit on the couch in October watching the playoffs instead of participating in them. It will be interesting to see what Colletti does at the Trade Deadline to strengthen the team.
Sarah D. Morris can be reached at sarahmorris27@gmail.com This story was not subject to the approval of Major League Baseball or its clubs.