Blue Jays' hurlers can't contain Red Sox in blowout
Feeling good after series win, Toronto runs into buzzsaw against rival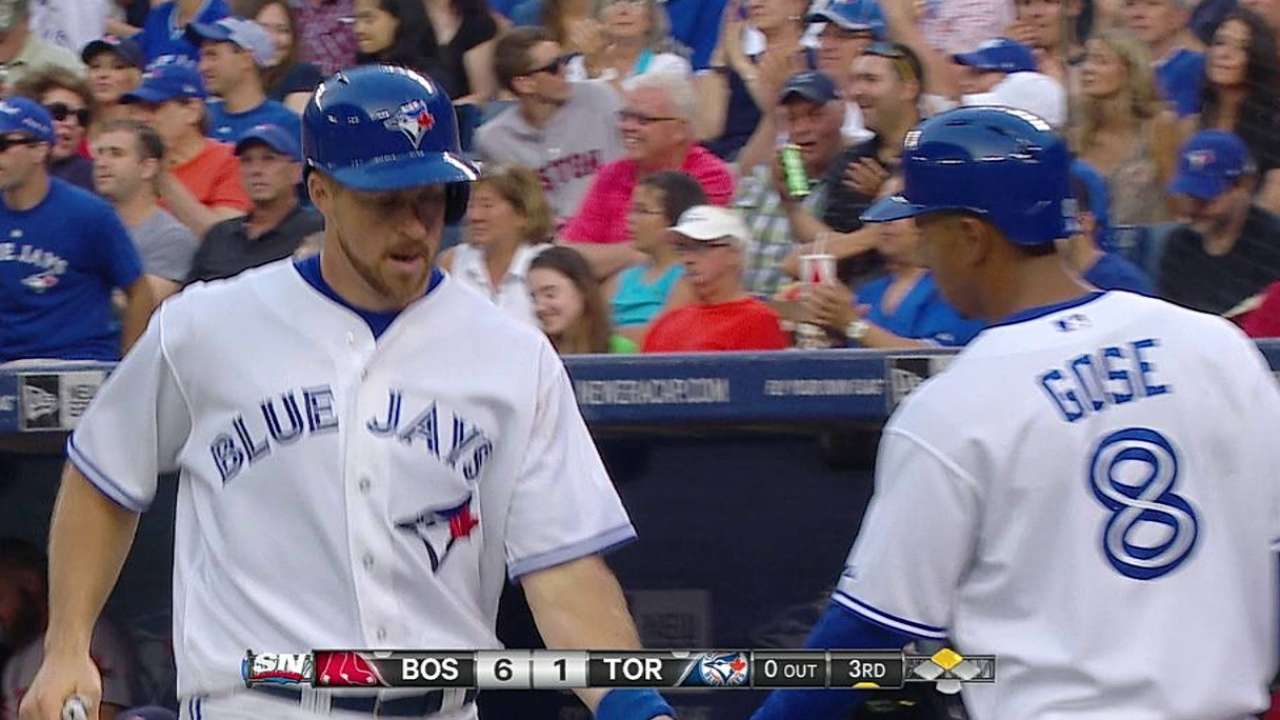 TORONTO -- The Blue Jays arrived at the ballpark Monday riding the high of a weekend series victory over the Rangers. All it took was a few innings for that good feeling to completely erode.
Taking two out of three from Texas might seem rather insignificant in the grand scheme of things, but it was an important step for an organization that limped into the All-Star break. A strong start to the second half was desperately needed and beating the Rangers was the first step.
The second step would be another series win over Boston, but that goal became a lot more daunting Monday night. Drew Hutchison and Brad Mills combined to allow 14 runs over 4 2/3 innings in a 14-1 blowout loss to the Red Sox in front of 27,905 fans at Rogers Centre.
"I made a few mistakes that got hit like they should and a couple of other pitches got hit," Hutchison said after the shortest non-injury start of his career. "Just one of those things, it was a bad night, I put us in a terrible position and didn't really give us a chance to win, and in the process made it real tough on our bullpen."
Hutchison's night began with a three-up, three-down first, but it was all downhill from there. In the second, he allowed a pair of RBI singles to Stephen Drew and Christian Vazquez which put Boston up, 2-0. The issues resurfaced in the third and all of the runs came with two outs.
The big blow came off the bat of Drew, who hit a three-run homer on a first-pitch changeup for his third long ball of the season. Two batters later, Jackie Bradley Jr. chased Hutchison with an RBI double to right. Hutchison surrendered five consecutive hits with two outs in the third after allowing four hits in the second.
The disappointing outing likely will renew talk about whether Hutchison is hitting a wall after missing all of last season because of Tommy John surgery. He has allowed 16 runs in 20 2/3 innings this month, while his season ERA at home sits at 7.71.
"That's a mystery," Blue Jays manager John Gibbons admitted of the home splits. "He had a good one a couple of starts ago when he was here, other than that it has been a tough go for him at home.
"He has a good lively fastball that he can throw by guys, but you still have to keep it in the zone consistently, down in the zone and he has to hit on that breaking ball. But, no, I don't think it's far enough along where you have to worry about fatigue setting in. I don't think that's the case."
Even after Hutchison left, there wasn't any relief to be found as Mills entered from the bullpen. The journeyman lefty served up a two-run homer to David Ortiz in the fourth, then allowed the first three batters he faced in the fifth to reach base. He was pulled after Ortiz and Mike Napoli hit back-to-back homers, which marked the third time Boston did that this season.
Mills was charged with eight runs on seven hits and one walk over two innings. He was making his first appearance in a Blue Jays uniform this season after being claimed off waivers from Oakland last week. The move could prove costly as it also meant right-hander Chad Jenkins had to be optioned to the Minors and he cannot be recalled for 10 days unless there's an injury.
The 14 runs were the second-most Toronto's pitching staff has surrendered this season. It fell just short of the 15 runs Cleveland scored May 14 at Rogers Centre. Before Monday, Toronto pitchers had allowed six home runs over their previous 130 1/3 innings, which was the fewest allowed by any Major League club in July.
"We're getting a good offensive approach over the last 10 games or so," Red Sox manager John Farrell said. "There's been good energy throughout and when David is doing what he's capable of, it's the hub of what our offense is."
With the commanding lead, Boston's John Lackey was able to cruise. He allowed one run in the third on an RBI double by Juan Francisco, but that was it as Lackey earned his 11th victory with seven strong innings.
"They're never easy, but you have to let them go," Gibbons said. "Lopsided, move on, the best thing about it is that it's over with. Show up tomorrow and have to get a good outing out of [J.A.] Happ. That's where it starts."
Gregor Chisholm is a reporter for MLB.com. Read his blog, North of the Border, and follow him on Twitter @gregorMLB. This story was not subject to the approval of Major League Baseball or its clubs.