Red Sox stay hot, pound four homers in rout of Jays
Papi drills pair, passes Yaz; Napoli, Drew go deep in fifth straight win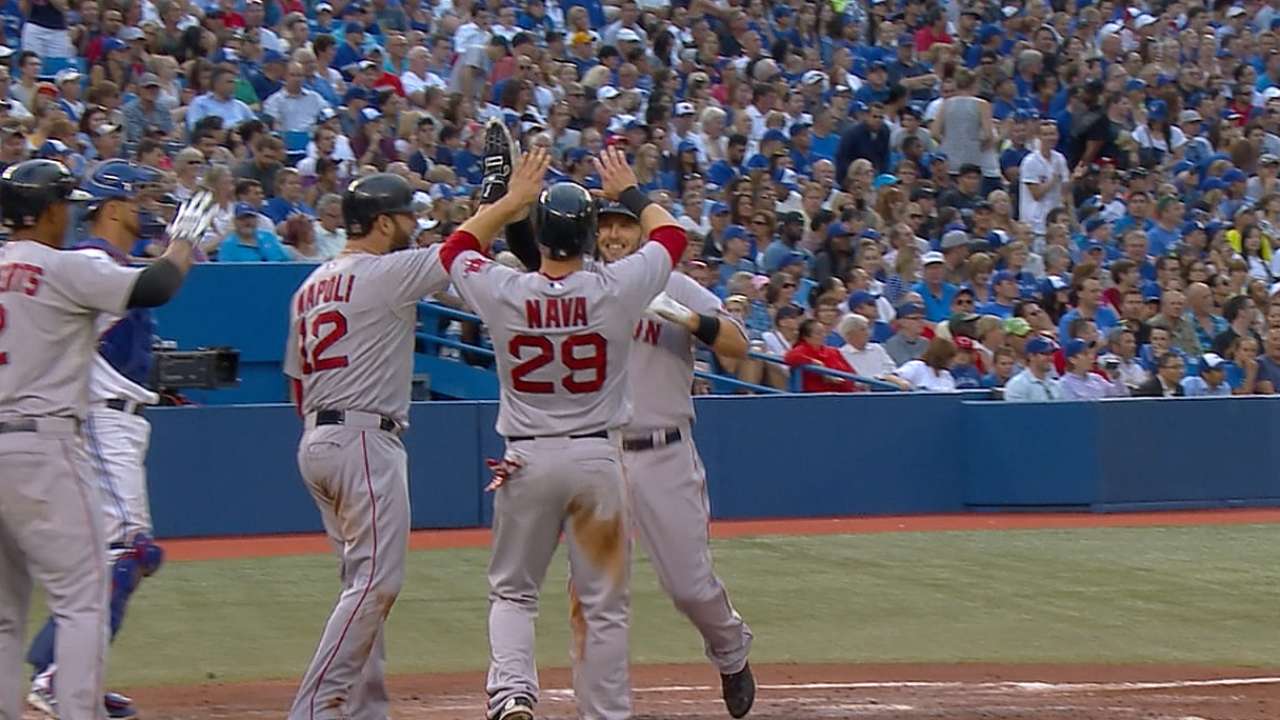 TORONTO -- The Red Sox swung their way out of the American League East basement Monday night, putting up run after run against an outmatched Blue Jays squad.
Boston cracked four homers over a three-inning span and totaled 18 hits on the night as the Sox drove Toronto starter Drew Hutchison from the game in the third en route to their fifth straight victory and eighth in their past nine games.
David Ortiz went deep twice in two innings and John Lackey cruised through the seventh in a 14-1 trouncing of the Blue Jays at Rogers Centre.
"We're getting good offensive approaches over the past 10 games or so," said Red Sox manager John Farrell. "... There's been good energy throughout and when David [Ortiz] is doing what he's capable of, it's the hub of what our offensive is."
After the Red Sox followed a two-run second with a four-run third and a six-run fifth, the win was never in doubt. Big Papi led the way, going 2-for-5 with a pair of two-run homers. His second of the night was followed by a solo shot from Mike Napoli, giving the Red Sox four homers in one game for the first time this season.
"It gives the ability to win some games," said Farrell of the long ball. "Where swinging the bat gets you right back in it, gives you a margin."
The two dingers for Ortiz proved monumental. In hitting the 452nd and 453rd homers of his career, he surpassed Hall of Famer Carl Yastrzemski and took sole possession of No. 36 on the Major League all-time list.
It was a big night all around for Boston's offense, which saw hits from eight of its starting nine. The bats went to work early on Hutchison, who lasted only 2 2/3 innings as his record fell to 6-9.
After retiring the side to start the game, the 23-year-old right-hander hit a wall and was subjected to nine hits and six earned runs over the next 1 2/3 innings. Boston drove him from the game in the third with a big two-out rally, producing five straight hits and four runs for a 6-0 lead.
"I put us in a huge hole, I felt good and just didn't get the job done," Hutchison said. "I guess you could say it's one of those nights, move forward and be ready after this."
While the Boston bats did the damage, Red Sox starter John Lackey quietly went about his business, pitching a nearly flawless seven innings to record his 14th quality start while allowing a season-low two hits. Lackey struck out three and walked none as he improved to 11-6.
The right-hander said receiving such huge run support makes his job a whole lot easier.
"The guys swung the bats great tonight. it was a fun night, kind of fun to have them every now and then. The season can be a grind at times and it's nice to have a little fun," Lackey said. "The way they were swinging, I was trying to get quick outs and get our guys back in there, keep them in a rhythm."
Brock Holt hit his 19th double in the fourth and has hit safely in seven straight games. He's reached base safely in 47 of his 54 starts from the leadoff spot.
While the 26-year-old has proven himself to be an asset at the plate, he flashed the leather in the field in the fifth, robbing Dan Johnson of extra bases with a leaping catch into the right-field wall despite the Red Sox owning a 14-1 lead at that juncture.
"I chased it down, timed my leap right at the wall and was able to come down with it," he said. "'I'm not going to let balls fall or not play as hard because we're winning. We're trying to get outs and win the game and that was one of them."
The win moved the Red Sox a half-game ahead of the idle Rays for fourth place in the AL East.
Jamie Ross is an associate reporter for MLB.com. This story was not subject to the approval of Major League Baseball or its clubs.