Halos' loss strikes nerve for Trout, Shoemaker
All-Star upset about ump's calls; righty fans 10 but allows two homers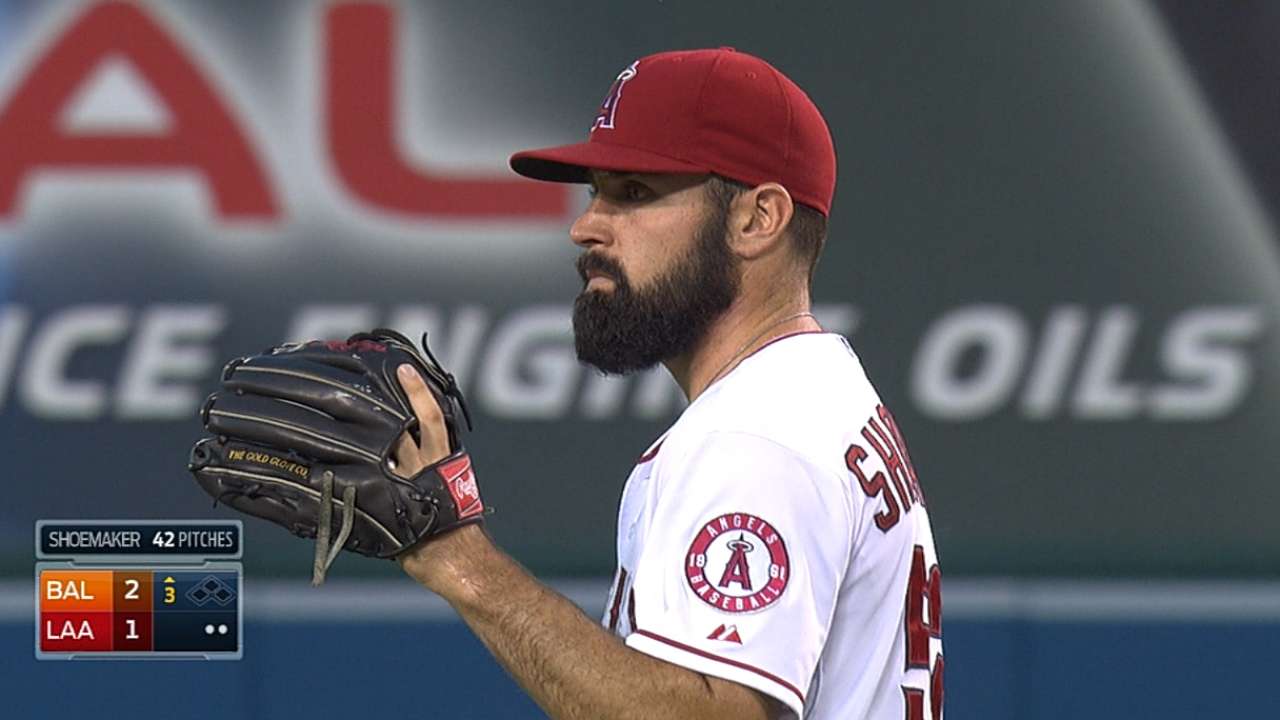 ANAHEIM -- Mike Trout spent a big chunk of Monday night watching. He watched as home-plate umpire Eric Cooper rung him up on a couple of pitches he took exception to, and he watched, from the on-deck circle, as Kole Calhoun struck out on Zach Britton's slider in the dirt, ending the game and capping a 4-2 defeat at the hands of the first-place Orioles.
Matt Shoemaker made two mistakes in an otherwise pristine outing, both resulting in two-run homers from All-Star center fielder Adam Jones, and they held up. For one night, the best home team in baseball, with the most comeback wins in the Majors and the most potent offense in the sport, couldn't close the gap against Bud Norris and a trio of Orioles relievers.
And for one night -- one of very few in his blossoming career -- Trout voiced his displeasure at a couple of strike calls.
The first came in the fourth, with the bases loaded, two outs and the game tied at 2, when Norris' 2-2, outside-corner fastball was deemed the third strike by Cooper, prompting Trout to have an extended -- albeit civil -- chat with the home-plate umpire.
"You guys saw the replay," Trout said of a ball that seemed an inch or two off the plate. "I didn't think it was a strike. It was a big part of the game. I'll leave it at that."
In the seventh, with one out and none on, Cooper rang Trout up on another Norris fastball, this one a 1-2 pitch that ran lower and toward the middle, and Angels manager Mike Scioscia intervened to save the 22-year-old from his first ejection. PITCHf/x deemed the decisive pitch a strike, but Cooper also called the first-pitch changeup that ran along the inside corner, and the 1-1 fastball that was a little up.
Trout took exception to what he perceived as a wide strike zone, though he was careful not to make derogatory remarks about Cooper postgame.
"He called one up on me and then he called one down," Trout said. "He said it was a strike; he called it a strike. It's hard enough to hit, you know what I mean. But that's the way it goes. You can't do anything about it."
So the Angels took the loss, just their 17th in 51 games at home and just their third in the last 15 games overall. Shoemaker struck out a career-high-tying 10 batters and at one-point retired 15 straight, immediately after Jones' two-run homer in the first and leading up to Nick Markakis' one-out double in the sixth. Two batters later, Jones clobbered his 19th home run of the year to give the Orioles a two-run lead, and one batter after that, Shoemaker exited after having thrown just 91 pitches.
"After the first inning, or even after Jones [homered] in the first, I settled down, got rolling," Shoemaker said after his first outing since July 7 and his first start since July 3. "That's what's so frustrating. You come back from that and get into the sixth inning, and I made a bad pitch to him. It's frustrating because of the outcome of the game."
Scioscia said Cooper had "a wide zone," but believed it applied "for both clubs" and added that "you have to absorb the pitch you don't get, or the pitch that's called against you, or the bloop hit, or the error, and play at a high enough level to get it done."
The Angels didn't, and Norris had a lot to do with it.
With a fastball that sat a couple ticks higher than the Angels remembered from his Astros days last season, Norris allowed just two runs (one earned) in 6 2/3 innings despite scattering eight hits in the process. The 29-year-old right-hander has now allowed just two earned runs in his last five starts against the Angels, dating to the start of last season and spanning 34 2/3 innings.
"You have to step up to the challenge sometimes," Norris said. "That's a great lineup over there. They've been swinging the bats extremely well."
Alden Gonzalez is a reporter for MLB.com. Read his blog, Gonzo and "The Show", and follow him on Twitter @Alden_Gonzalez. This story was not subject to the approval of Major League Baseball or its clubs.