Tough night in field leads to Reds' fourth straight loss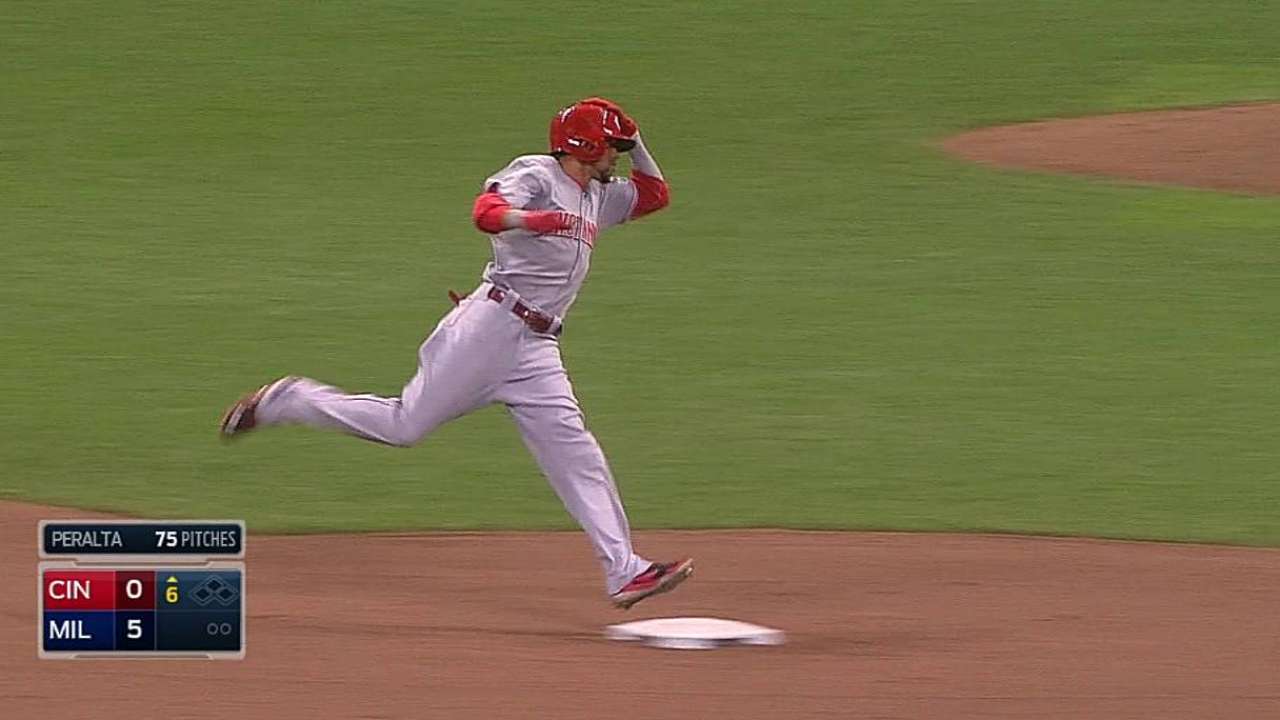 MILWAUKEE -- Perhaps the popup that landed between three Reds in New York on Sunday wasn't just the end of a lost game and a bad series.
It only proved to be just the beginning, as mistakes in the field came frequently during a 5-2 loss to Milwaukee on Monday, Cincinnati's fourth in a row since the All-Star break ended. The loss has put the club 3 1/2 games behind the first-place Brewers in the National League Central.
"Guys are playing hard, just not playing terribly well right now," manager Bryan Price said. "There's not a whole lot of things we've done terribly well since we came back from the All-Star break, unfortunately."
There were two official errors on the line score, but neither accounted for two very big mistakes made in left field by Chris Heisey.
"Tonight was just one of those nights where I didn't have a very good day," Heisey said. "It stinks, because not only does it affect the team -- and playing these guys, every game is big -- but it also hurts Mat [Latos]. It's one of those things where you have to keep your head up and move on."
A three-run third inning against Latos started when Jean Segura hit a drive to the gap in right-center. Segura didn't stop at second base and chugged for third. He appeared to be a likely out until the relay throw from second baseman Ramon Santiago hit Segura's foot and rolled out of play in the third-base dugout.
Segura was sent home and credited with a triple and run scored on the error.
"There are some things that if they happened slightly differently could have changed the outcome," Price said. "But we didn't earn a win today. We didn't deserve to win that game."
Brewers starter Wily Peralta dueled Latos for a 10-pitch at-bat that concluded with a single up the middle, which was followed by a Carlos Gomez single. On a flyout to center field by Scooter Gennett, Peralta surprisingly tagged up and went to third base. Had Billy Hamilton's throw not been slightly up the line to Todd Frazier, the slow-running, late-sliding Peralta might have been out on the tag.
Next came Ryan Braun's sharp liner to left field on an 0-2 pitch. Heisey took a couple of steps in before leaping, but the ball sailed over his glove for a two-run double and a three-run Milwaukee lead.
"All you can do as an outfielder is trust your instincts," Heisey said. "Off the bat, it just looked like a sinking liner. It just hit another gear and went over my head."
Latos wished he'd done a better job against Braun on that at-bat. He tried to throw a changeup in the dirt but left it up just enough.
"You can't fault the guys for trying," Latos said. "It all boils down to me not executing pitches."
The saga continued in the fourth inning, when Heisey lost track of Gomez's two-out fly ball in the twilight sky. The ball bounced on the warning track and over the fence for a ground-rule double that scored Segura.
"Again, my instincts off the bat [told me] it was going to be close to going over the fence. So I turned my head and ran to a spot," Heisey said. "I ended up running to a perfect spot. I just couldn't pick the ball back up when I turned my head. It just disappeared in the bluish-white sky."
Gennett followed with a grounder that skipped off the backhanded glove of first baseman Donald Lutz for an error that scored Gomez for a five-run deficit.
Latos, who threw 48 pitches through three innings, retired 10 of his final 11 batters and deserves credit for getting through seven innings. He allowed five runs (four earned) on eight hits with no walks, a hit batter and three strikeouts.
Home runs by Billy Hamilton in the sixth and pinch-hitter Kristopher Negron in the eighth kept the Reds in range, but there was no getting this one back. Run production hasn't been strong during this losing streak; eight runs have scored, with six solo homers in the mix.
Cincinnati, which has committed the fewest errors in the Majors, with 45, has now made four in the last four games. That, of course, doesn't include the miscues such as Heisey's or the one on Sunday, when a Brian McCann popup landed behind first base, untouched by three Reds, in a 3-2 walk-off loss.
"This is four games coming off an outstanding June and July. We can't implode because we haven't played terribly well in four games," Price said.
Mark Sheldon is a reporter for MLB.com. Read his blog, Mark My Word, and follow him on Twitter @m_sheldon. This story was not subject to the approval of Major League Baseball or its clubs.