Sale stays sharp after break in win over Royals
Lefty strikes out eight in seven frames; Dunn delivers key RBIs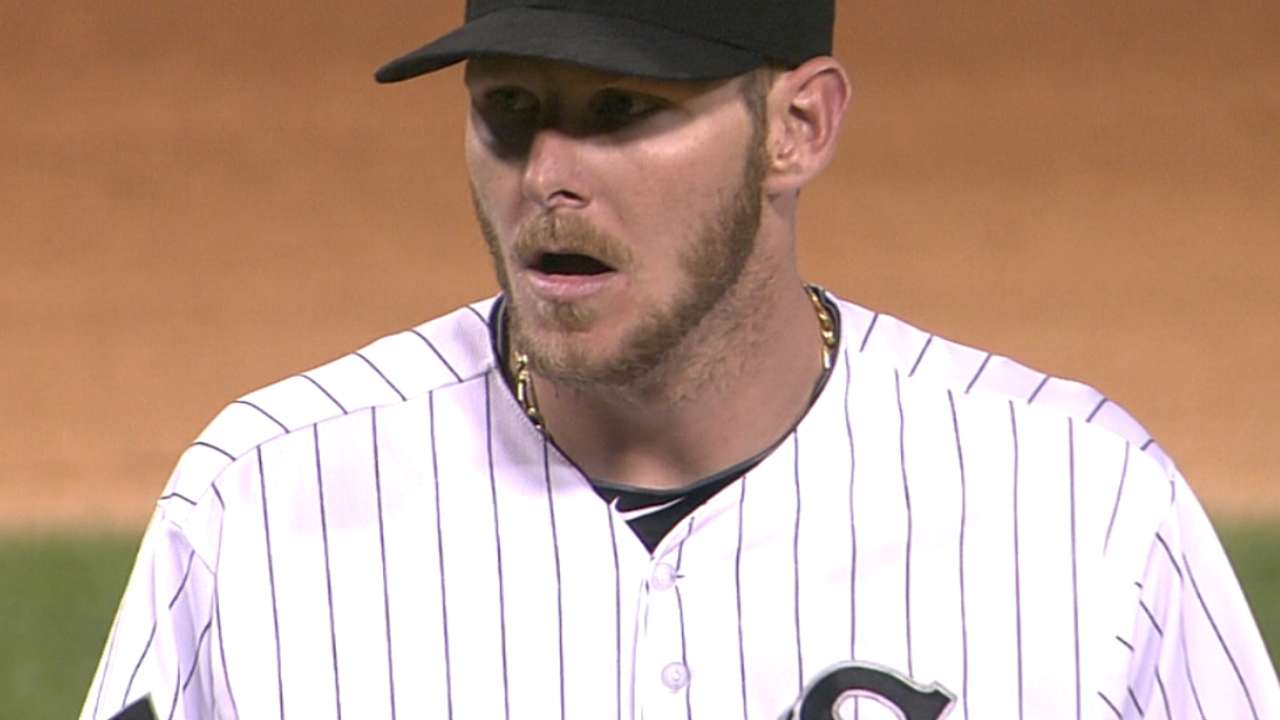 CHICAGO -- Chris Sale's resume doesn't really need any padding where his American League Cy Young Award-caliber 2014 performance is concerned.
So let's place the left-hander's seven-inning shutdown effort during the White Sox's 3-1 victory over the Royals on Monday night at U.S. Cellular Field in the category entitled 'Business as usual for one of the game's best pitchers.'
Just don't try to convince Sale that he's one of the best, or get the 25-year-old to comment on the matter.
"It is what it is," said Sale, who threw 68 of his 106 pitches for strikes in earning his ninth win. "I don't really pay too much attention to any of that.
"I have a job to do and I have to focus on doing that. We're right in the hunt right now. These are the dog days and you've got to bear down now. Now is not the time to be thinking about yourself."
If Sale won't extol his own virtues, then allow the statistics to do the talking.
• Sale has made 15 starts this season. He has issued exactly 17 walks.
• Factoring in his seven-hit effort over seven innings against the Royals, Sale has allowed 71 hits over 102 innings.
• The eight strikeouts that Sale rang up on Monday gives him 110, putting him second on the team behind Jose Quintana, despite missing six starts due to a flexor muscle strain in his left arm.
• Sale has made seven consecutive quality starts and is 4-0 with three no-decisions pitching after a White Sox loss.
• And Sale's leadership skills always remain on display, even in the manner of hitting Danny Valencia in the left hand with a two-out pitch in the second, after Royals starter Jeremy Guthrie (5-9) hit Alexei Ramirez and Conor Gillaspie in the first. Even Guthrie praised Sale postgame for how he handled the situation.
"All the good teams have a legitimate ace," said White Sox designated hitter Adam Dunn, who singled home two runs in the first inning and scored the third run in the sixth on Gordon Beckham's sacrifice fly. "Not only are they good, but once every five days, you have a really good chance to win, and that's the kind of pitcher he is."
Eleven days off since his last regular-season start on July 9 at Fenway Park seemed to help Sale (9-1), who touched 97 mph with seven fastballs in the first inning and was still hitting 95 in the sixth, and 94 in the seventh. He stood at 98 pitches after a tough sixth inning, but he breezed through the seventh in just eight pitches.
In that sixth, Salvador Perez opened with a single and moved to second on a wild pitch. Sale used a sweeping slider to strike out Alex Gordon, although Gordon joined Gregor Blanco and Josh Hamilton as the only left-handed hitters to post a multi-hit game off of Sale this year. He then walked Billy Butler, but Sale struck out Valencia on a 3-2 elevated fastball out of the zone and fanned Alcides Escobar looking on a 3-2 pitch down the middle of the plate.
"Any time you fall behind, you've got to throw more strikes and catch more of the plate," Sale said of the sixth inning.
"You don't want to swing on a ball at your shoulder," Royals manager Ned Yost said of Valencia's strikeout. "Especially a 3-2 pitch that's going to load the bases, especially with the go-ahead run at second base."
Guthrie (5-9) yielded three runs on five hits over six innings. Kansas City's only run came in the fourth on Valencia's run-scoring single, but Valencia was thrown out at the plate to end the inning on Escobar's double, as Alejandro De Aza relayed to Ramirez, who fired a strike to catcher Tyler Flowers at the plate.
"That's huge. That's a game-changer. Game-saver," Sale said. "That just gives us momentum."
"If Danny's a half-step faster, he's safe," Yost said. "It was a good send."
Jake Petricka pitched a scoreless ninth for his fourth save, following up Ronald Belisario's perfect eighth. With three wins in four games, including snapping a four-game home losing streak to the Royals, the White Sox (48-52) feel as if they have hit a reset button to begin the post All-Star break portion of this season.
They have plenty of work to do to get into contention for the second AL Wild Card spot, let alone the AL Central race. But anchored by a pitcher who everyone considers an AL Cy Young Award candidate aside from the pitcher himself, that hill to climb looks ever-so-slightly less steep.
"There is no reason why he shouldn't be in the discussion," manager Robin Ventura said. "I don't care if you miss a month or not. I mean, he's good. That part, I don't care."
"Every time he goes out there, he shows he should be in contention for it," Petricka said. "And I think this might be his year."
Scott Merkin is a reporter for MLB.com. Read his blog, Merk's Works, and follow him on Twitter @scottmerkin. This story was not subject to the approval of Major League Baseball or its clubs.