Backed by early output, Ryu tops Bucs for 11th win
Lefty solid for seven frames; bats don't miss step without Hanley, Puig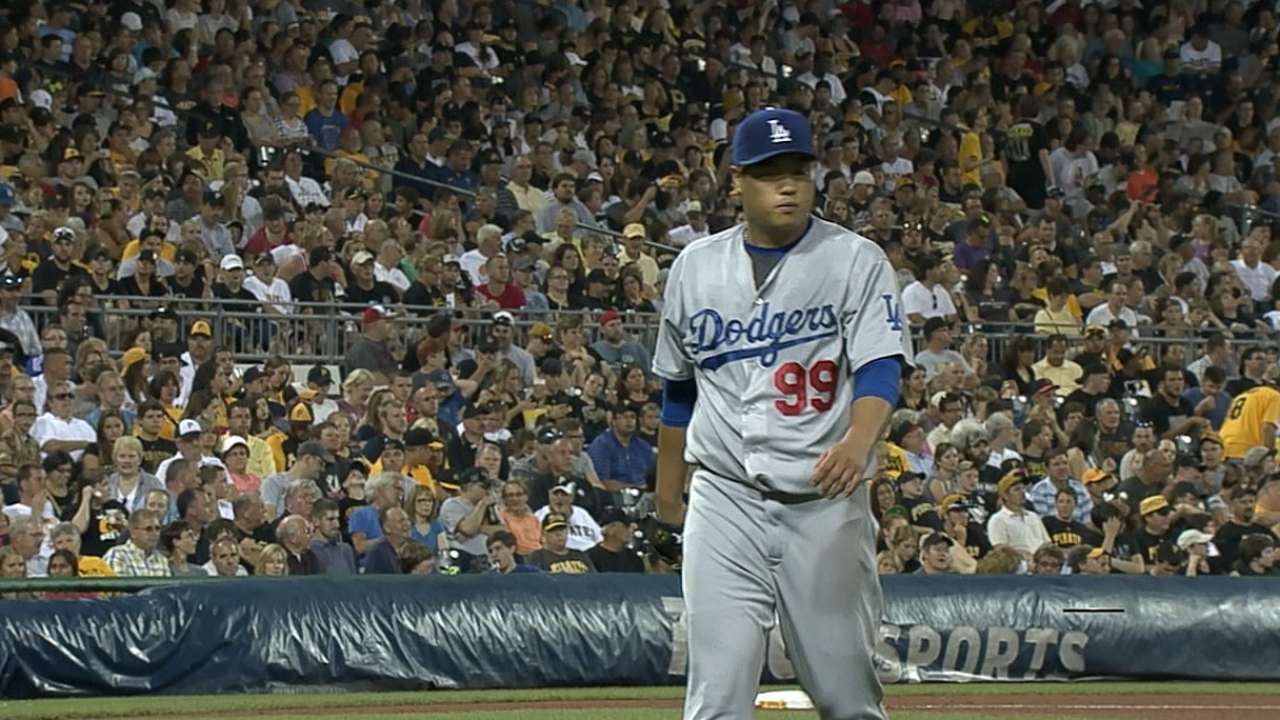 PITTSBURGH -- The Dodgers won Monday night without Yasiel Puig and Hanley Ramirez, which provided a timely opportunity for Don Mattingly to issue a reminder about his team.
"We're not built around Puig or Hanley," Mattingly said after the Dodgers beat the Pirates, 5-2. "If we get quality at-bats, we've got a lot of guys that can score runs. When guys are down, we have guys that can rise to the occasion. We're not just a one-man show."
Puig (left hand) and Ramirez (left wrist) were still sore after being drilled by pitches in St. Louis over the weekend, although a second round of X-rays came back negative and they are expected to return when the pain and swelling subsides. Neither was available for pinch-hitting.
With Puig sidelined, Matt Kemp looked comfortable starting in right field for the first time in five years and easily tracked the four fly balls his way. He also doubled in a run and walked. Justin Turner, who started at shortstop for Ramirez, went 2-for-5 with two RBIs.
No. 3 hitter Adrian Gonzalez, batting behind Turner and ahead of Kemp, went 3-for-3 with two doubles, two walks and an RBI.
"We did a good job with runners in scoring position in those innings we scored," said Gonzalez, the team leader with 62 RBIs.
The beneficiary was Hyun-Jin Ryu, pitching on a week of rest because of the All-Star break. He went seven innings, allowing the two runs with five strikeouts to raise his record to 11-5.
"Any time we give him extra rest, he's obviously better," Mattingly said.
Catcher A.J. Ellis speculated that when Ryu has extra rest, he shows added energy from the first pitch.
"On those nights," said Ellis, "he's really fun to catch."
Ryu is 7-2 on the road this year and 3-0 lifetime against the Pirates. Kenley Jansen was credited with his 29th save.
"[He] probably had the biggest drop in curveball we've seen this year as far as depth," Pirates manager Clint Hurdle said. "It was 13-15 inches of drop. He can throw that down at 71-74 [mph] and the fastball is 92, 93. He's covering 20 [mph] and he has a cutter. The guy's got weapons, and he's a cool cat on the mound. He stayed away from the barrel."
Ryu said his last two starts (the other a scoreless six-inning outing) are the payoff for a breaking-ball overhaul. Ryu said he implemented adjustments in the past two weeks, copying Clayton Kershaw's slider and Josh Beckett's curveball.
"I've learned from my teammates," said Ryu, unafraid to tinker with pitches that made him a star in Korea and a 14-game winner as a rookie in the Major Leagues last year. "I didn't feel pressure in changing. I feel these changes work for me and I throw these pitches with full confidence."
The Dodgers scored off former teammate Edinson Volquez in the third inning, a rally that started with Dee Gordon's infield single. With one out, Gonzalez walked, Kemp doubled in a run and a second run scored on Andre Ethier's groundout.
Lucky bounces led to a three-run fourth inning for the Dodgers. The first came on a single up the middle by Ellis that ricocheted off the second-base bag, otherwise Juan Uribe, who had singled, would have been an easy out at second. Instead, the Dodgers had runners on the corners.
The next lucky bounce came on a Turner one-hop smash that caromed off the chest of third baseman Josh Harrison and into shallow left field. It was scored a two-run double, and Gonzalez followed with a soft liner to center for a single to score Turner.
The Pirates scored in the bottom of the fourth. Andrew McCutchen lined a single off the glove of a diving Gordon at second base. With two outs, Neil Walker walked. Russell Martin singled home McCutchen, and Jordy Mercer singled home Walker. But Ryu stopped the damage there by getting Michael Martinez on a forceout.
Ken Gurnick is a reporter for MLB.com. This story was not subject to the approval of Major League Baseball or its clubs.