Walks bite Braves in 10-inning loss to Marlins
Simmons unable to pitch out of trouble; Teheran fans 11 over seven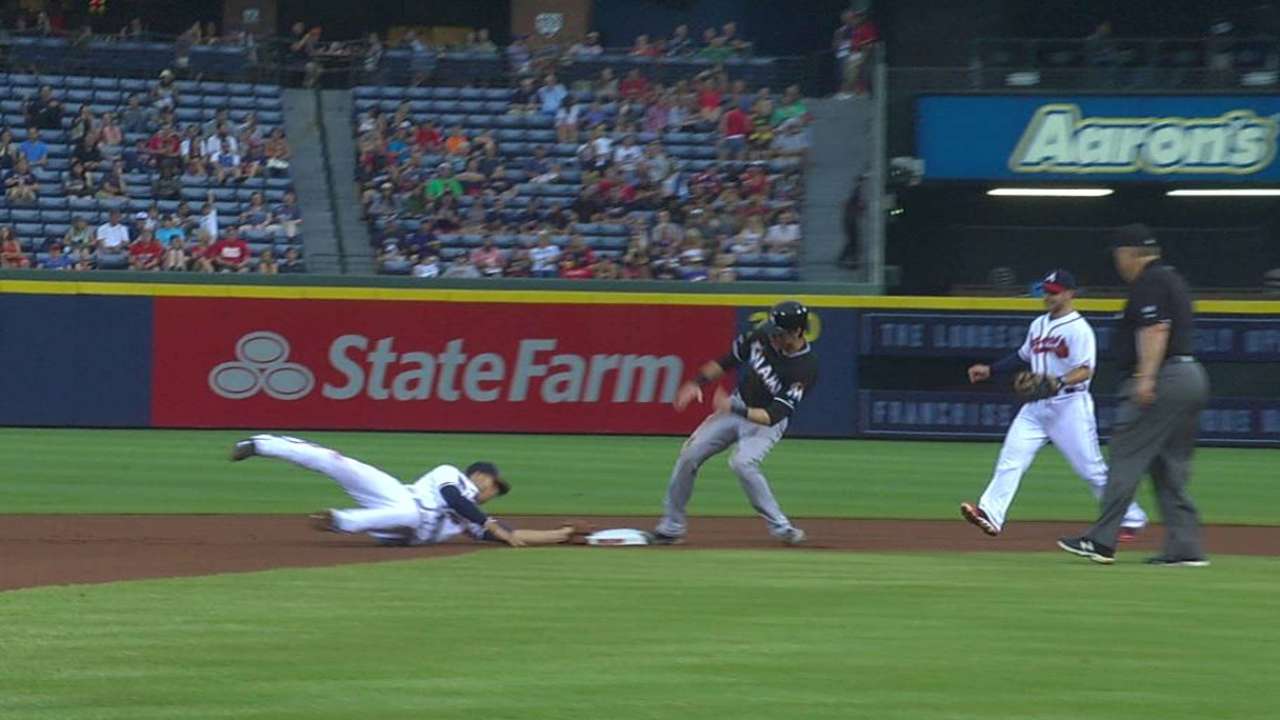 ATLANTA -- Braves closer Craig Kimbrel preserved Julio Teheran's impressive outing with an incredible escape act. But the efforts of Kimbrel and Teheran went to waste when Shae Simmons was unable to clean the mess he created during the 10th inning of Monday night's 3-1 loss to the Marlins.
"You feel good when [Simmons] is out there that he's going to give you a good, solid inning," Braves manager Fredi Gonzalez said. "It just hasn't happened for him the last couple of times out."
Instead of duplicating the effort of Kimbrel, who used two strikeouts and a lineout to escape a bases-loaded, no-out threat in the ninth, Simmons simply added to the recent woes that he avoided during the first six weeks of his career. Through his first 18 2/3 innings, the right-handed reliever posted a 0.96 ERA and surrendered either a hit or a walk to just 17 of 71 batters. In the 2 1/3 innings completed during his past four outings, he's allowed five earned runs and surrendered either a hit or a walk to seven of 14 batters.
"[Fastball command] hasn't been what it was when I first got here," Simmons said. "I don't know what the reason is behind that. I'm still trying to figure that out. Maybe it's something late in my mechanics or early. Or maybe, it's just slowing myself down and finishing my pitches."
Unfortunately for the Braves, Simmons was not able to make the necessary corrections after the 10th inning began rather innocently with a Christian Yelich single and a sacrifice bunt that led to Giancarlo Stanton being intentionally walked. Casey McGehee then drew a seven-pitch walk to set the stage for Garrett Jones, who lined his game-winner through the middle of the infield.
While Simmons allowed the Marlins to construct the decisive attack, the Braves could have avoided placing their young reliever in that situation. They stranded nine runners and went hitless in eight at-bats with runners in scoring position.
That lack of offensive support squandered yet another impressive effort by Teheran, who allowed one earned run and four hits over seven innings. The 23-year-old All-Star looked refreshed while pitching with the three extra days afforded by the All-Star break. He had combined to allow 18 hits and nine earned runs in his final two starts before the break.
"I felt that it was the best start I had this year," Teheran said. "I was getting ahead in counts on the hitters, and my slider, all my pitches [were] working. I felt the confidence to throw it and that's something that you feel good when you've got everything working."
"He's been so good," Braves third baseman Chris Johnson said. "That's kind of what we expect. That's why it stinks as an offense. We know with a couple runs for him, we're good to go."
The Braves have scored one run or been shut out in nine of the 21 starts made by Teheran. Taking that one step further, they've tallied two runs or fewer in 11 of those outings made by their young ace.
Teheran was still bidding for a no-hitter and shutout before he made a mistake on a first-pitch changeup to Jarrod Saltalamacchia with two outs in the fifth inning. Saltalamacchia jumped on the elevated offspeed delivery and sent it over the right-center-field wall for a game-tying home run.
Before Saltalamacchia hit his first home run at Turner Field since the Braves traded him for Mark Teixeira in 2007, the Marlins' only baserunner came courtesy of the four-pitch walk Yelich drew to begin the fourth inning. Teheran's perfect run through the first three innings included a stretch where he recorded five strikeouts within a span of six batters.
Marlins starting pitcher Tom Koehler proved quite effective in the damage control department as he allowed just one run and five hits over 6 2/3 innings. The Braves put at least two on during three of the first six innings. But their only run through the first eight innings came the one-out grounder Johnson produced after Justin Upton and Jason Heyward began the bottom of the second with consecutive singles.
Johnson also stranded two runners in the fourth inning and struck out to end the sixth inning with the bases loaded. Tommy La Stella, who entered the game hitting .297 with runners in scoring position, was unable to score Andrelton Simmons from third when the Marlins matched him up against left-handed Mike Dunn with two outs in the seventh.
"We just couldn't get anything going. It was just one of those nights," Johnson said. "But you've got give their guys credit. Dunn came in, and the two righties. You've got to tip your cap to them. They came up with some big hits tonight and we didn't."
Mark Bowman is a reporter for MLB.com. This story was not subject to the approval of Major League Baseball or its clubs.