MLB.com Columnist
Roger Schlueter
MLB Notebook: Gray could match Bender's July
Athletics right-hander has won four decisions this month, carrying 0.95 ERA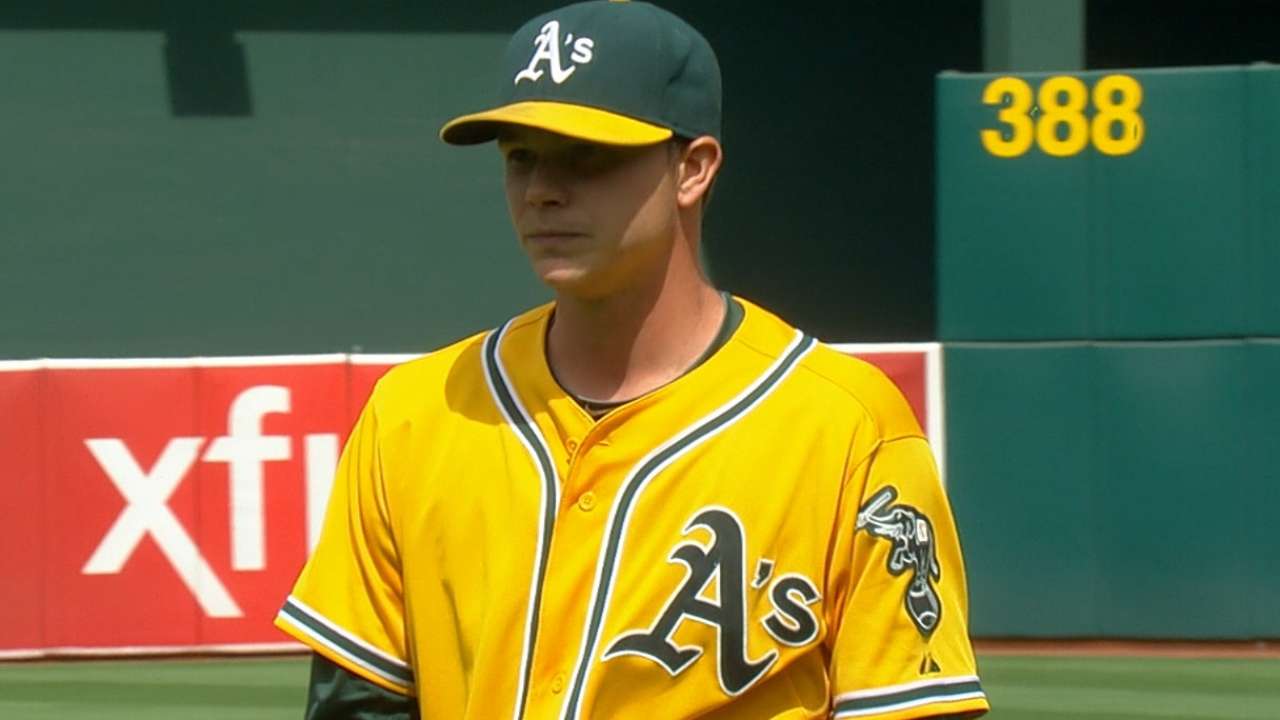 In their quest for a fourth pennant in five seasons, the 1914 Philadelphia Athletics took a 2 1/2 game lead into the July portion of the schedule. By the time August replaced July on the calendar, Philadelphia -- thanks to a magnificent 20-7 run during the month -- had increased its lead to 6 1/2 games. It was an advance made possible, to some extent, by right-hander Chief Bender.
The Hall of Famer made his first July 1914 start in the first game of a doubleheader on July 3, and he shut out New York on five hits. Pitching on two days' rest on July 6, Bender overcame six walks to blank New York on four hits. On July 29, Bender made his final appearance of the month and found the perfect bookend, throwing a six-hit shutout against the St. Louis Browns. In all, Bender made six starts and one relief appearance in July, hurled 42 2/3 innings and allowed six earned runs for a 1.27 ERA. Bender recorded five wins, while the team went 6-0 in his appearances with one tie.
Since then, no Athletics pitcher has managed a July that matched Bender in wins and winning percentage while bettering him in ERA, but in 2014, as Oakland pursues its third consecutive American League West title, Sonny Gray has chance to do just that.
In Oakland, Gray delivered 6 2/3 innings of two-hit, two-run ball (one earned run), and he came away with a win, as the A's pounded the Orioles, 10-2, on Sunday. Gray has won all four of his starts in July, and he owns a 0.95 ERA in the month. Since 1914, the Athletics have had 12 pitchers author a July with at least five wins and no losses, including these four with sub-two ERAs:
• Bender in 1914: 5-0 with a 1.27 ERA;
• Catfish Hunter in 1972: 5-0 with a 1.40;
• Lefty Grove in 1928: 6-0 with a 1.55;
• Barry Zito in 2002: 5-0 with a 1.66.
Ellsbury lives on basepaths
In the Yankees' 3-2, walk-off win against the Reds on Sunday, Jacoby Ellsbury had four hits and a walk, stole two bases, drove in one run and scored once. He is the third Yankees number three hitter since 1914 -- joining Roberto Kelly in '91 and Bobby Abreu in 2008 -- to reach safely at least five times and collect two steals. Across baseball, this has happened only 74 times since '14 -- Ty Cobb and Eddie Collins are each being responsible for three of the occurrences.
In the Yankees' win, Derek Jeter -- playing in his final Interleague game -- went 1-for-5 with an RBI single. Taking stock of his presence on the career Interleague leaderboards, Jeter is:
• First in runs (200), hits (364), total bases (523) and times on base (496);
• Sixth in batting average (.320) among players with at least 700 plate appearances.
McGehee doesn't need homers
Third baseman Casey McGehee hit a two-run home run in the first inning on Sunday, and the Marlins used that rare show of power to edge out a 3-2 victory over the Giants. With the blast, McGehee now has two homers and 56 RBIs in 96 games, or 0.583 RBIs per game.
There have been 38 players since 1920 to finish a year with a rate of at least 0.580 RBIs per game, while hitting no more than three home runs and qualifying for the batting title. The last player to do this was Tom Herr, who hit two homers while driving in 83 runs for the '87 Cardinals. Before Herr, Billy Herman in '43 had been the last to do it with two home runs and 100 RBIs.
Lester is awesome-plus
Jon Lester worked eight scoreless innings and improved to 10-7 as the Red Sox blanked the Royals, 6-0, on Sunday. Lester has worked seven straight outings in which he has finished with at least six innings and no more than two earned runs allowed, and over this stretch, he is 4-0 with a 0.85 ERA.
For the season, the 30-year-old left-hander's ERA+ now stands at 159. There have been five Red Sox southpaws to qualify for the ERA title and finish the year with an ERA+ of at least 150: Ray Collins in 1910, Dutch Leonard in '14, Babe Ruth in '16, Grove in every season from '35-39 and Mel Parnell in '49;
This was Lester's 110th win with the Red Sox. He is 13 victories shy of matching Parnell's top mark for the franchise's lefties.
Altuve knows how to multiply
Jose Altuve hit his third home run of the year in a two-hit, two-run, two-RBI day that helped the Astros to an 11-7 win over the White Sox. Altuve has 135 hits and 42 multi-hit games on the season -- one that has seen Houston play 99 games.
Altuve's 135 hits through 99 team games are the most in team history. When Craig Biggio set the franchise record with 210 hits in 1998, he had 124 through the Astros first 99 contests.
The 42 multihit games through 99 team contests tie Altuve with Miguel Tejada (2009) for the most in franchise history. When Derek Bell went on to collect 61 multihit games in 1998 to set a still-standing franchise record, he had 41 through 99 team games.
Trout, Pujols top leaderboards
Down by one run in the bottom of the ninth on Sunday, the Angels got a leadoff walk from Mike Trout and then a game-tying double from Albert Pujols, which set up Grant Green's first career walk-off hit. For Pujols, the two-base hit represented his 31st career hit in the ninth inning or later that tied the game or gave his team the lead.
Those 31 tie Pujols with a handful of other players for 23rd on the all-time list over the past 40 seasons. Pujols owns a 1.000 OPS in 1,270 plate appearances in late and close situations. Over the past 40 years, for all players with at least 750 plate appearances, his OPS ranks first in this split. The top five marks:
• Pujols: 1.000 OPS in 1,270 plate appearances;
• Barry Bonds: .990 in 2,067;
• Prince Fielder: .947 in 840;
• Mark McGwire: .946 in 1,159;
• Lance Berkman: .926 in 1,193.
In the Angels' victory, Trout scored three runs, singled and homered, had one RBI and one walk. Catching up with his current standing, for all players in history through their age-22 seasons, Trout's:
• 512 hits tie him with Frank Robinson for the 29th most;
• 327 runs are the 15th most (two behind Edgar Renteria);
• 85 home runs are the 12th most (one behind Jimmie Foxx);
• 208 extra-base hits are the ninth most (two behind Al Kaline);
• 240 walks are the seventh most (31 behind Foxx and Eddie Mathews);
• 270 RBIs are the 23rd most (two behind Bobby Doerr);
• .962 OPS is the fourth highest (behind Ted Williams, Foxx, and Mel Ott), among those with a minimum of 1,500 plate appearances;
• 170 OPS+ is the second highest, behind Williams' 182.
Roger Schlueter is senior researcher for MLB Productions. This story was not subject to the approval of Major League Baseball or its clubs.