Remembering a baseball pioneer
Snelling's book examines Johnny Evers, one of MLB's unsung heroes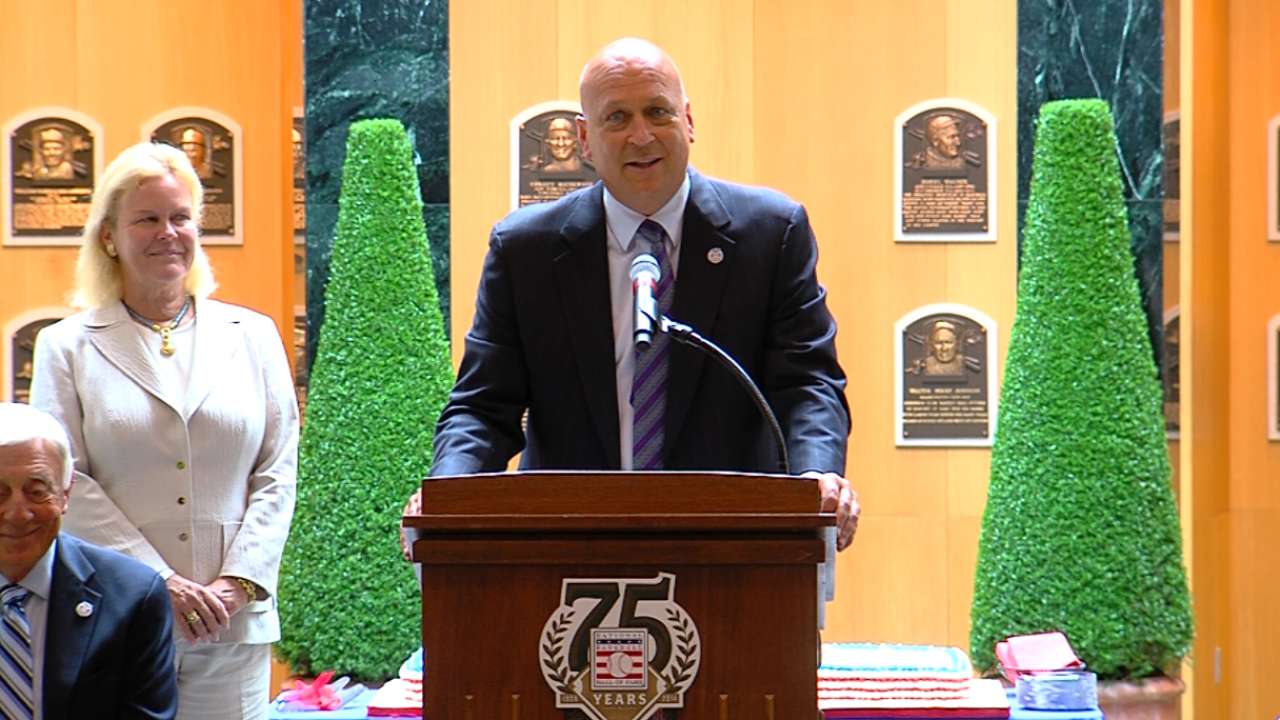 Except for a few rhyming lines dashed off by a long-ago sportswriter, second baseman Johnny Evers might be like most other Hall of Fame players from the early 20th century: Great then, largely unknown now.
The ode to the Cubs' double-play combination of the day, Tinker to Evers to Chance, immortalized the trio. Shortstop Joe Tinker and first baseman Frank Chance are also enshrined in Cooperstown. But this has been a double-edged sword. It's nice to be remembered. Evers thanked the author, Franklin P. Adams, when they met for the first time in 1937, for writing something that kept his baseball career alive. "I owe you a debt of lasting gratitude for keeping my name before the public all these years," the former player said. "I'd have been forgotten long ago if it were not for [the poem]."
At the same time, a bit of doggerel necessarily reduces its subject to a one-dimensional representation. And Evers was so much more than that. He helped redefine how the game of baseball was played. His heady approach helped the Cubs win a pennant over the rival New York Giants on the famous and still controversial Bonehead Merkle play.
He was such an intense competitor that he battled constantly with umpires, earning ejection after ejection, suspension after suspension. He was traded to the Boston Braves before the 1914 season and was the captain of a team -- the Miracle Braves -- that was in last place on the Fourth of July rallied to win the World Series.
His life was marked by obvious triumphs on the field but also a series of misfortunes including an auto accident that killed a close friend, business failures, a nervous breakdown and a divorce.
"Johnny Evers: A Baseball Life" by Dennis Snelling provides a portrait of the man in full.
This meticulously researched work reveals Evers' many accomplishments, including:
• Calculating that throwing overhand from second base gave the runner an advantage of 2.8 feet and developing a sidearm throw to take that edge away.
• Pioneering the one-handed catch, which allowed him to extend his reach.
• Developing a system to signal the rest of the fielders where to play based not only on the pitch that was being delivered, but its location.
While Snelling is clearly an admirer of Evers, he also provides a clear-eyed view of his shortcomings. One was his temper, fueled by a burning desire to win, that was so disagreeable that umpire Billy Evans wrote an article which stated that he and the other arbiters considered Evers a wonderful player and person but an "awful crab" during the game.
That same winter Evers was profiled in the New York Herald and was quoted as saying, "My favorite umpire is a dead one."
That has to be taken as hyperbole, but it's worth noting that it wasn't unheard of in those days for umpires to be physically attacked by players or fans.
In fact, one of the charms of this book is it also illustrates both how much baseball has changed and how much remains the same. Evers played in an era when it was common for teams to play exhibitions on off days or even after the regular season, where players of his stature were routinely feted at hometown banquets and lavished with gifts after their train pulled into the station when they returned home. But also how money was a paramount concern for both players and owners even then.
The Cubs went to the World Series four times in five years from 1906-10. They won their second straight world championship in 1908 ... and haven't won it all since.
Evers was the sparkplug for those teams, and also one of the game's early innovators. He lived a fascinating life, a life which Snelling has done a masterful job of capturing.
Paul Hagen is a reporter for MLB.com. This story was not subject to the approval of Major League Baseball or its clubs.