O's drop series finale to A's with sloppy effort
Pitching, offense struggles, and club has some miscues on defense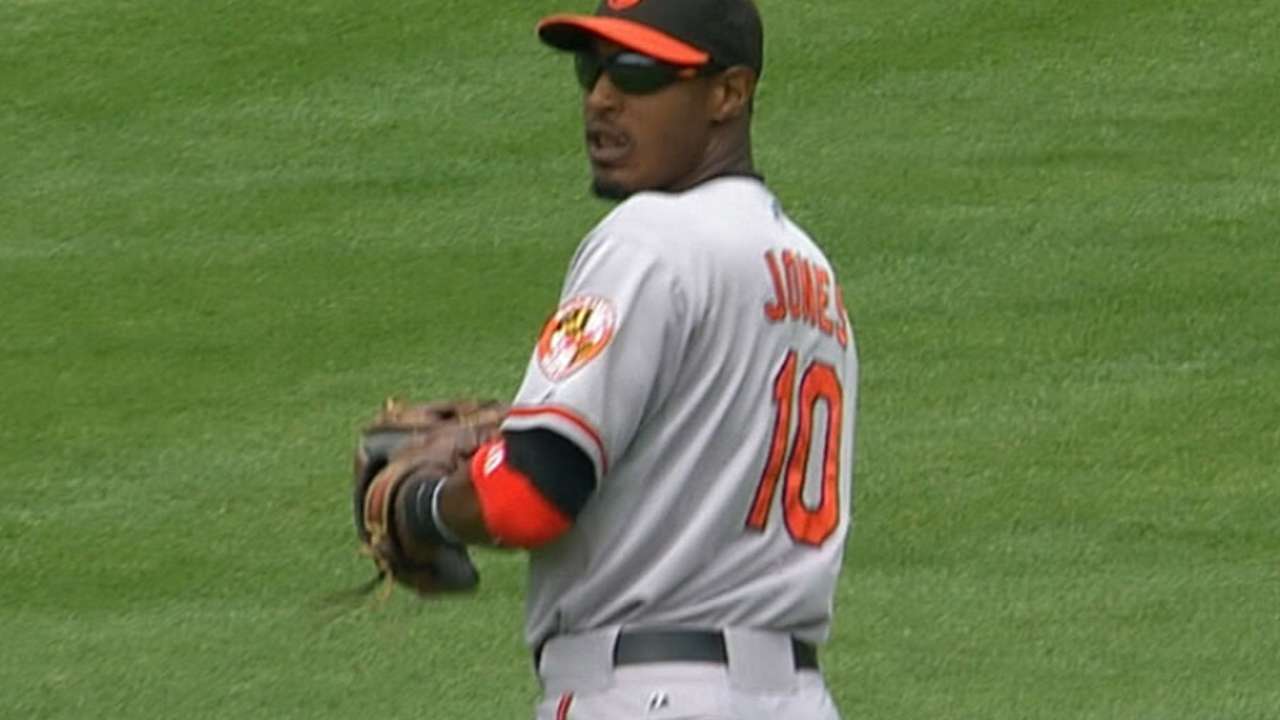 OAKLAND -- With runners on the corners and one out in the bottom of the third inning on Sunday afternoon, A's third baseman Josh Donaldson lined an offering from O's starter Kevin Gausman to center field. Adam Jones came in to make the catch -- and then began jogging toward the dugout.
But there were only two outs. Yoenis Cespedes strolled home without a throw.
Cespedes might have scored on the play either way, but Jones' mental lapse was the most memorable moment in an ugly game that the O's would like to forget. Baltimore was routed in the rubber match against the A's, 10-2, and dropped the season series, 4-2.
"Jonesy's one of the most engaged, locked in, intense guys that you'll see," said O's manager Buck Showalter. "It makes you realize how hard it is to maintain that concentration for seven or eight months. I guarantee you it'll never happen to him again."
The blame certainly extends beyond Jones. Oakland finished with 15 hits, scoring five times off Gausman and opening the floodgates against the Baltimore bullpen. Showalter said before the game that he wanted to get his relievers some work -- but this was not what the skipper had in mind: T.J. McFarland gave up a pair of runs in the fifth and Ryan Webb allowed three more in the sixth.
That came after Gausman exited with no outs in the fifth, matching his shortest outing of the year.
"You've got starters with six, seven days in between, you've got relief pitchers seven [to] 10 days. It's tough to get back," Showalter said. "You kind of give them a little pass, know that they're only going to get better going forward. I think everybody's looking forward to getting back into the routine of the season."
Gausman surrendered five runs for the third time this season, despite holding opponents to one or fewer runs in each of his other five starts. He struggled to get some low strike calls, and 14 of his 23 first pitches were balls.
"I think they were pretty patient today and they took a lot of good pitches," Gausman said. "They took pitches that were just a couple inches off that I wasn't getting called strikes. You take the things that you can. My splitter was really good today, I was pretty happy with it, but fastball command I just kind of want to forget about it. I'm better than that."
Gausman had limited the A's to one run in seven innings on June 7, but the Majors' best team had a better idea against him this time around.
"He's throwing 98, 99, it's sinking in and out, plus he has that split-changeup, and when you face a guy like that for a first time it makes it difficult," said Donaldson. "Today I think we had a good idea of what we were going to get out of him and really just harnessed our approach."
The O's offense, meanwhile, offered little help. Young right-hander Sonny Gray held Baltimore to two runs on two hits in 6 2/3 innings, and the O's had just three hits total, marking the fourth time this season the club has managed three hits or fewer.
"He's one of the best pitchers in the American League right now, statistically, and you saw why today," said Showalter. "Real good angle on his slider, command. It's not like he's picking on us -- he's been doing it most all year."
"When you look at his ERA, look what he's done this year, it's not good to fall behind early," said shortstop J.J. Hardy, who was removed in the seventh inning with what Showalter characterized as normal wear and tear. "We battled, and he just had some good stuff today."
It was a sloppy Sunday afternoon on both sides, with four errors committed between the teams, including a wide throw by Manny Machado that led to a run.
Machado did hit an RBI single in the seventh to extend his career-best on-base streak to 19 games, and he went 3-for-11 with three RBIs while absorbing three straight days of relentless booing from the Oakland crowd.
The Orioles will now take their three-game AL East lead to Anaheim on the heels of a series in which they lost once on a walk-off homer and once in a drubbing.
"If you look at that first game, they came back in the end, but we could have very easily won two of three here," Hardy said. "They are the best team in baseball right now, and we were right there with them."
Aaron Leibowitz is an associate reporter for MLB.com. This story was not subject to the approval of Major League Baseball or its clubs.