A's bats provide plenty for dominant Gray vs. O's
Offense tallies 15 hits; righty holds Baltimore to two runs on two hits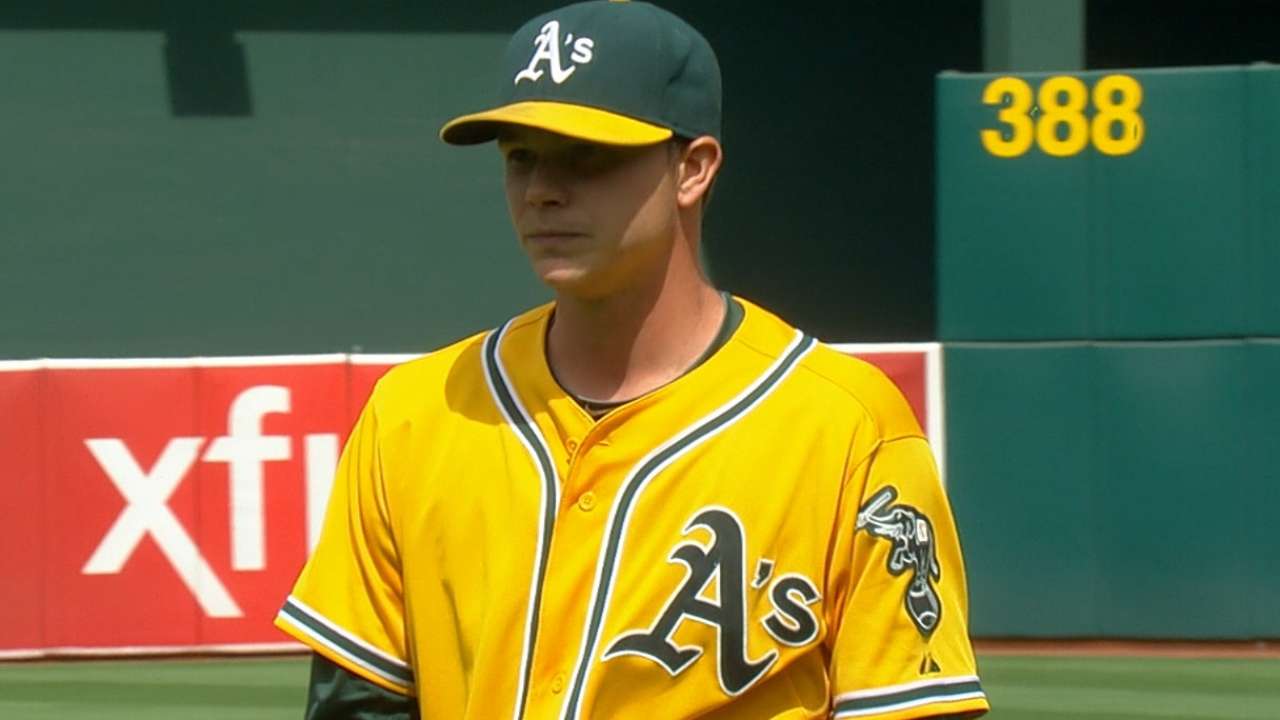 OAKLAND -- The A's secured Sunday afternoon's series win over the Orioles with great ease, getting yet another superb start from Sonny Gray to complement a frenzied offense that was firing on all cylinders.
Gray's dominance is becoming routine, particularly of late. The same could be said of the A's as a team, too.
The right-hander's two-hit performance over 6 2/3 innings gave them their Major League-leading 61st win, a 10-2 romp over the Orioles that kept their 1 1/2-game lead in the American League West intact.
The A's busted out for 15 hits, getting at least two from six of their starting nine, and their 10 runs were their most since June 17.
"Our bats just got rolling," said John Jaso, "and like they say, hitting is infectious. Our team responded that way."
Perhaps these are the things expected of first-place clubs -- except, as good as the A's have been, their offense had dipped in numbers this month. They entered the day batting just .234 in July with an average of 3.53 runs per game.
Their rich pitching has kept them in games, and it was in top form on this day.
Gray was one out away from completing seven innings for a fourth straight outing, but Manny Machado's RBI single on Gray's 106th pitch forced A's manager Bob Melvin out of the dugout.
Still, the only other hit he allowed was a fifth-inning RBI double to J.J. Hardy. He walked two and struck out eight while surrendering just one earned run in the win, his 11th of the season and fifth in a row.
Gray has produced a 0.95 ERA over his past four starts, the result of just three earned runs allowed over 28 1/3 innings, and his season ERA is down to 2.72. He's also 8-1 in games that follow an A's loss.
"He's been really consistent for us," said Melvin. "You're always kind of nitpicking with him when he's not. A little worried, again, anytime you get him some time off, but he was on it from the first inning on."
"I actually felt a little bit of the break to be honest," Gray said. "My stuff, it was OK, wasn't as sharp. I kind of lost it there. And as the game kinda went on, and we put some runs together, which was big, I could take a deep breath and just start attacking the guys."
Another baby-faced hurler, Kevin Gausman, didn't fare as well. Baltimore's righty held the A's to just five baserunners over seven innings six weeks ago but couldn't even get past the fifth in this one, allowing five runs on nine hits and two walks.
The A's got all over him right out of the gates, getting a leadoff base hit from Coco Crisp, along with an RBI triple from Jaso, who added a run-scoring single to his day in the fourth.
They plated three more in the fifth and an additional three in the sixth, improving to 30-5 when Crisp scores.
Josh Donaldson collected two hits and two RBIs and is now 4-for-12 with five RBIs since the start of the season half, after finishing the first one with a .238 average.
Craig Gentry also drove in two, as did Stephen Vogt, who finished with a team-high three hits.
"We had a good approach today, made a tough pitcher who pitched well against us last time work, and that's usually when we're at our best," said Melvin. "You make a guy work, make him a little more predictable, get in some better counts, then you pass the baton on to the next guy. That's what we did well today."
Gray did almost everything well.
"He's one of the best pitchers in the American League right now, statistically, and you saw why today," said Orioles manager Buck Showalter. "Real good angle on his slider, command. It's not like he's picking on us -- he's been doing it most all year."
"I feel good," said Gray. "Just really can't wait to get back out there every time I come off the mound."
Jane Lee is a reporter for MLB.com. This story was not subject to the approval of Major League Baseball or its clubs.