Cards decked by Adrian's ninth-inning single
Bourjos hits game-tying, two-run homer off of Kershaw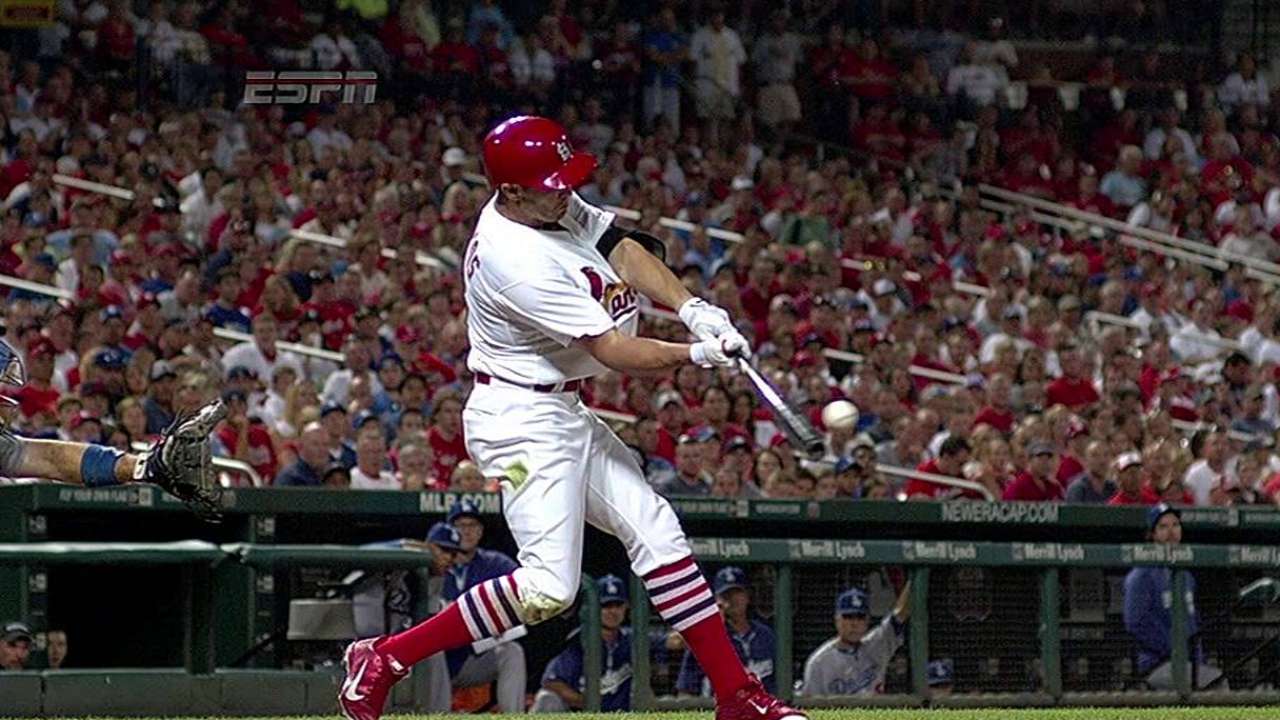 ST. LOUIS -- Busch Stadium featured a back-and-forth battle between two of the National League's heavyweights on Sunday night, with the Dodgers prevailing as the victor, yet both sides leaving bruised.
The Cardinals got to Clayton Kershaw as few have this season, but the Dodgers delivered the game-winning blow against Trevor Rosenthal to escape with a 4-3 win in front of a sellout crowd. After sealing wins in each of the first two games of the series, Rosenthal couldn't preserve a tie as the Cardinals sought a sweep and sole possession atop the NL Central for the first time this season.
Instead, they settled for sharing that top spot with Milwaukee.
"It was two really good teams who don't want to lose," Cardinals second baseman Mark Ellis said. "I don't care if it's July. I don't care if it's April, or if it's October. Neither one of us want to lose. We want to go out there and play better than any other team. It was probably more intense than a normal regular-season game."
Adding to the intensity were some errant fastballs, two of which stung Dodgers shortstop Hanley Ramirez.
With the Cardinals trailing by two, starter Carlos Martinez hit Ramirez with a 98-mph offering to fill the bases in the fourth. Kershaw answered by drilling Matt Holliday with a first-pitch fastball to open the bottom half of the inning. Both benches were subsequently warned by home-plate umpire Ed Hickox.
Ramirez then took a 99-mph pitch from Rosenthal off the left hand in the ninth. It knocked him out of the game and brought about some harsh words from the Dodgers afterward, but also led to Rosenthal's unraveling.
Rosenthal, pitching on three consecutive days for just the third time this season, was a strike away from wrapping up a scoreless inning. Instead, the plunking extended the inning to Gonzalez, who drove pinch-runner Miguel Rojas home with his first hit in five at-bats on the night.
"Just a bad pitch in that situation -- down the middle, middle in and up in the zone," Rosenthal said. "Just like any game, I feel bad letting the team down. Obviously, to be one pitch away is tough, but that's how the game goes."
The Cardinals went quietly against Kenley Jansen in the ninth.
"It felt like we had a little edge tonight," Dodgers catcher A.J. Ellis said. "It was a game we needed to win."
St. Louis made its push for a sweep by grinding its way back to tie the game against Kershaw, who allowed as many runs in seven innings on Sunday (three) as he had in his last seven starts combined.
Allen Craig worked out of an 0-2 count to deliver an RBI single in the second. Then, in an at-bat that showed shades of last October, Matt Carpenter sparked the game-tying rally in the sixth.
Carpenter, who began the Cardinals' NL Championship Series clinching victory over Kershaw with an 11-pitch at-bat last fall, drew a 10-pitch walk this time. Peter Bourjos, making just his second start of the month, then surprised everyone by lining a slider into the left-center-field stands.
"We knew going into this game with their guy on the mound, he's not going to give us a lot," manager Mike Matheny said. "I'm proud of how the guys kept going about it and Peter getting a big hit for us."
The game-tying homer was the first Bourjos has hit with a runner on since June 2012. It was just the second homer allowed by Kershaw in eight road starts.
"Bad breaking ball," Bourjos said. "It was a mistake, and fortunately, I didn't miss it."
Pitching in front of a national television audience and against the game's best, Martinez had the stage to showcase himself as one of baseball's brightest rising arms. The righty had his moments, striking out four of the first eight batters he faced, two on fastballs registering 100 mph.
But with those flashes came the reminder that the 22-year-old is still figuring out his own abilities. A triple and a two-out bloop single cost him a run in the second. The Dodgers then took two walks from Martinez and turned them each into runs with a pair of two-out singles in the third.
Speaking through a translator, Martinez said: "The problem here, I think, was emotion."
His manager agreed.
"It's something he's always going to be guilty of because he thinks more is better," Matheny said. "Sometimes it is, but sometimes it just takes him out of a rhythm. Then he got out of whack and we needed to get him out of there."
Martinez stranded the bases loaded in his final inning. He needed 74 pitches to navigate through those four innings, also the length of his last start. The Cardinals followed with four scoreless innings from the bullpen, including one from Shelby Miller, before blinking in the ninth.
"That was a great job of staying with it and fighting," Matheny said. "It was the kind of resilience and the kind of grit that we like to see."
Jenifer Langosch is a reporter for MLB.com. Read her blog, By Gosh, It's Langosch, and follow her on Twitter @LangoschMLB. This story was not subject to the approval of Major League Baseball or its clubs.