Adrian gives Dodgers finale win over Cardinals
Ninth-inning single plates winning run; Kershaw fans eight over seven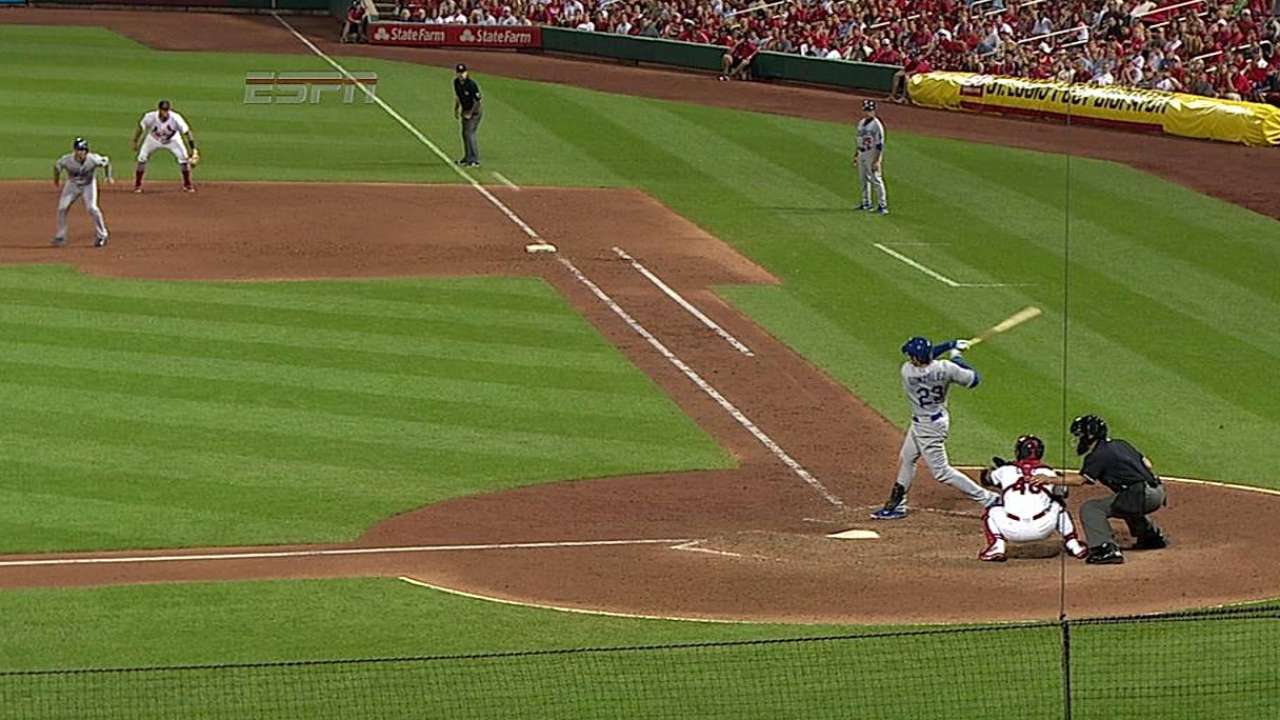 ST. LOUIS -- Adrian Gonzalez stood at home plate late Sunday night, his emotions boiling, but his mind telling him to keep calm.
With two runners on base and two outs in the ninth inning of a tie game, Gonzalez stepped to the plate after teammate Hanley Ramirez had just been hit by a pitch, for the second time, and was forced to exit.
"Your first emotion is to hit a home run and stand at home plate and do all that stuff," Gonzalez said. "You tell yourself, 'The minute you try to hit a home run, you're just going to get yourself out.' You just have to try to stay within yourself and try to get a hit, because that's all we needed."
That's also what the Dodgers got when Gonzalez took the second pitch he saw from Cardinals closer Trevor Rosenthal, a 98-mph fastball, and dumped it into right field to lift the Dodgers to a 4-3 victory against the Cardinals and salvage one game of the three-game set.
"Just a bad pitch in that situation," Rosenthal said. "Down the middle, middle in and up in the zone.
The Dodgers stranded nine baserunners in the finale, upping the series total to 22, but after going 2-for-14 with runners in scoring position in the first two games of this series, they went 5-for-14 on Sunday.
"We got some hits when we needed them tonight and that's what the difference was," Dodgers manager Don Mattingly said.
While the Dodgers played from behind in both losses to start the series, Clayton Kershaw was given an early lead with a two-out single from Juan Uribe to plate the game's first run in the second inning.
After getting ahead with two strikes to Jhonny Peralta in the home half of the inning, Kershaw eventually allowed a single on the seventh pitch. He surrendered the Cards' first run on a double to Allen Craig, again after getting ahead with two quick strikes.
Kershaw would settle in during the next three innings, striking out the side in the third while needing 29 pitches to work through the three frames. He was given additional run support with a two-run third as two walks came around to score.
Rare trouble for the Dodgers ace awaited in the sixth, though, once again after he got ahead of Matt Carpenter with two early strikes. It was Carpenter who fueled the Cardinals last October with an 11-pitch at-bat against Kershaw in Game 6 of the National League Championship Series that turned into a double and a four-run fourth as the Dodgers were eliminated.
This time, Carpenter worked a 10-pitch walk and Peter Bourjos followed with a home run to left-center to even the score at 3. This was only the fourth time in 15 starts that Kershaw has allowed three or more runs.
"He was kind of cruising pretty good and then when Matt has that at-bat where he's fouling everything off and ends up walking, it kind of got that inning started," Mattingly said.
"It was definitely a game-changer as far as a quality at-bat and it put us on our heels a little bit," catcher A.J. Ellis added.
Kershaw worked out of the sixth with two of his eight strikeouts and tossed a scoreless seventh before being removed with 109 pitches.
"It was a struggle," Kershaw said of his night, in which he allowed three runs for the first time since May. "I didn't really have a great idea where the ball was going for most of the night and then my offspeed stuff was pretty inconsistent, too. They made me pay for my mistakes, but I was able to battle and get through seven, which was good."
The Dodgers threatened by putting runners on the corners with one out in the seventh, but it went for naught with a double play.
A leadoff double in the ninth nearly went for nothing, too, as Rosenthal struck out the next two hitters. But Ramirez was hit by a pitch on his left hand to extend the inning and give Gonzalez the spark the Dodgers have needed.
"We didn't want to get out of here being swept," Gonzalez said. "For me, it was tough to not let my emotions take over and try to over-swing and try to hit a home run, because we still need to win the game."
Alex Halsted is an associate reporter for MLB.com. This story was not subject to the approval of Major League Baseball or its clubs.