Mets avoid being no-hit, can't avoid walk-off loss
Murphy breaks up Despaigne's bid during tying rally; club falls in ninth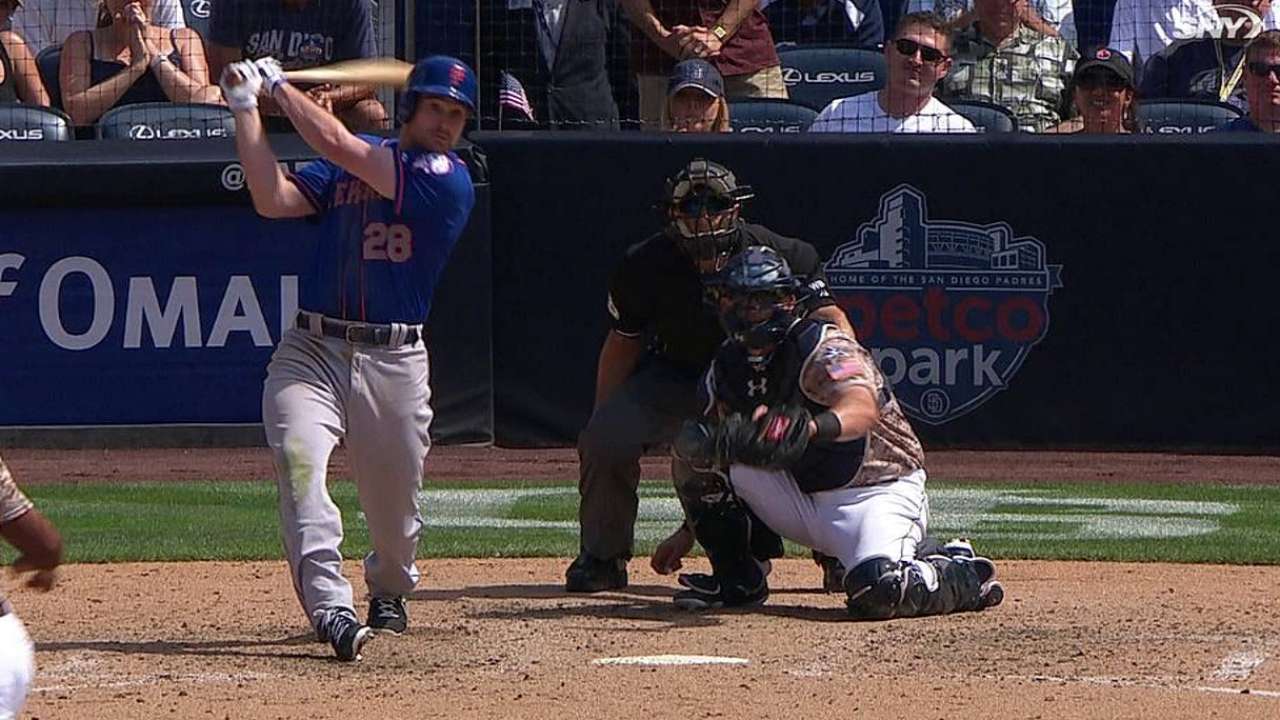 SAN DIEGO -- For a brief while, the Mets and Padres stood as the only teams in Major League history without a no-hitter. Johan Santana changed all that in 2012, leaving the Padres -- and only the Padres -- searching for their own brush with history.
In what would have been an ironic twist of baseball fate, the Mets on Sunday nearly became victims of the first no-hitter in San Diego history. Instead, Daniel Murphy broke up Odrisamer Despaigne's bid with two outs in the eighth inning of a 2-1, walk-off loss that proved just as dispiriting for entirely different reasons.
"They're all tough," Murphy said. "You can't get losses back. You can always get more wins. You can't get losses back."
Though they hit a few balls hard, the Mets did not come particularly close to a hit until Murphy batted in the eighth. The Mets' lone All-Star, Murphy -- who was 1-for-12 since returning from Minneapolis -- drilled a 92-mph sinker into the left-center-field gap for a clean double. Next up was David Wright, whose RBI single tied things at 1 and chased Despaigne from the game.
Lucas Duda followed with a single of his own, collecting the third straight hit for a Mets team that sent 28 men to the plate before recording one.
But the Mets scored just once that inning, and Vic Black opened the bottom of the ninth by walking Carlos Quentin and committing a fielding error on Alexi Amarista's sacrifice bunt. Following a key double play, the Mets brought in lefty Josh Edgin to face Seth Smith, who hit a soft ground ball back toward the mound. But Edgin stumbled and fell down as he attempted to field it, and could not recover in time to prevent the winning run from scoring.
"There's a lot of ways to get walk-offs," Padres manager Bud Black said. "We've had a balk, a hit-by-pitch, a wild pitch. Today, we had the high chopper and the stumble. That was a good one."
"I stumbled," Edgin said. "It's just one of those things. It just happened to be at the end of the game where it meant a little more."
It also happened at the end of a significant game for a Mets team clinging to the outer edge of contention. The Mets began cracking Despaigne for the first time in the seventh, though nothing ultimately came of that rally. With one out, Despaigne plunked Duda on the foot with a breaking ball, then walked Bobby Abreu and Juan Lagares to load the bases with two outs. In the midst of it, the rookie's composure appeared to unravel; Despaigne stepped off the pitching rubber for a long moment during Lagares' at-bat, adjusting his uniform before continuing.
When he stepped back atop the mound, Despaigne rediscovered his ability to throw strikes, escaping the jam by inducing a soft ground ball from Ruben Tejada.
At the time, it seemed that the Mets might have squandered their only chance against the Padres' rookie starter. After Wright and Duda hit back-to-back deep fly balls in the fourth inning, Despaigne limited the Mets to a series of groundouts, pop flies and scattered strikeouts until the seventh. He relied mostly on a low-90s sinker, as well as a mid-70s curve that dropped into the strike zone as modestly as 64 mph on occasion. For most of the afternoon, he had the Mets completely flummoxed.
"It took us a little while to get to him," Murphy said. "I thought I saw the ball pretty well, he just kept me off-balance. I got some pretty good pitches to hit myself, I just missed them. I didn't make him pay for some of the mistakes he made."
Despaigne allowed his first baserunner when he hit Tejada with a pitch in the third inning, then retired 10 in a row. He later walked Curtis Granderson with two outs in the sixth, keeping his pitch count low until the seventh.
All the while, the game remained very much in the balance thanks to Mets starter Zack Wheeler. Nearly as sharp as Despaigne from the start, Wheeler gave up his only run on a Yasmani Grandal leadoff homer that barely cleared the right-center-field wall in the fourth. Wheeler lasted six innings, striking out seven and walking one.
"My command was a little off and I wish I hadn't let up that run, but sometimes you've got to give the hitter credit," Wheeler said. "Grandal hit a really good pitch."
Of solace was the fact that the Mets avoided being no-hit for the seventh time in their history and the first time in 21 years. But they could not convert that into a series win over the Padres, statistically the least-challenging opponent on their 10-game, three-city road trip that next winds through Seattle and Milwaukee.
"We've got seven more in a row," manager Terry Collins said. "We can still have a good road trip. We've just got to pick ourselves up."
Anthony DiComo is a reporter for MLB.com. Follow him on Twitter @AnthonyDicomo. This story was not subject to the approval of Major League Baseball or its clubs.