Rangers show heart, but rally falls short
Robertson drives in career-high four runs, hits game-tying single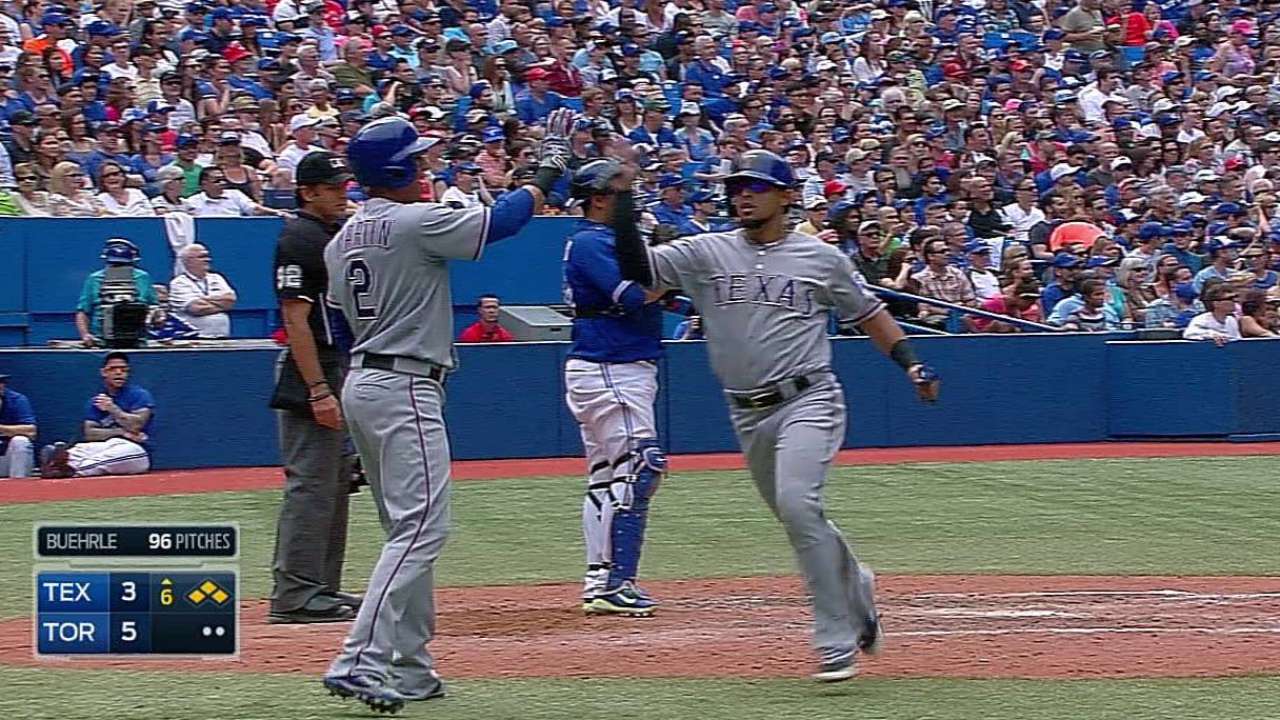 TORONTO -- Every time it looked liked Texas finally had a chance to win, the Blue Jays came crawling back.
The Rangers never got the shutdown inning they needed, and it cost them the series.
Neftali Feliz surrendered a go-ahead solo homer to Melky Cabrera in the seventh inning of a tie game, while Matt West allowed three more in the eighth in a 9-6 loss to the Blue Jays at Rogers Centre on Sunday.
"That's what you have to do, that's the name of the game of baseball -- you score runs, you have to put up a zero," Rangers manager Ron Washington said. "Every time we scored, we just couldn't stop them."
Texas showed heart, battling back multiple times throughout the game, and brought the potential tying run to the plate with two outs in the ninth.
After the Rangers struck once in the frame on a Chris Gimenez RBI single, the stage was set for J.P. Arencibia, who entered as a pinch-hitter, to do damage against his former team. But lefty Aaron Loup got Arencibia to pop up with runners on first and second to secure the series win for Toronto in front of a crowd of 36,011.
It was the fifth straight series the Rangers have dropped and the 16th loss in their last 18 games.
"We just ran out of outs," said Daniel Robertson, who had a career-high four RBIs. "It was a fight. Last person standing is going to win, and I think they were the last ones standing."
Rangers starter Nick Tepesch put Texas in an early hole by allowing three runs in the second inning, including a solo homer to Dioner Navarro -- his sixth of the year -- to lead off the frame.
Tepesch's offense quickly picked him up, scoring a pair on a Robertson two-run base hit in the third. Robertson dropped a single into right field to easily score Leonys Martin -- who recorded his third three-hit game of the season -- while Adam Rosales just beat Anthony Gose's throw to the plate on a headfirst slide to make it a 3-2 game.
But Toronto got to Tepesch again in the bottom half of the frame, adding another run before taking a three-run lead in the fifth. Tepesch lasted 4 1/3 innings, surrendering five runs on a season-high-tying nine hits while walking two.
"Anytime the offense puts up runs, your job as a pitcher is to go out there and throw up a zero," said Tepesch, who didn't record a strikeout for the first time this season. "I made some mistakes over the plate, and any time you do that to hitters at this level, you're going to be punished for it."
Texas didn't quit, though.
The Rangers had trailed all contest before evening things up in the sixth. Geovany Soto and Martin -- who reached after a replay challenge overturned an out call at first -- began the frame with back-to-back hits, and Rougned Odor loaded them with a one-out single. With Robertson at the plate, Toronto starter Mark Buehrle then balked in a run after slipping on the mound during his delivery to make it a 5-3 game.
Robertson came through by cashing in another two with a base hit to even things up at 5.
But Buehrle picked the 28-year-old rookie off the bases to help Toronto escape the frame.
"We had Buehrle on the ropes there, and then I let him off," Robertson said. "You have to keep your focus."
Buehrle was yanked after the sixth. The lefty allowed five runs on eight hits, walked three and struck out five.
After Texas rallied to tie the game with the three-run sixth, the Blue Jays finally jumped ahead for good.
Cabrera deposited a Feliz (0-1) changeup -- that the pitcher said caught too much of the middle of the plate -- over the fence in right for his 12th homer of the season.
Munenori Kawasaki added to the lead in the eighth with an RBI single before Cabrera struck again with a two-run base hit to put Toronto up by four. Cabrera went 3-for-5 with three RBIs, and he made a diving catch in left field with two runners on during Texas' big sixth inning.
"The All-Star break did [Cabrera] wonders," Blue Jays manager John Gibbons said. "He's out there every day. His hand speed, bat speed looks better and that's the key to hitting."
Texas, which fell to 20 games under .500 for the first time since the end of the 2003 season, opened up the second half of its season by losing two of three games to the Blue Jays to fall to 2-14 in July. The Rangers will continue their seven-game road trip on Monday in New York.
Chris Toman is a contributor to MLB.com. This story was not subject to the approval of Major League Baseball or its clubs.