Gio records 1,000th career strikeout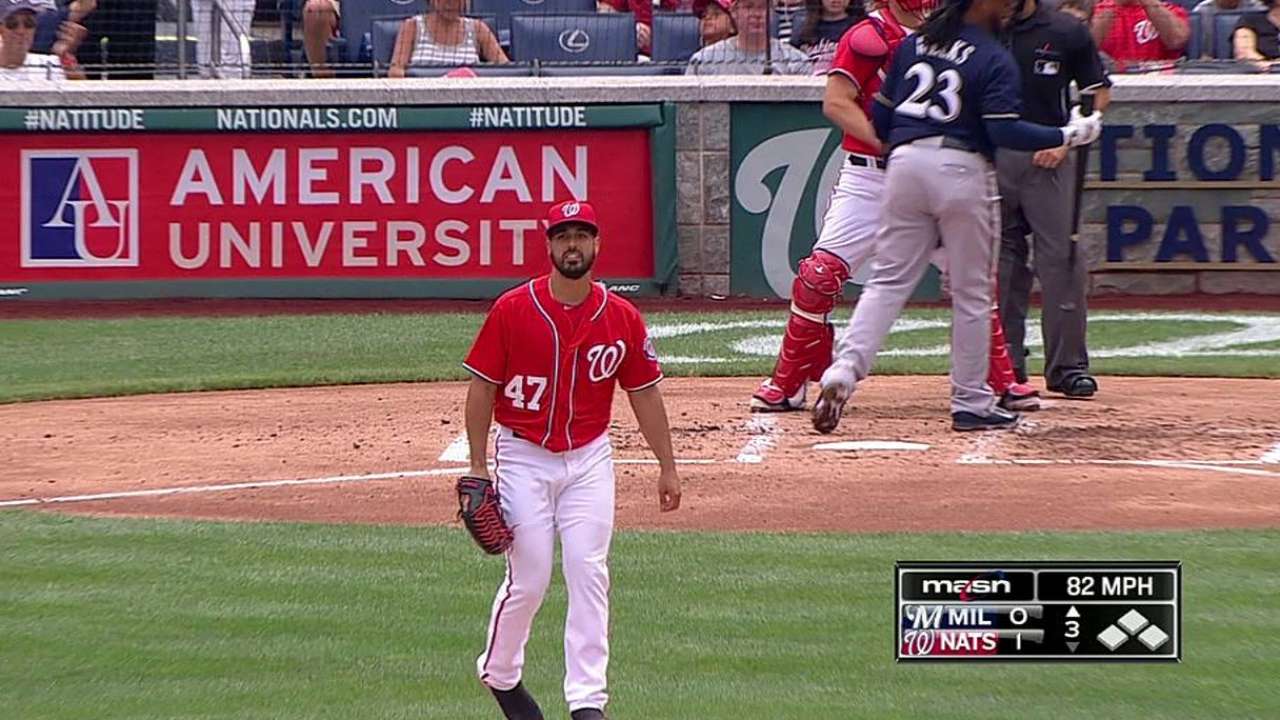 WASHINGTON -- Gio Gonzlaez entered his start in Sunday's 5-4 win against the Brewers with 995 career strikeouts - 511 as an Athletic and 484 as a National.
It only took him 2 1/3 innings to reach the 1,000-strikeout milestone.
Gonzalez fanned Milwaukee second baseman Rickie Weeks for the second time in the contest in the top of the third inning to cement the achievement.
"You enjoy the moment," Gonzalez said. "When the players acknowledge it and the fans were acknowledging it, it's a pretty special moment in your career."
Gonzalez struck out the side in the second inning, but not without some adversity. A walk, a single, and an error from Ryan Zimmerman loaded the bases with one out. Gonzalez responded with back-to-back strikeouts, though, the latter of which came on a 3-2 changeup to Carlos Gomez.
After striking out Weeks to lead off the third, Gonzalez surrendered back-to-back walks before a groundout from Jonathan Lucroy and a single from Khris Davis brought both runners home.
The left-hander got out of the inning with a Mark Reynolds pop up, but only made it through two batters in the fourth inning before manager Matt Williams pulled him in favor of Craig Stammen.
"It's a bittersweet moment," Gonzalez said of his 1,000th strikeout. "It's a great accomplishment in my career and I feel just happy to do it here with the Nats. But at the same time, just a better outcome would have been nice."
Daniel Popper is an associate reporter for MLB.com. He also can be found on Twitter @danielrpopper. This story was not subject to the approval of Major League Baseball or its clubs.