Cubs edged despite Rizzo dazzling with glove, bat
Arrieta loses steam after fast start, allowing three late runs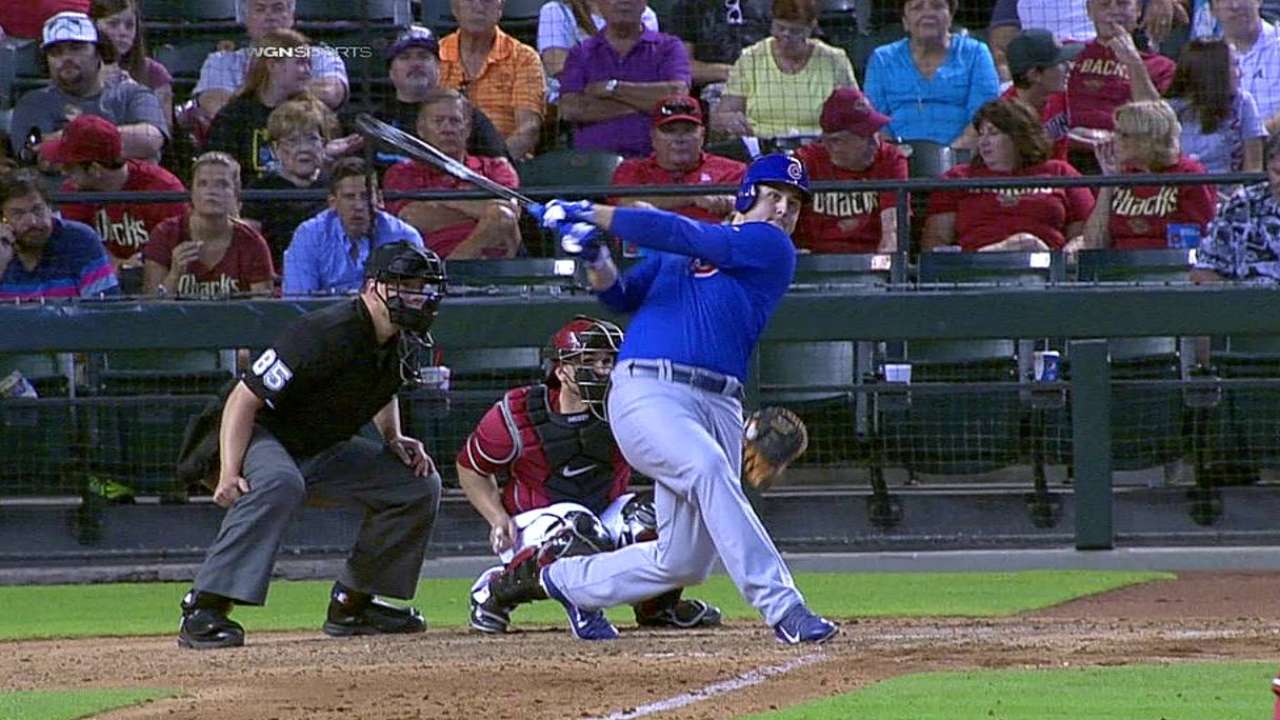 PHOENIX -- Anthony Rizzo matched his career high in home runs with his 23rd on Sunday and made an incredible acrobatic catch -- though it cost the Cubs the tie-breaking run.
David Peralta hit a game-tying RBI double and then scored on Rizzo's amazing play in the sixth to lead the Diamondbacks to a 3-2 victory Sunday over the Cubs, and complete a sweep of the three-game series in front of 37,131 at Chase Field.
With the loss, the Cubs have dropped 11 of their last 13 games, a streak that started after the July 4 trade of Jeff Samardzija and Jason Hammel to the Athletics.
"We need to just win," Rizzo said. "It's another close game. We keep fighting and we're in a position to tie it up. We didn't come through, but we have to keep grinding."
That's the same message manager Rick Renteria gave the players after the game.
"That's what I told them -- 'Keep your heads up, it'll turn, keep grinding, and we'll get ready for the next series at home,'" Renteria said.
Jake Arrieta has the only two wins in this 13-game stretch, but he took the loss Sunday. The right-hander entered the game with the third-best ERA since May 1 among Major League starters. He gave up three runs over 6 2/3 innings, and his ERA is now 2.12.
The right-hander admitted he felt weak because of a stomach flu he's battled for three days.
"I wasn't able to eat any solid foods and get enough in my stomach to sustain," Arrieta said. "It was just a weird three days. ... Most days I'll take that outing but I would've liked to do a little more to keep a run or two off the board. You've got to fight through it and give the team what you've got that day."
Rizzo gave the Cubs a 1-0 lead with one out in the sixth when he hit the first pitch from Josh Collmenter to right for his third homer in three games since the All-Star break. He belted 23 in 160 games last season, while Sunday was his 96th game this year.
But the Diamondbacks answered in their half of the inning, tying the game on back-to-back doubles by Ender Inciarte and Peralta. Paul Goldschmidt grounded out and Miguel Montero then walked before Aaron Hill popped up toward the Cubs' dugout. Rizzo leaned over the railing and was able to catch the ball before falling into the camera well next to the dugout. As he sat on the concrete, he threw the ball back into fair territory to catcher John Baker, but because the ball went into dead ball territory after the catch, the runners were each awarded a base, allowing Peralta to score from third.
"Back-to-back hitters, just left a sinker a little elevated, and Inciarte and Peralta were able to put some decent wood on it and get it over [Chris] Coghlan in left field," Arrieta said. "A pretty crazy play on the Aaron Hill foul territory fly ball. Tremendous play by Rizzo. He was almost able to come up and get him there at home."
Diamondbacks manager Kirk Gibson was impressed by Arrieta's outing, not knowing the right-hander wasn't feeling well.
"Arrieta's got good stuff -- he's got really good stuff," Gibson said. "You can just tell by the swings that you're getting and seeing.
"Arrieta threw the ball good all game, to be honest with you," Gibson said. "I know that back in the past, he was a guy that we've talked about when he was with the Orioles. It's really the first time I watched him pitch live, and he's got a very good arm."
With two outs in the seventh, the Cubs thought they had thrown out pinch-hitter Mark Trumbo, who was trying to steal second. But the Diamondbacks asked for a review, and the call was overturned. Trumbo then scored two batters later on Peralta's single.
Coghlan and Arismendy Alcantara hit consecutive doubles with one out in the eighth to close the gap to 3-2, but the Cubs eventually fell to 9-17 in one-run games.
After an off-day Monday, the Cubs open a 10-game homestand on Tuesday, beginning with the Padres. The first two pitchers for that series, Kyle Hendricks and Tsuyoshi Wada, will be replacing Samardzija and Hammel. And there could be more moves. The July 31 non-waiver Trade Deadline is looming.
"We're well aware trades will continue to take place and guys will be shuffled in different positions and get experience across the board and they'll fit guys in certain situations," Arrieta said. "That doesn't take away from our mindset of going out there and trying to win every series.
"We're going to need guys to step up in the rotation and give us some innings, guys who come up here whether it's Wada, Hendricks, [Dallas] Beeler, whoever comes up," Arrieta said. "It's going to be tough to do and those guys will have their work cut out for them and I'm confident they're capable of doing so."
Carrie Muskat is a reporter for MLB.com. She writes a blog, Muskat Ramblings, and you can follow her on Twitter @CarrieMuskat. This story was not subject to the approval of Major League Baseball or its clubs.