Collmenter, Peralta propel D-backs to sweep of Cubs
Outfielder drives in a pair to support righty's seven strong innings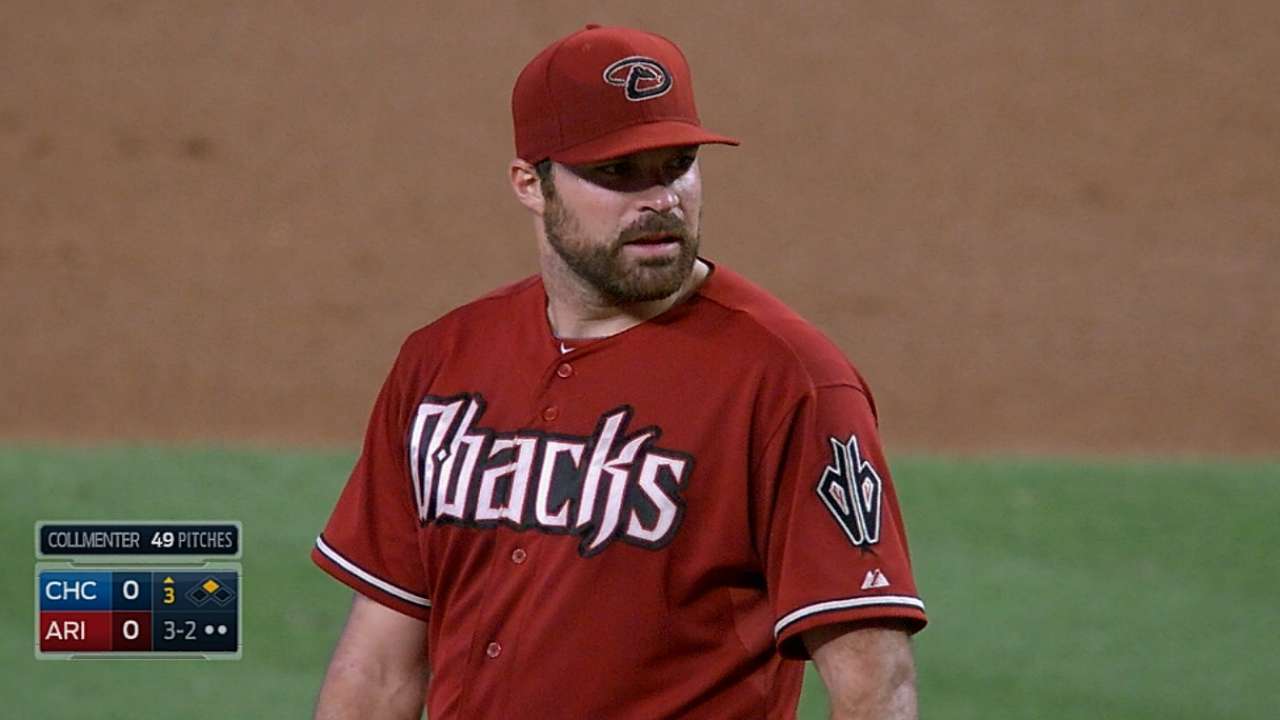 PHOENIX -- Consider Josh Collmenter Wookiee of the Year.
The D-backs starter pitched exceptionally in the D-backs' sweep-clinching 3-2 win against the Cubs on Sunday, which happened to be Star Wars Day at Chase Field.
"I'd be remiss if I didn't say the force was with us today," Collmenter said.
Collmenter was greeted in his first at-bat with a picture of him as a Wookiee -- a fictional, hairy species from the Star Wars films -- on the center-field big screen. The 28-year-old pitcher drew a walk in the at-bat, and his ensuring performance on the mound was the outing manager Kirk Gibson asked of him.
"It was vintage Colly," Gibson said. "He had a good, live arm today. … It was a big start for us."
Collmenter pitched well and efficiently for most of the game, matching zeroes with Cubs starter Jake Arrieta (5-2) for the first five innings. Although his pitch count reached 70 through four innings, he worked eight- and nine-pitch frames in the fifth and sixth.
The lone blemish on Collmenter's (8-5) seven innings of work was a solo homer to Cubs first baseman Anthony Rizzo, who crushed a changeup left over the plate in the sixth.
"I think he was sitting on an off-speed pitch. It was not a particularly great one," Collmenter said. "Pretty much right over the heart of the plate, and yeah, he did what he does with a lot of those pitches."
But like they had in the two previous games this series, the D-backs came back to win.
Minutes after Rizzo's go-ahead home run, center fielder Ender Inciarte and left fielder David Peralta knocked back-to-back doubles to tie the game in the bottom of the sixth.
In front of family members from Venezuela, who were seeing him play in the Majors for the first time, Peralta came around to score by unconventional means.
Second baseman Aaron Hill hit a foul ball toward the Cubs' dugout, and Rizzo caught the ball as he fell into a camera well. Peralta started to tag and was awarded the run anyway as Rizzo took the ball out of play, giving the D-backs a 2-1 lead.
"When I saw the fly ball, you never know what's going to happen, so I tagged," Peralta said. "He just fell down over the fence. I was like, 'OK … That's perfect for us.'"
Said Rizzo: "Instincts take over there. I didn't really worry about it too much. I didn't think I'd go in. It was a little farther than I thought."
The D-backs added an insurance run in the seventh, but that also didn't come without interesting circumstances.
Mark Trumbo walked as a pinch hitter and then attempted to steal second. He was initially ruled out, but the call was overturned after a replay challenge. Trumbo scored two batters later on a single by Peralta.
"He doesn't get down on himself," Gibson said of Peralta, who struck out in his first two at-bats. "He learns from his previous at-bats and puts the information to use in his next at-bat. And it worked well today."
Peralta's second RBI proved important, as reliever Brad Ziegler gave up a run in the eighth inning. But Addison Reed closed the door in the ninth, securing the D-backs' first sweep at Chase Field since Aug. 15, 2013.
"It's huge. That's one of the problems we had in the first half. We didn't play really particularly well at home," Collmenter said. "The way the first half started, we were behind the eight ball, and everybody was pressing. But to get three wins and let the guys just relax and play … that's kind of what we expected."
Adam Lichtenstein is an associate reporter for MLB.com. This story was not subject to the approval of Major League Baseball or its clubs.