Smyly quiets Indians to help Tigers end slide
Southpaw takes no-hitter into fifth to halt advance of Tribe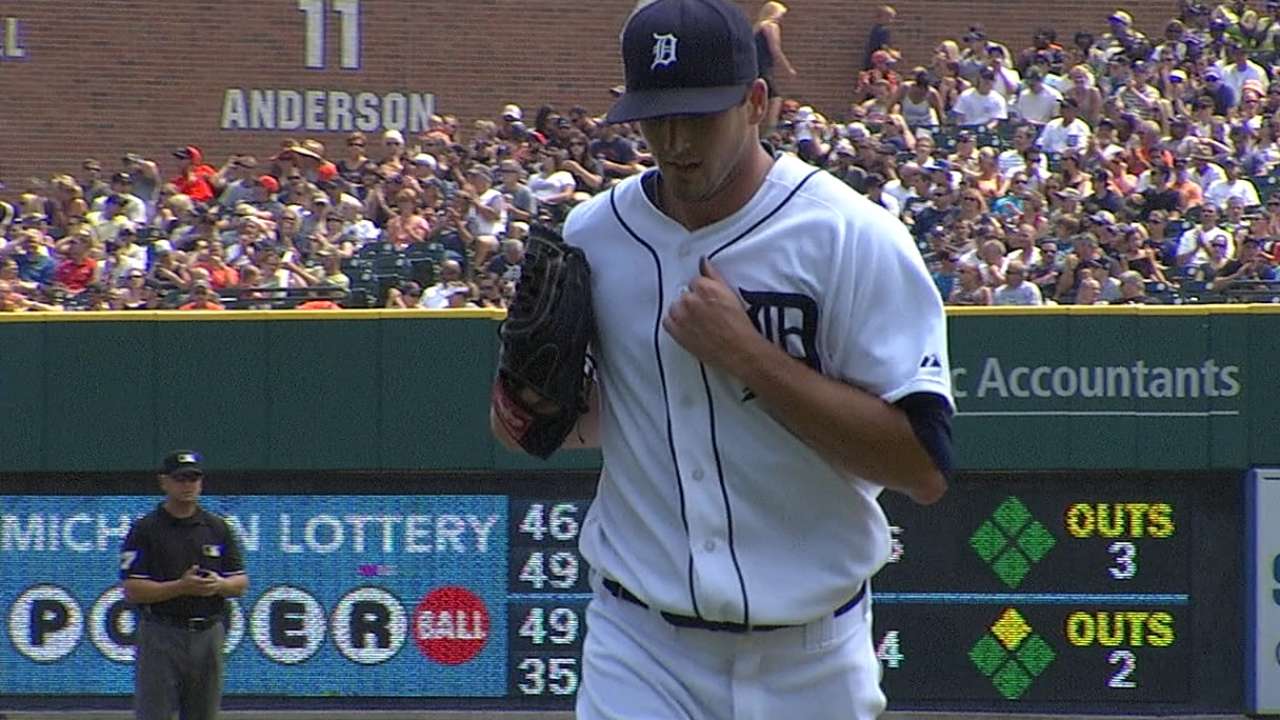 DETROIT -- The postgame music playlist in the Tigers' clubhouse following a win includes Drake's "Started From the Bottom," a song that can be heard in a lot of places. Between the four-day All-Star break and three losses in two days to Cleveland, the Tigers hadn't had a chance to hear it for a while.
As the song blared through the clubhouse at Comerica Park following Sunday's 5-1 win over the Indians, somebody changed up the lyrics.
"Started at the top," the player said. "And we're still there."
It wasn't necessarily a message, but the way this weekend unfolded, it was timely. It wasn't the series they wanted out of the break, but it wasn't a historic sweep, either. Detroit dropped three out of four to Cleveland, but lost only one game in the standings, heading out west up 5 1/2 games.
The Tigers now have a different second-place pursuer in the Indians, who started June at the bottom of the American League Central.
"I think the way we played here this series definitely lets everyone know where we stand," Indians slugger Nick Swisher said.
The Indians have swept series in Detroit -- most recently three games in August 2008 -- but they've never taken a four-game set from the Tigers in the Motor City. An April postponement turned a three-game weekend series into four games in a 48-hour stretch following the four-day All-Star respite.
The Tigers lost a seventh-inning lead in Friday's opener and never found a moment to recover during Saturday's day-night doubleheader. Smyly's stingy pitching gave them a chance.
"It's just a rhythm," said Torii Hunter, whose two-run homer off Josh Tomlin helped power Detroit's offense. "Baseball's a rhythm. You take four days off, which we need, but I think we're starting to come around and I saw a little spark today."
The Tigers have a rotation of pitchers capable of being streak-stoppers. Rarely is Smyly, in just his second year as a starter, seen as one. In this case, though, the matchup favored it.
Smyly has battled inconsistency this season, but most of his problems have come courtesy of right-handed hitters, who were hitting .315 with a .909 OPS against him entering Sunday's game. Left-handers, by contrast, were batting .157 with a .436 OPS. Though Cleveland tried to put up as much opposition as it could from the right side -- including former Tiger Ryan Raburn batting fifth -- the Indians still had Jason Kipnis, Michael Brantley and David Murphy in their lineup.
Smyly (6-8) not only handled the lefties with relative ease, his breaking ball gave him an out pitch against the righties. Thus, for 4 2/3 innings, he barely had a good swing against him, let alone a hit.
Smyly was executing a game plan in which the Indians rarely saw the same pitch twice in a row.
"He mixed it up quite a bit," manager Brad Ausmus said. "They didn't see a lot of the same pitches back to back."
A lot of times, Smyly hasn't had enough pitches working at the same time to go for a long stretch with that strategy. On Sunday, for whatever reason, it all worked.
"Early on, he had a real good curveball working that he was able to throw to both sides of the plate, mixed his cutter in there," catcher Alex Avila said. "And as the game went on, it was almost like he were able to flip-flop it, use his fastball more."
The Indians, who entered Sunday batting .247 against left-handers, raved about the breaking ball.
"He was flipping that breaking ball over at will," Cleveland manager Terry Francona said. "And then, because of that breaking ball, I thought he threw some fastballs that caught some of the plate, but we just weren't ready to hit it."
Two of the Indians' four hits came from right-handed-hitting catcher Yan Gomes. His two-out, fifth-inning double to the out-of-town scoreboard in right-center field broke up any dreams of no-hit bid, then his seventh-inning solo homer accounted for the Tribe's lone run.
Detroit never trailed, with Austin Jackson hitting a leadoff double and scoring on Ian Kinsler's single in the first. Raburn's throw home allowed Kinsler to take second, giving him a chance to come around on back-to-back fly balls from Miguel Cabrera and Victor Martinez.
Once Hunter feasted on a hanging breaking ball from Tomlin (5-7) in the fourth, the Tigers had a comfortable lead, and the Indians had their momentum slowed.
Jason Beck is a reporter for MLB.com. Read Beck's Blog and follow him on Twitter @beckjason. This story was not subject to the approval of Major League Baseball or its clubs.