Tomlin struggles as Tribe slowed in Motown finale
Indians miss chance at historic sweep, take three of four from Tigers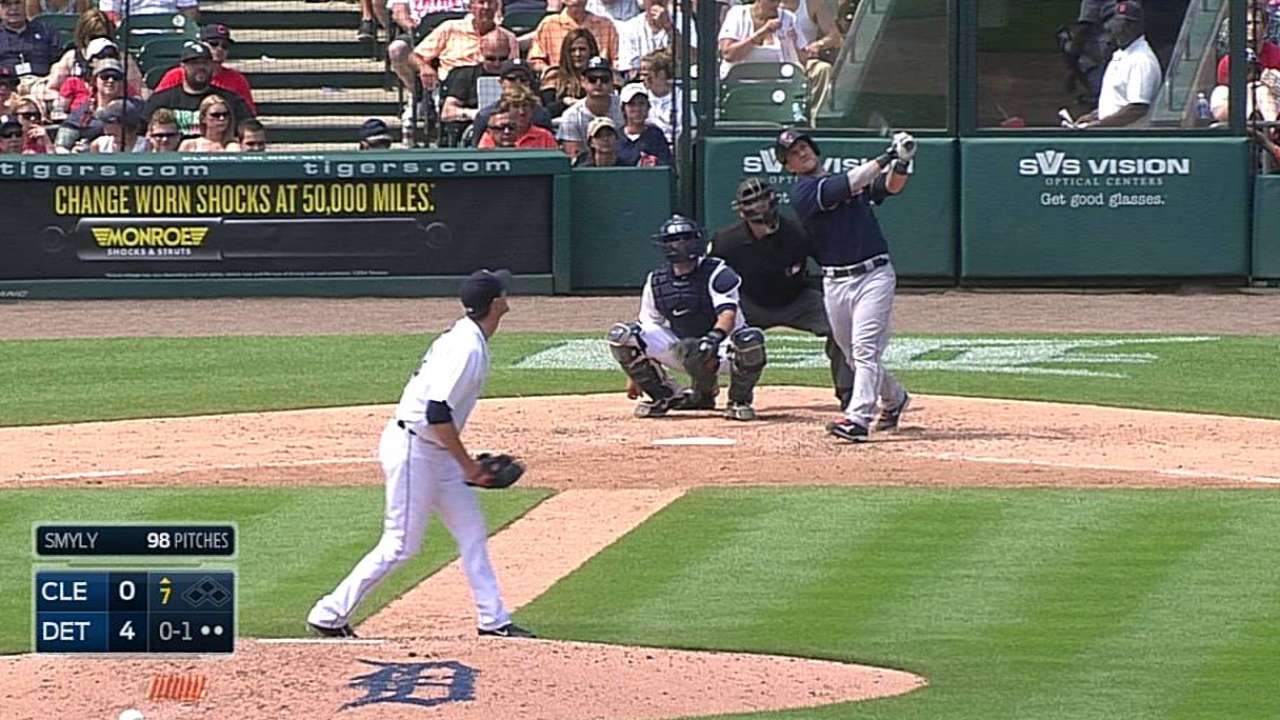 DETROIT -- The Indians had a shot at history on Sunday afternoon. Sweeping the Tigers in a four-game series in Detroit is something Cleveland had not accomplished in at least the past century of baseball between the rival clubs.
The Tribe will have to settle for an impressive series win.
In the finale of a three-day, four-game series at Comerica Park, the Indians' lineup was stymied by Tigers lefty Drew Smyly in a 5-1 defeat. Cleveland claimed the first three games of the set, which included a sweep of a twin bill on Saturday. The Tribe had not taken both games of a doubleheader in Detroit since 1966.
"Obviously, today, this was a game we really wanted to get," Indians designated hitter Nick Swisher said. "We just weren't able to get it done. Either way, I think the way we played here this series definitely lets everyone know where we stand. Hey, we've got the right mindset going into the second half."
Taking three out of four against the American League Central-leading Tigers this weekend helped second-place Cleveland cut its deficit in the division to 5 1/2 games. That is still a considerable hill to climb for the Indians (50-48), but the series win is a promising way to kick off this 11-game divisional swing that will take the Tribe through Minnesota and Kansas City next.
The Indians understand the importance of the current three-city trek.
"You're playing all division guys," Swisher said. "On a road trip like this, we have to play well. We did a great job here. It's a good start for us in the right direction. We want to just continue to keep that going."
In the immediate aftermath of the loss, Indians manager Terry Francona did not feel like focusing on the series win.
To Francona, Sunday's outcome represented a missed opportunity for his ballclub.
"If you start going back," Francona said, "and trying to make yourself feel too good about what you did before, that's not real helpful. We're not going to put our tails between our legs because we lost today, but that's what was out there. I thought both teams played a lot of baseball, and they did a better job today than we did."
In Cleveland's first loss of the second half, starter Josh Tomlin was not at his best in an abbreviated outing. Complicating things further, the Indians' offense -- a group that scored 15 of its 20 runs after the seventh inning in the previous three games combined -- lacked its late magic and was overwhelmingly silent early on.
The Tigers (54-41) wasted little time getting to Tomlin.
In the first inning, Austin Jackson led off with a double to left field and promptly came around to score on a single off the bat of Ian Kinsler. Detroit's second baseman then moved to third on a flyout from Miguel Cabrera and crossed the plate on a sacrifice fly from Victor Martinez, putting Cleveland in a quick 2-0 hole.
From there, Tomlin settled in, cruising through a stretch of 11 batters without relinquishing a hit between the first and fourth innings. That run ended with two outs in the fourth, when J.D. Martinez shot a pitch into center field for a base hit. The next hitter, Torii Hunter, drilled a 1-2 offering from Tomlin into the left-field seats for a two-run home run to give Detroit a 4-0 advantage.
"I have to do a better job of limiting those home runs," said Tomlin, who has surrendered 14 long balls in 14 appearances this season. "I'm averaging a home run a game, and that's not OK. That's not right."
Smyly, who spun seven solid innings and ended with six strikeouts and four hits scattered, did not allow a hit to the first 15 batters he faced before finally yielding a double to Yan Gomes with two outs in the fifth. Undeterred, the Tigers' left-hander then retired David Murphy to escape that brief threat.
Cleveland appeared poised for a breakthrough in the sixth, when Mike Aviles led off with a base hit and Jason Kipnis followed with a bunt single. Once again, Smyly reeled it in, retiring Asdrubal Cabrera, Michael Brantley and Carlos Santana in order to escape unscathed.
"He was flipping that breaking ball over at will," Francona said of Smyly. "It had a lot of depth to it. He could change speeds and then, early on, he located his fastball away really well. And then, because of that breaking ball, I thought he threw some fastballs that caught some of the plate, but we just weren't ready to hit it."
In the seventh, Gomes ended the Indians' scoring drought with his 13th home run of the season. Cleveland's catcher tagged an 0-1 pitch and sent it out to left field, trimming the Tigers' lead to 4-1 at the time, but the comeback went no further.
With the loss, the Indians slipped to 7-5 this season against the Tigers. That is already a considerable improvement over last year, when Cleveland won just four games in 19 meetings with Detroit, which won the AL Central by one game.
"Last year left a real bad taste in our mouths," Swisher said. "We know we're a much better team than that. And if you kind of look back at the standings last year, we finished one game behind one of the best teams in baseball. ... For us, we feel good about where we are right now, especially coming out of this set."
Jordan Bastian is a reporter for MLB.com. Read his blog, Major League Bastian, and follow him on Twitter @MLBastian. This story was not subject to the approval of Major League Baseball or its clubs.