Astros rebound from White Sox rally, win slugfest
Dominguez has big game, drives in go-ahead run; Altuve goes deep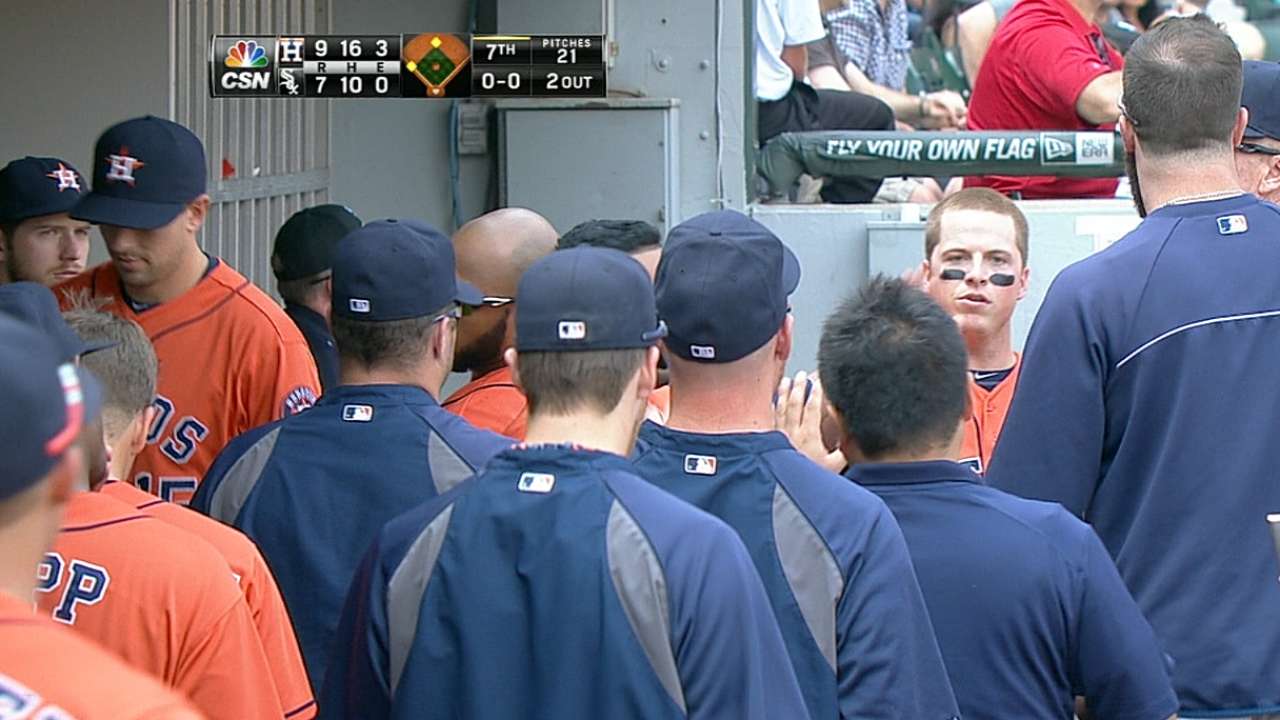 CHICAGO -- Just when it looked like the White Sox were going to rally for their third straight come-from-behind win in Sunday's series finale at U.S. Cellular Field, the Astros pulled away with four runs in the seventh inning in an 11-7 victory on a day they tied a season high with 17 hits.
In the seventh, Houston accumulated the four runs on four hits and an intentional walk over eight batters against reliever Daniel Webb, who tossed 25 pitches over the frame and took his third loss.
Chris Carter and Matt Dominguez led off the inning with back-to-back doubles, then L.J. Hoes and Marwin Gonzalez brought home another pair with consecutive two-out hits to give the Astros tie their largest lead of the game, which they reached three times.
"Even when we made some errors and did not make plays that put our pitchers in more distress, the offense responded each and every time and was able to continue to put runs on the board," manager Bo Porter said. "We've been faced with adversity throughout the course of the year and one thing I can say about these guys is they're going to continue to fight."
All-Star Jose Altuve extended his MLB hits lead to 135 after finishing 2-for-5 with a homer and a single to lead off the game.
Altuve, who struck out five times in his first nine at-bats of the series, scored the game's first run on a sacrifice fly by Carter, a former White Sox prospect. In the third, Alutve hit a two-run homer, his third dinger of the year, on a changeup hung high by starter John Danks, which Porter said before the game would be the key to exploiting the lefty.
Sunday marked the second straight day an Astros starter left after just five innings when Jarred Cosart was relieved at the 104-pitch mark after allowing four runs (three earned), seven hits and four walks while striking out three.
Cosart, making his first start since July 7 after battling a sore groin, said he struggled early with command of his fastball.
"I was hoping to go six or seven even after the first; just come out and have some quick innings," Cosart said. "But it's baseball. I got a lot of ground balls. Obviously I didn't get the results and didn't go as long as I wanted to, but I thought I made some good adjustments to start the second half that I can only build off of and get better."
Houston opened a 4-0 margin that extended to 7-3 with three-run innings in the third and fifth. Highlighting those frames were a pair of first-pitch, two-run homers by Altuve and Dominguez, their third and 12th home runs of the season, respectively.
Dominguez, who went 1-for-8 in the first two games of the series, finished 3-for-5 hitting cleanup with four RBIs and was a triple away from hitting for the cycle.
In the fifth, Jon Singleton scored from second on a Robbie Grossman base hit to center, sliding past a bobbled tag by White Sox catcher Adrian Nieto three batters after Dominguez's homer. Dominguez also had an RBI base hit in the third, three batters after Altuve belted his homer.
The Astros (41-58) are off Monday, then open a three-game series in Oakland against baseball's best team.
Porter said that the additional day comes at a beneficial time, as many of the Astros are banged up, including starting outfielders Dexter Fowler, Alex Presley and George Springer, who was scratched before Sunday's game with soreness in the quad and knee on his right leg. Porter said the club will reevaluate Springer's status Tuesday.
First baseman Jesus Guzman was also scratched with a tight back.
"The off-day's coming at a good time," Porter said. "We've got some guys banged up and they continue to get treatment. Hopefully the extra day will help us."
Daniel Kramer is an associate reporter for MLB.com. This story was not subject to the approval of Major League Baseball or its clubs.