Willingham drives in two, but Twins fall to Rays
With Trade Deadline approaching, Minnesota drops third straight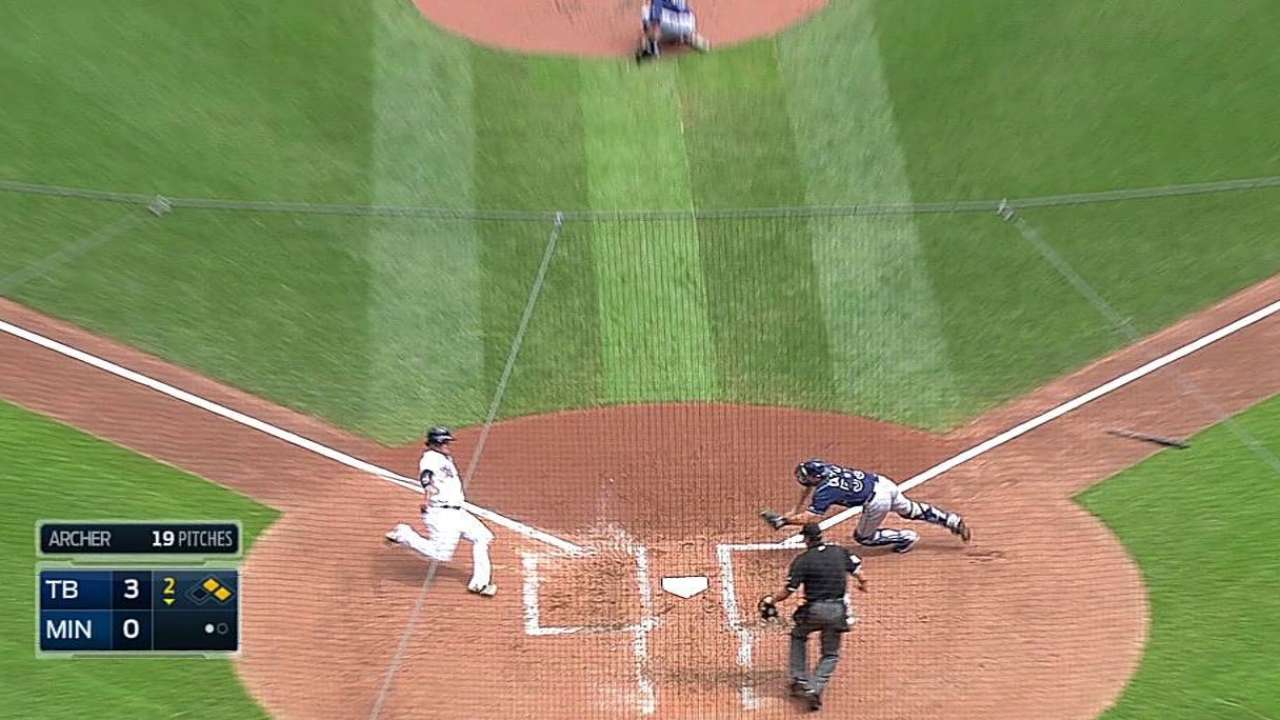 MINNEAPOLIS -- Twins starter Kevin Correia believes the team will need a "miraculous run" if it wishes to avoid significant personnel changes.
Just a handful of games remain until the July 31 non-waiver Trade Deadline, and Minnesota just suffered a three-game sweep against Tampa Bay, with the final blow coming in the form of a 5-3 loss at Target Field on Sunday. The team now sits nine games under .500 with minimal time to prove it can still compete for the playoffs.
"We need to play better, or there's probably going to be some new faces here," closer Glen Perkins said. "That's what it boils down to: Either we play better or we're going to have a new look."
The current look had some issues this weekend as three losses whisked away all of the momentum the Twins had after taking five of seven on their most recent road trip.
Now, in order to stay afloat, the Twins must do some serious damage to division rivals Cleveland and Chicago to close out the current 10-game homestand.
"We need a miraculous run right now," Correia said. "It's gotta start soon, if it's going to happen. If we lose a bunch of games, we're going to play our way out of it, and then whatever has to happen, has to happen."
Correia -- who might be an attractive trade target for other teams -- couldn't get that run started on Sunday.
The veteran righty gave up a leadoff double to Desmond Jennings in the first, and then issued consecutive walks to Ben Zobrist and Matt Joyce to load the bases with no outs.
James Loney then singled in two runners for a quick Rays lead, but Correia limited the damage by making a nice glove scoop to catcher Eric Fryer on a sacrifice bunt later in the inning.
Undeterred, Tampa Bay managed to push across runs in the next two innings. Zobrist knocked a sacrifice fly to score Kevin Kiermaier in the second, and then Yunel Escobar doubled to score Evan Longoria in the third.
"They were more patient on certain pitches I was throwing than I thought they were gonna be more aggressive on," Correia said. "It kinda got me behind on the count. I think their approach just kind of threw me a little bit today."
Correia struck out two in the fourth, but he was done after the inning. The lackluster start (four earned runs on seven hits and three walks) was a surprise from the veteran, who had recorded a combined 2.30 ERA in his past seven starts.
"He labored through it," manager Ron Gardenhire said. "He really didn't have command of too much today, and he had to fight through everything. There were men on base and the game was really dragging with him."
Facing Rays starter Chris Archer, the Twins' offense fared much better than it did against David Price the night before, but that still wasn't enough to net a victory.
Oswaldo Arcia reached base on a throwing error by Archer in the second, and then scored on a Josh Willingham single. In the fifth, Trevor Plouffe and Kendrys Morales tagged back-to-back singles, and then advanced when right fielder Kiermaier whiffed on the rolling ball from Morales.
Plouffe scored on a wild pitch by Archer, and then Morales reached home on a groundout by Willingham to make the score 5-3.
"I think that today was an average day as far as I go," Archer said. "I didn't have my wipeout slider consistently. But I threw some changeups to kind of counteract my slider not quite being where I wanted it to be. And at times when I needed to make pitches with my fastball, I did."
One of Minnesota's biggest missed chances came in the fifth inning. With runners on first and second and no outs, Sam Fuld put down a sacrifice bunt to advance the runners. But Brian Dozier popped out in foul territory, and then Eduardo Nunez grounded out to end the opportunity.
"We had some chances with guys who are supposed to be our RBI guys, and they couldn't get it done," Gardenhire said.
Archer didn't get the hook until he'd finished 6 1/3 innings. Brad Boxberger cleaned up that inning, and then Jake McGee handled the eighth before another comeback attempt fell a bit short in the ninth. The Twins got the potential tying run on via two walks from Grant Balfour, but Kirby Yates came in and got Dozier to ground out and Nunez to pop out to record his first career save.
'It's awesome to go for the sweep," Yates said. "We got that and that's all I can ask for. I'm glad I got a save and everything. But winning ballgames is the key."
The Twins -- so optimistic after winning five of their final seven games before the All-Star break -- are now in last place in the AL Central after dropping three straight to the Rays.
"We built some momentum, and we didn't carry it over to the series this weekend," Perkins said. "That's the frustrating part, is that we've failed to play consistent baseball.
"I've got 24 other friends in here that I wouldn't like to see go, but that's the way it goes. That's the way that the game works. [The front office is] trying to make this team better, and if it means trading guys, then that's what it is."
Alex M. Smith is an associate reporter for MLB.com. Follow him on Twitter @asmiff. This story was not subject to the approval of Major League Baseball or its clubs.