Sox pick up Danks, but can't finish sweep of Astros
Lefty roughed up again by Houston; 'pen gives up four runs after rally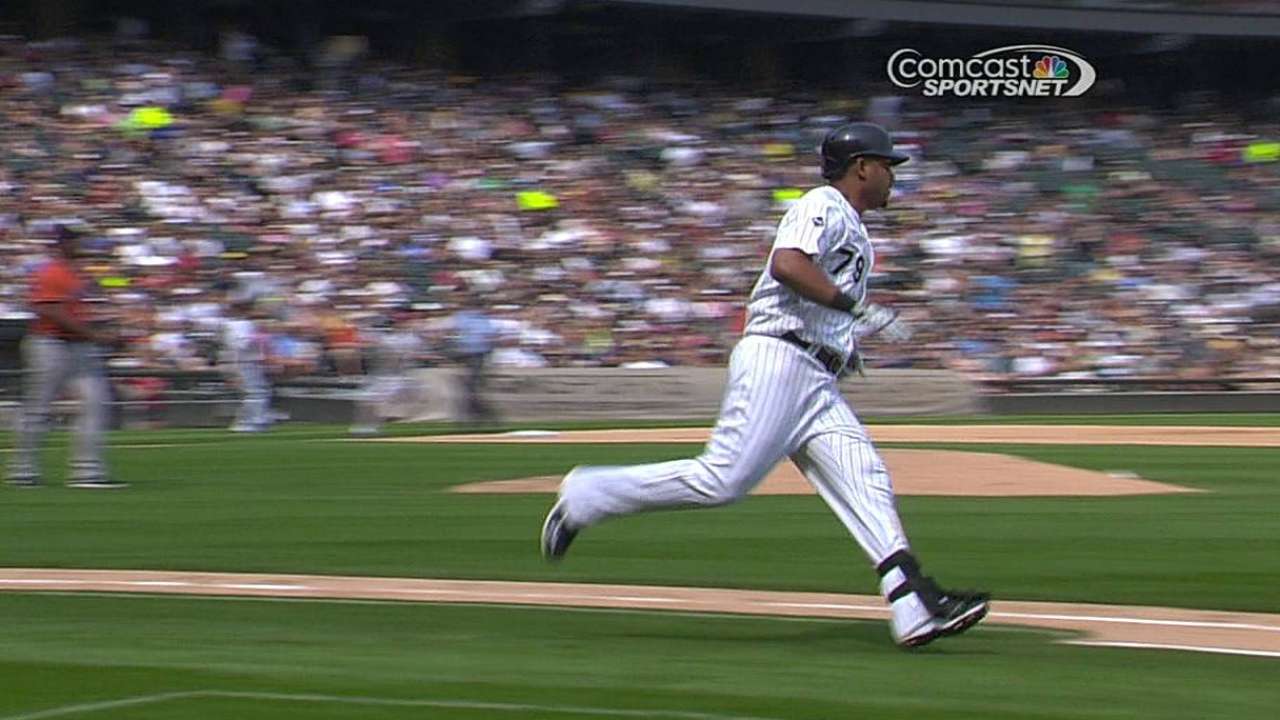 CHICAGO -- The good news for White Sox starting pitcher John Danks is that he almost certainly won't have to face the Astros again during the 2014 season.
Now for the bad news: the Astros left the veteran southpaw something to remember them by during an 11-7 Houston victory Sunday afternoon before 26,256 at U.S. Cellular Field.
Danks didn't factor in the final outcome, with Daniel Webb (5-3) getting the loss after allowing four runs on four hits in the seventh after the White Sox (47-52) pulled even with three runs in the sixth. Danks did allow seven runs on a season-high 12 hits in 4 1/3 innings, marking the first time he had given up seven or more runs since May 18.
On that particular date, it was the Astros (41-58) who knocked out Danks after scoring eight runs (seven earned) on 10 hits in 4 2/3 innings. For his career, Danks stands at 0-3 with a 9.l5 ERA over 20 2/3 innings against the Astros.
Needless to say, Houston has caused a problem for the native of Austin, Texas. When asked a somewhat generic opening question postgame about his thoughts on the effort, Danks came back with an honest response of saying it stunk before expounding on his work.
"I dug us a hole. These guys fought hard to get out of it but it [stinks] to set a tone like that," said Danks, who lasted just 78 pitches and has allowed five Astros homers this season. "For whatever reason, Houston has beat me up this year. It stinks to go out there with a chance to sweep and not pitch well."
Before Sunday's trip to the mound, Danks posted a 4-2 record with a 2.72 ERA in nine starts at home. He had a 1.75 ERA and .215 opponents average against in his last five home starts covering 36 innings. Nine of his last 10 starts overall were of the quality variety.
All of those numbers took a turn for the worse against the Astros. Danks' changeup became a key pitch in his return to form, but it was a hanging changeup that Jose Altuve connected on for a two-run homer during a three-run third. Matt Dominguez, who finished a triple short of the cycle and with four RBIs, crushed a center-cut fastball for a two-run shot in the fifth, so location was as much an issue as any particular pitch.
"It was more breaking ball," said Danks in analyzing his struggles. "I had to lean on the changeup more than normal just because I couldn't throw either breaking ball very effectively."
"Just doing the same thing -- get a good pitch to hit," Dominguez said. "I was able to do that, get a pitch up in the zone and get the barrel on it. That's how it goes."
Adam Eaton extended his hitting streak to seven straight and recorded his third multihit effort over his last five games. Jose Abreu pushed his hitting streak to 11 straight and has hit safely in 29 of 30 games.
Abreu singled home Alexei Ramirez in the sixth and then scored the tying run on Altuve's error off Dayan Viciedo's hard-hit but routine grounder to second. While the White Sox consistently struggled in search of the big hit, stranding nine and finishing 2-for-14 with runners in scoring position, Abreu continued to be nothing short of amazing.
"You throw him inside, he gets the barrel to it, he just hits it, flays it to right and then he does get the barrel to it and it goes 450 feet," said Eaton of Abreu. "He's a great hitter and I'm very blessed to be in front of him."
"He's not worried about numbers and things like that," White Sox manager Robin Ventura said. "At the end of the year, he's probably going to look at them and see what it is. But he prepares every day and how he goes about his work is the most impressive part."
Taylor Thompson made his Major League debut for the White Sox, with the 44th-round pick from the 2009 First-Year Player Draft hurling 1 2/3 scoreless innings and striking out two. He was called into service early because of Danks' latest Houston struggles.
These two game films will be studied by Danks to see if the Astros have something on him that can be pointed to by the rest of the league.
"We'll just have to find out, I don't know," Danks said. "In the two games against them there have certainly been some bad pitches that were hit well. But today I felt like, not all the time, but certainly there were some pitches where I threw it where I wanted to, made the ball do what I wanted to, and they just hit it.
"Most of it's on me. There were certainly a few hits in there where you tip your hat."
Scott Merkin is a reporter for MLB.com. Read his blog, Merk's Works, and follow him on Twitter @scottmerkin. This story was not subject to the approval of Major League Baseball or its clubs.