Nats take series from Crew on Werth's walk-off double
After Soriano blows save in top of frame, Washington rallies back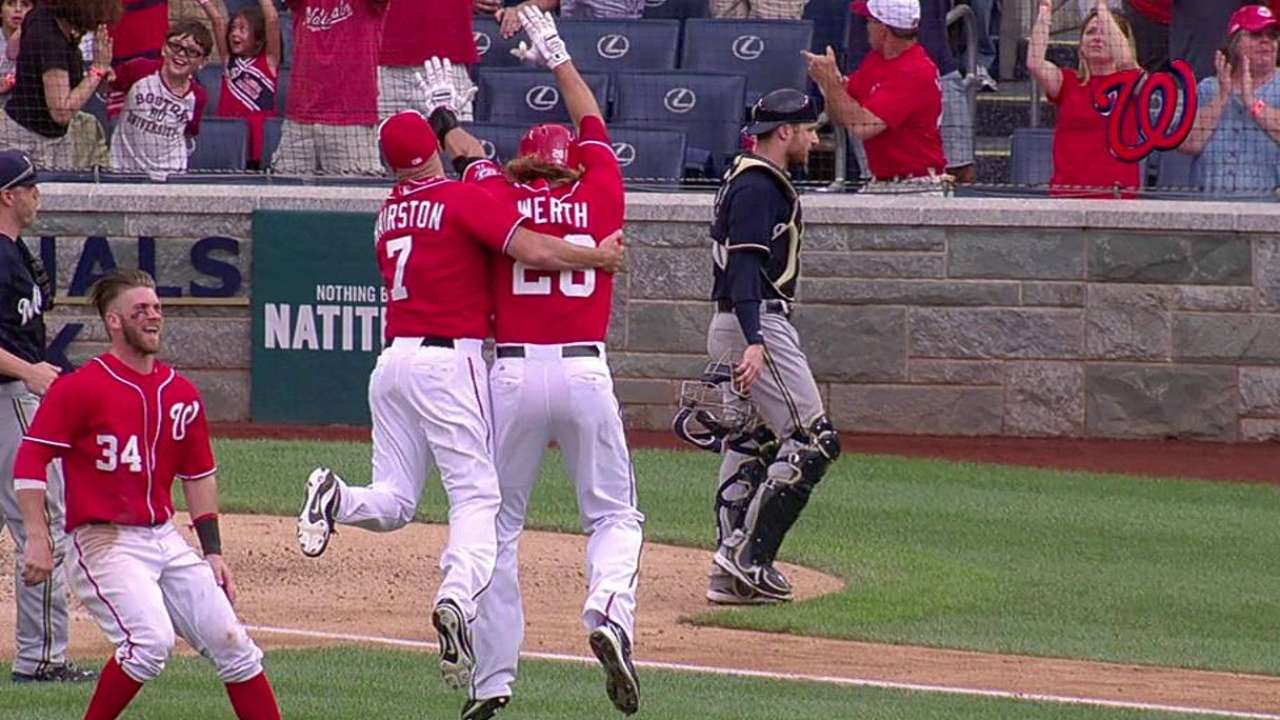 WASHINGTON -- Jayson Werth's walk-off RBI double in the ninth inning gave the Nationals a 5-4 victory over the Brewers at Nationals Park on Sunday afternoon. The Nationals are still in a first-place tie with the Braves in the National League East. Atlanta won its game over the Phillies, 8-2, at Turner Field.
The score was tied at 4 when Washington rallied in the ninth inning off Rob Wooten. With two outs and Anthony Rendon on first base, Werth came to the plate and noticed that the Brewers were playing a no-doubles defense. If the ball hit was hit in the gap, Rendon could score easily from first base.
"I check the defense before the at-bat. I saw where they were playing. I liked where they were at," Werth said. "No doubles is like that prevent defense in the NFL. It ends up killing you. I felt there was a lot of room out there."
Werth took advantage of the situation. He swung at a 3-1 pitch from Wooten and doubled down the left-field line. With Khris Davis in left field, Nationals defensive coordinator Mark Weidemaier told the players to take the extra base on Davis. Werth also had a feeling that Rendon was going to score.
"I figured old "No Stop" [third-base coach Bobby] Henley over at third base, he is always waving guys around. I assumed that he was going to send [Rendon]. I thought we had a chance," Werth said.
Once he saw the ball hit the wall, Henley knew he was sending Rendon, who scored the winning run.
"We knew we were going to have a play at the plate and either we were or we weren't [going to score], but we were going to send him," Henley said. "Great hitting, great baserunning -- it really has nothing to do with me at all. I send everybody."
Brewers manager Ron Roenicke was upset that Davis threw the ball over the cutoff man during the decisive play.
"Really, we need to quit making so many mistakes," Roenicke said. "We're not always going to swing the bat great, and we're not always going to pitch great, but we should be able to make solid plays. In close ballgames, that's what it comes down to."
Werth has been amazing this year when it comes to swinging at hitter's counts. With the count, 3-1, Werth is 5-for-11 [.455] with two home runs and five RBIs.
"It's about being ready for a pitch to hit. When you get in a hitter's count, the pitcher is in trouble," Werth said. "You have to take advantage of those opportunities and we were able to do that today."
Earlier in the game, taking left-hander Gio Gonzalez out of the game in the fourth inning paid off for manager Matt Williams. It wasn't Gonzalez's day on the mound. He lasted 3 1/3 innings, allowed three runs on four hits and threw 88 pitches. At least for one play, Gonzalez wasn't paying attention to what was going on around him.
It happened in the third inning. With one out and runners on first and second, Jonathan Lucroy hit a comebacker to Gonzalez, who lobbed the ball to first baseman Adam Laroche, but Ryan Braun managed to score from second on the play and tied the score at 1.
Gonzalez said that the All-Star break and missing his flight from Miami to DC for a bullpen session was the reason he wasn't at his best.
"It's one of those games where you have to brush under the rug," Gonzalez said. "Nine days off, it didn't help. Obviously, my command and fastball location wasn't where I wanted it to be."
The Brewers had a 3-1 lead when Williams decided to take Gonzalez out of the game in favor of right-hander Craig Stammen, who managed to stop the bleeding. Stammen didn't allow a run or hit in 2 2/3 innings.
"You have to keep their lead where it is and you can't let them get any more," Stammen said.
The Nationals rallied to take the lead off right-hander Yovani Gallardo starting in the fourth inning. LaRoche led off with a walk and Ryan Zimmerman followed with a two-run homer to tie the game at 3. It
Two batters later, Jose Lobaton doubled to right field and advanced to third on an infield single by Stammen. Lobaton then scored on a wild pitch by Gallardo to make it a 4-3 game.
But Milwaukee would tie the score in the ninth inning with Rafael Soriano on the mound. Rickie Weeks singled to center field, scoring Scooter Gennett. In the bottom half of the frame, Werth came through for the victory.
"Any time, you get a walk-off win, it's big for team morale," Stammen said. "Hopefully, it will send us on a nice winning streak."
Bill Ladson is a reporter for MLB.com and writes an MLBlog, All Nats All the time. He also could be found on Twitter @WashingNats. This story was not subject to the approval of Major League Baseball or its clubs.