Matzek delivers quality start, but bullpen fades
Belisle gives up two runs in seventh as Rockies are swept in Pittsburgh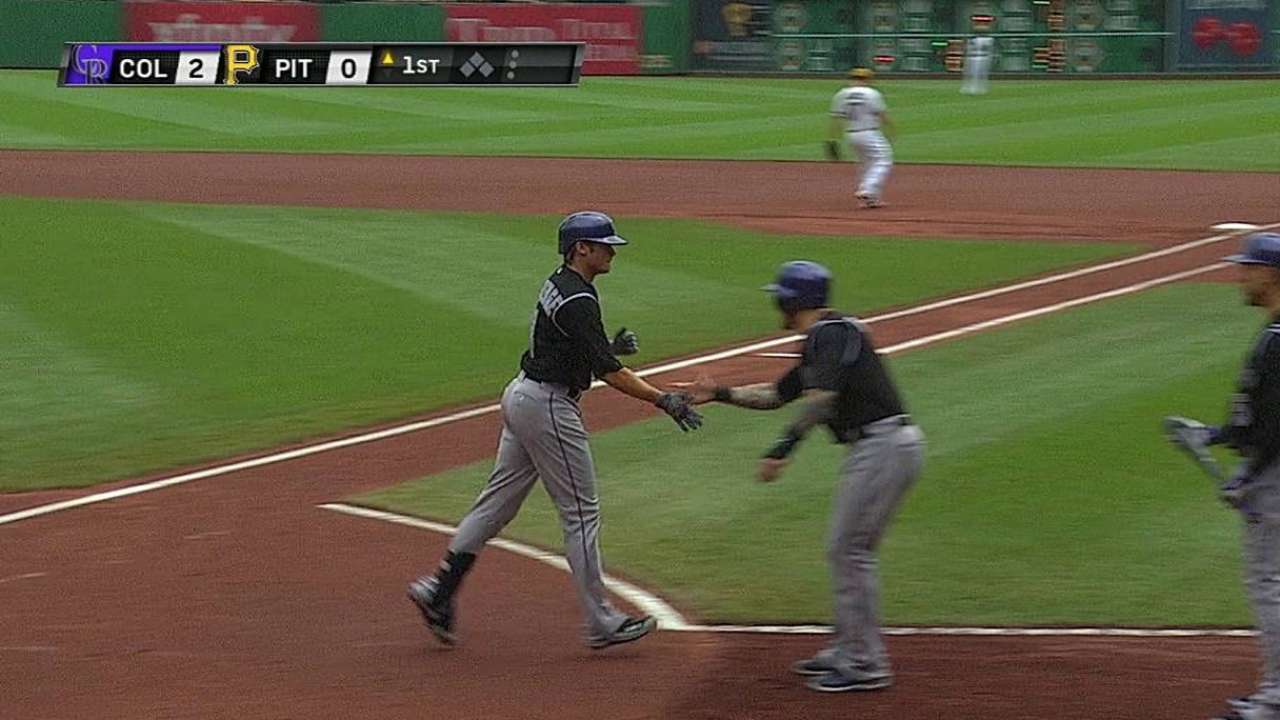 PITTSBURGH -- Baseball's soul-crushing nature reached Rockies reliever Matt Belisle on Sunday afternoon.
Since joining the Rockies in 2009, simple acts such as playing catch, working out, eating and sleeping have been with purpose. In his successful times, he balanced the stubbornness it takes to beat hitters who knew what was coming with the knowledge that one day he'd have to do something else to stay a step ahead.
But the hitters are getting the best of Belisle, have been for two seasons. On Sunday, Belisle walked the first hitter he saw in the seventh and gave up four hits -- including Andrew McCutchen's go-ahead RBI double and Neal Walker's solo homer -- in a 5-3 loss to the Pirates at PNC Park in front of 35,609.
The 34-year-old Belisle (2-6) has made 369 appearances in the Rockies' uniform, third-most in club history, much of that done with distinction. But Belisle's returns have diminished rapidly over the last two years -- a 4.32 ERA in 76 appearances last year and 5.63 in 43 outings this year. Still, hoping Belisle's work ethic would lead to a turnaround, the Rockies picked up his option at $4.25 million for 2014.
In a three-game sweep in which the Rockies had quality starts (six or more innings, three or fewer earned runs), Belisle took two losses. He has given up seven runs in his last four appearances, which covers four innings.
"The mark of a champion and a winner is how you're doing when you're not doing well, and I pride myself in coming to the park being prepared every day and being an example of that," Belisle said. "I am at peace knowing I do everything I can every day. I have to control what I can, but this business is about results and I am the first to abide by that."
The way the losses occurred were especially tough on the Rockies, who at 40-58 own the National League's worst record.
Rookie lefty Tyler Matzek battled through six innings, fanned eight and handed Belisle a game tied at 3. But as was the case when Jorge De La Rosa gave up one run in six innings Friday, and Brett Anderson yielded one in seven on Saturday, starting pitching -- which has been an extreme problem this season because of injuries -- didn't matter.
Harrison walked, stole second and scored on a single by McCutchen. McCutchen was caught stealing, but Walker's homer to dead center made it a two-run game. Singles by Jordy Mercer and Pedro Alvarez chased Belisle.
"Today, blatant to walk a guy and then fall behind to a big league hitter and have a pitch hit up the middle just can't happen," Belisle said. "Today was amateur as far as that goes, what not to do. I have had my struggles. I'm doing what I know to do and it's tough for me to keep getting hit in this kind of dogfight, especially when we've been losing."
Rockies manager Walt Weiss noted that a key reason for the wasted start was the fact the Rockies couldn't add on after a two-run first-inning homer from Josh Rutledge, who started in place of All-Star Troy Tulowitzki (left thigh injury) and a solo shot to lead off the second from Michael McKenry.
Both homers came off Pirates starter Jeff Locke, who didn't give up anything else in six innings.
As for Belisle, Weiss said, "He's ready to go, his mentality is always strong. He's just struggling right now, like a lot of us."
As was the case in all three games, the Rockies took an early lead.
Rutledge hasn't been able to regain a starting job since being supplanted at second base by DJ LeMahieu last year, but he has hit .295 in a reserve role this year. That includes a 2-for-4 Sunday with his third homer of the year.
"I stay ready for whatever position I play, do a lot of preparation every day to make sure when days like today come around, I am ready," Rutledge said.
McKenry received warm applause before the game and when introduced for his second-inning leadoff at-bats. There were still a few cheers but more than a few boos as he rounded the bases after his homer to left.
"That's part of it -- that's the Pittsburgh way," McKenry said. "They treat me with a lot of respect … but they take it hard when you take the lead."
Matzek pitched around seven hits, and made adjustments as the game continued.
"They were being real aggressive," Matzek said. "We had to change our approach, start pitching a little backwards and outthink them a little bit more."
Jordy Mercer's two-run single off Matzek in the Pirates' second cut the difference to 3-2.
Matzek held the Pirates to two hits from the third through fifth innings. A one-out walk to Mercer set up the Pirates' tying run. Mercer, whose 11th-inning double beat the Rockies on Saturday night, stole second and scored on Chris Stewart's double.
The difference was the Pirates' bullpen, which threw three scoreless innings. Jeanmar Gomez (2-2) walked one in an otherwise uneventful seventh, All-Star Tony Watson struck out two in a spotless eighth and Mark Melancon earned his 18th save and second of the series.
Thomas Harding is a reporter for MLB.com. Read his blog, Hardball in the Rockies, and follow him on Twitter @harding_at_mlb. This story was not subject to the approval of Major League Baseball or its clubs.